Fahed Al-Sabouni '13
Advancing Global Justice at The Hague
Aug. 1, 2020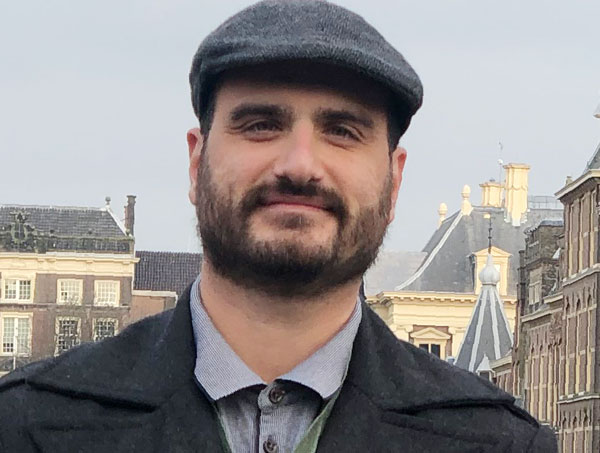 Fahed Sabouni was born in Syria and has already been able to call a number of international locations "home." As he made his way through Toledo during law school, Fahed was encouraged by Professor Ben Davis to write a paper on international crime. Through that experience, Fahed realized that the corporate and business law he had intended to focus on was not his passion at all. His long-time interest in the public and international sector was his true calling.
Fahed completed an internship at the United Nations New York headquarters in his 2L year and went on to earn his master of laws (LL.M.) degree from McGill University in Montreal, Canada. For the last two years, Fahed has lived in The Hague, Netherlands, working with the Special Tribunal for Lebanon (STL) as an associate legal officer/associate appeals counsel with the Office of the Prosecutor. He loves everything about his work at The Hague and is excited to share his story with the college that helped him launch his career.
Fahed is featured in this Toledo Law alumni profile in his personal capacity and not as a representative of the STL. The views expressed are his personal views and do not reflect the views of the STL.
---
Q&A with Fahed Sabouni
What were the turning points in your education and career that led you to where you are now?
The main turning point in my life was when I realized, during my first year in law school, that I am more interested in criminal and international law than in business and corporate law. I had always been interested in public and international issues, but I never thought that I would pursue a career in that field. After my first year of law school, everything changed and I never looked back. I ended up graduating with a certificate of concentration (with distinction) in both criminal and international law.
What do you enjoy most about being a lawyer? What is the most challenging aspect of being a lawyer?
What I enjoy most about being a lawyer are the opportunities to constantly learn new things. I am exposed every day to new legal issues, and I am grateful to learn from colleagues who have a wealth of experience in this field. The most challenging aspect of being a lawyer is the nature of the work itself, which can have a large impact on many peoples' lives. This can create, at times, a lot of pressure and perhaps stress. Therefore, it's important for any starting lawyer to find ways to cope with such an environment without allowing pressure or stress to get the better of them.
How do you create balance in your life? What other things do you enjoy doing?
I enjoy exercise and reading. I have picked up cycling ever since I moved to the Netherlands. Most of the country is flat, which makes cycling really enjoyable. Fun fact: There are more bicycles than residents in the Netherlands. I also enjoy traveling. There are many great cities and museums to visit in Europe, which in terms of size, is similar to the USA.
What do you find satisfying about your career in your current role?
The fact that I am working as part of a team for a bigger purpose makes what I do more satisfying. I have witnessed a lot of turmoil and impunity while growing up, so if I could contribute something to help alleviate some of these problems l would be happy at the end of the day.
What suggestions do you have for current law students and new lawyers who might be interested in international law?
If you are interested in working in the area of public international law/international criminal law, I would highly advise that you apply for internships to the various international organizations or courts. It's also great to get some experience overseas because it exposes a person to different cultures, working environments, and legal systems. An LL.M. degree is becoming more important for legal practitioners who are looking to start a career in international organizations or courts. Lastly, I would recommend learning a new language (it's never too late). Speaking more than one official language of the United Nations would be an asset for most international organizations. Fun Fact: The United Nations has six official languages – Arabic, Chinese, English, French, Russian, and Spanish.
How did Toledo Law prepare you for your legal career?
I was fortunate to have studied criminal and international law subjects with great professors who have left their profound mark on me. I am deeply indebted to them for expanding my horizons.
You shared the type of experiences students should seek. Please share how you made the connections/got the experience that allowed you to be a competitive candidate for the position with the Office of the Prosecutor with the Special Tribunal for Lebanon.
I believe it is a combination of having the necessary educational background, professional credentials, and linguistic skills. When I was a 3L, I realized that if I wanted to have a career in international organizations and/or courts, I must also complete an LL.M. degree. I applied and got accepted to McGill University back home in Montreal. I also took and passed the New York bar exam that summer after graduating from The University of Toledo College of Law. While in Montreal, I took intensive French language classes and began to apply for positions in various international organizations/courts. I had a special interest in the STL's mandate and thought that I could make a positive contribution given that I am an Arabic speaking lawyer with an LL.M. degree specializing in international criminal law.
What are you passionate about?
I am passionate about international criminal law and human rights. Although inter-state wars are on the decrease, intra-state wars are on the rise. The effects of these wars are felt on a global scale given an increasingly interconnected world. A more dynamic world community is needed to resolve many of these grave issues.
Share something you want Toledo Law students and alumni to know about you.
I am available on Linkedln if you would like to connect. I'll be glad to answer any questions you have.