Angelita Blackshear Dalton '97
Making Tough Decisions for Fair and Just Outcomes
Aug. 1, 2020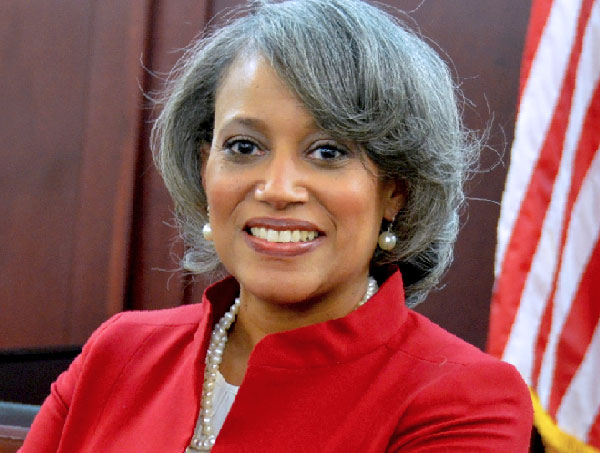 Angelita Blackshear Dalton '97 is a criminal court judge in Davidson County, Tenn. She assumed the bench after being appointed by Governor Bill Haslam in November 2017 to succeed Retired Judge J. Randall Wyatt. Angelita became the first African American woman to serve the Davidson County Criminal Court. She was elected to retain the seat in 2018.
Angelita was first elected to the Davidson County General Sessions Court in 2006, becoming the first African American woman in the county elected to a judgeship. She was re-elected for a second term as a general sessions court judge in 2014. Since assuming the bench, Angelita actively works to ensure efficiency in the courts, both inside and outside the courtroom.
A native of Nashville, Tenn., Angelita received her B.A. in English from Lane College and her J.D. from The University of Toledo College of Law. She and her husband, Derrick Dalton, are the parents of one son.
---
Q&A with Angelita Blackshear Dalton
How did you find your way to Toledo Law for your education?
Having grown up in the South, I wanted to explore the possibility of living in another region of our country. Because of Toledo's proximity to Detroit, where I have family, I saw an opportunity to experience life in the Midwest while still having the support of family. Attending law school at The University of Toledo provided me with that opportunity and a quality legal education.
Do you have a favorite memory from attending Toledo Law?
There is no single event that is a favorite memory at Toledo Law. During my matriculation, I established friendships that evolved into lasting and meaningful relationships, both personal and professional.
How did Toledo Law prepare you for your career?
My legal education at Toledo Law helped to establish the foundation necessary for a legal career. There were opportunities through legal clinics, participation in moot court, and legal internships that helped me build on that foundation to prepare me for a career as a trial lawyer.
What were the turning points in your career that led you to where you are now?
Prior to law school, I worked as a legal assistant for a small Nashville firm that primarily performed transactional legal work. This firm did not have a litigation practice. Enjoying my experience at this firm, I began law school with the mindset that I would engage in a transactional, non-litigation practice. Through my participation in legal clinics, moot court, and internships that involved litigation, my thought process changed, and upon graduating from Toledo Law, I began my legal career as a prosecutor. This was the beginning of my trajectory that led to a career in the judiciary.
What is the most challenging aspect of your work, and how does your legal education and training help you?
As a judge who presides over all ranges of criminal cases, I am required to serve as an impartial arbiter, rendering a fair and just outcome. This requires making tough decisions that will have lasting impacts on people's lives. Sometimes, those tough decisions result in an unfavorable outcome. When attorneys are sworn in to practice law, and when we are sworn in as judges, we took an oath to uphold the law. My legal education and training, coupled with my legal experience, have helped me to understand and appreciate the seriousness of my role as a judge. I recognize that I must set personal feelings aside in order to ensure a fair and just outcome.
What have you found most satisfying about your career?
Following-up on the previous question, I recognize that the decisions that I make on a daily basis significantly impact lives. While I know that I have to make tough decisions in order to ensure a fair and just outcome, I must do so regardless of my personal feelings. However, I am encouraged to use compassion in my decision making. I am hopeful that the outcomes from decisions I make are in the interest of justice.
Do you have any suggestions for current law students or new lawyers who might be interested in pursuing this practice area or career path?
I encourage law students and new lawyers to participate in clinics and internships to get a glimpse into what their desired practice area entails. It is important early on to identify what may be of interest. It is equally important early on to identify what may not be of interest.
What do you enjoy doing outside of work?
I enjoy reading, walking, and spending time with my family.
What are you passionate about?
I am passionate about serving my community in whatever capacity I can. It is so important for all of us to be a part of the uplifting of our community.