Joshua Driskell '11
climbing to the top
Oct. 3, 2022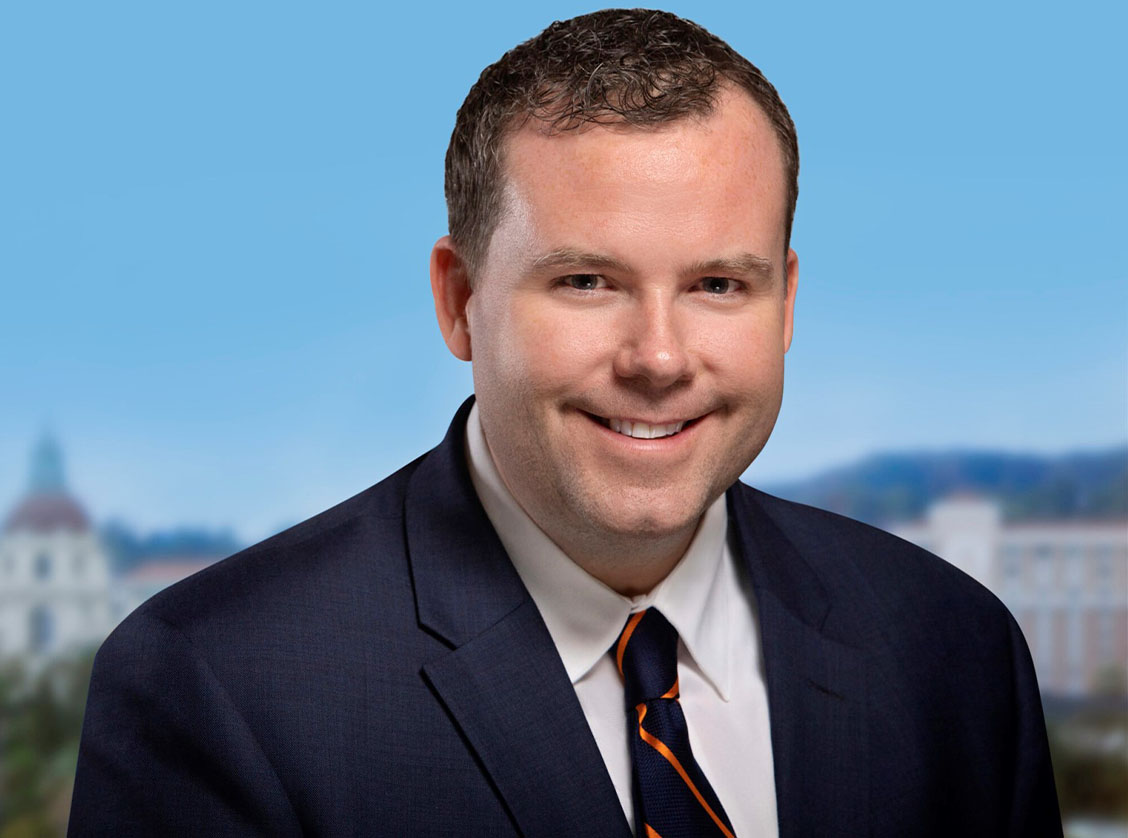 Joshua Driskell '11 is the Managing Partner at Lagerlof, LLP, the largest law firm in Pasadena with offices in Encino and Seattle, WA. Josh's practice focuses on business, tax, estate, fiduciary, and related matters.  
Josh grew up in Jackson Center, OH- a town of 1200 people and known for the famous Airstream trailer. He always wanted to be involved in business and had a natural curiosity for the law. When the time came time to apply to law schools, he was living in Toledo. Toledo Law seemed a natural choice and stood out as a place he would get the best education and value. Josh looked at several law schools but couldn't imagine going anywhere else.  
While in law school, Josh was involved in student activities and connected with his fellow classmates. He was president of the American Bar Association- Law School Division and was a member, officer, and coach for the University of Toledo's Moot Court Team. Josh co-coordinated the school's annual Fornoff Competition and was recognized with membership in the National Order of Barristers, a national legal honor society celebrating Moot Court programs, as a result of his dedication and involvement in the Moot Court program.  
After Josh graduated from Toledo Law, his first position was as an Associate Attorney at Mockensturm Limited in Toledo. While at Mockensturm, he was visiting friends and family in California a few times per year and finally decided to make the move-permanently. In late 2014, Josh formed Primuth & Driskell, LLP, with partner Jonathan Primuth. In January 2020, Josh was drawn to Lagerlof and the opportunity to lead an organization with over 100 years of operational history. Lagerlof is an institution in the Pasadena market.  
When asked what the best advice he's received was, Josh replied, "Just start. Often times we are waiting for the perfect time, the perfect situation to begin on a project, or to take that leap into something we want to do. That perfect time doesn't exist…there will always be something in the way. Just start – it will all work out.  
Josh obtained a B.S. in Journalism from Bowling Green State University in 2007 and Bachelor of Science in Journalism – 2007, and M.B.A. from the University of Findlay in 2009, and his J.D. from The University of Toledo College of Law in 2011. 
---
Q&A with Josh Driskell
How did Toledo Law prepare you for your career?
I think Toledo Law does a great job of creating practice ready attorneys. In my practice I routinely deal with attorneys from "big law" and top 10 law schools. I have never felt that my education or experience has left me ill prepared. Toledo creates practice ready lawyers; it's one of the things that drew me there in the first place.  
What is your favorite memory from law school?  
My favorite memory is going down to the first floor of the law library, which felt like a world in and of itself, to study and hang out with my study group. Professors Beth Eisler, Rob Salem and Lesa Byrnes all had an impact on my career in different ways. I still think of Professor Robert Hopperton any time I deal with real property. 
What has been a career highlight?  
Growing the firm from two lawyers, to just under 50. Expanding our Seattle office and growing our southern California presence and offices has also been a lot of work, but really fun.  
What were some career pivot-points/decisions that led you to where you are now?  
I tend to have a hard time saying "no" which has served me well as we have grown the office and our presence. Also, growing with intention has been huge. There are no shortages of expansion opportunities…the key is knowing which to pursue and which to let go.   
What has been the most challenging aspect of your position/s?  
The staff and people aspect is always the hardest for me. Thankfully as we have grown we have added to the professional staff that helps balance and manage this.  
What have you found most satisfying about your career?  
I love that every day is so different, and that I get exposure to so many different people, families and businesses. No two is exactly alike, and there are so many aspects to the law…I am always learning something.  
Do you have any suggestions for law students/new lawyers interested in a similar path?  
Look at each opportunity, whether it be for a job or a case, not as what it is now, but what it could be. Always look at each situation with the mindset of how you might maximize that opportunity. 
What should new attorneys keep in mind and be thinking about?  
Continuing growth in the types of matters you can handle. I know some may say that general practice for attorneys is dead, but I find that even in the large markets like Los Angeles, that is not always true. Yes, you should have an area of practice that is your main focus but take opportunities to get exposure to areas of law that are not in your core area. It makes for a more well-rounded attorney.  
Who has made a difference and had an impact on the attorney you have become?  
My partner Bill Kruse has had a profound impact on the attorney I have become. Bill has impeccable ethics and a keen sense of right and wrong. He continues to impress and impact me every day.
What do you enjoy doing outside of work?
I love to invest and rehabilitate real estate. Los Angeles, and Pasadena in particular, has many old buildings in need of love and revitalization. It is a passion for sure.  
Is there anything else you would like alumni (or current students) to know about you (or about the profession)?  
I love to help fellow Toledo Alumni however I can – whether that be as a professional resource in the Los Angeles market, or even just to give you some suggestions if you are looking to visit. Don't hesitate to reach out!