Josh Goldberg '14
Mapping the Journey from Toledo to U-Haul
Aug. 1, 2020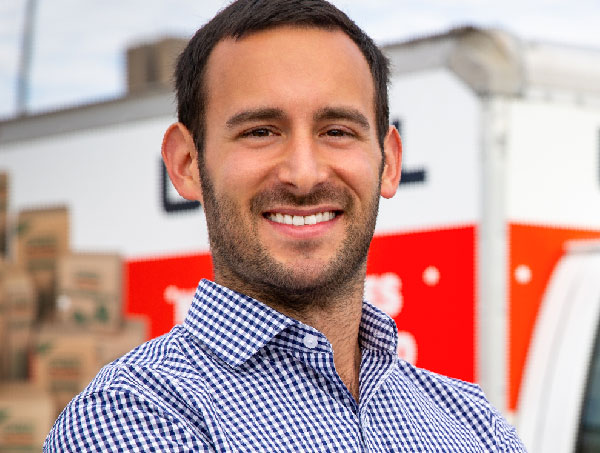 Josh Goldberg '14 graduated with a bachelor's degree in economics from The Ohio State University. With an uncertain economy, Josh came home to Toledo, where he worked alongside his grandfather and mother for the family's now 105-year-old produce distribution business, Sam Okun Produce Company. While Josh continued to sort fresh fruits and vegetables, load trucks, deliver to customers, and sweep the floors, just as he did in earlier years, he was given additional responsibilities in the day-to-day and long-term strategy of the company. Josh knew he wanted to earn a graduate degree. Attending Toledo Law allowed him to continue working for the family while earning a joint degree, J.D./M.B.A.
During his 1L summer and first semester of 2L, Josh clerked for a lawyer who practiced family and criminal law. He quickly learned these were not his areas of interest. Josh had always been interested in the intersection of business and law.
He was excited to learn of his acceptance at the U-Haul legal internship program in Phoenix during the summer of his second year. Josh lived on a friend's couch and made sure to ask questions and learn as much as possible from the legal group.
Shortly into the fall semester of his third year, Josh received a call from U-Haul's tax attorney offering Josh the opportunity to take over for him – he was planning his retirement after 40 years with U-Haul. It was a no brainer.
Josh is now assistant general counsel for U-Haul International, Inc., North America's largest "do-it-yourself" moving and storage operator. His primary responsibilities are to provide counsel on issues related to tax, real estate and financial transactions, employee benefits, and cybersecurity. Josh is looking forward to moving back to Ohio in the coming months and will continue in his role for U-Haul.
---
Q&A with Josh Goldberg
Do you have a favorite memory from attending Toledo Law?
My fondest memories are the relationships created with my peers and faculty. Some of those relationships continue today and go beyond business or networking. We share our triumphs and defeats, and spend time together with our growing families.
How did Toledo Law prepare you for your career?
One piece of advice continues to reverberate. In what might have been the first lecture Professor Ben Davis gave to my class, he emphasized the power of saying, "Yes." Throughout my career at U-Haul, I have tried to say "Yes" as often as possible. It has communicated to my colleagues and clients that I am reliable, available, and driven.
What have you found most satisfying about your career?
There is always something new – I never stop learning. I am fortunate that my legal practice offers interesting and challenging work.
Do you have any suggestions for current law students or new lawyers who might be interested in pursuing this practice area or career path?
If you are going in-house, then learn the business. Be familiar with its history, its present operations, and its future strategy.
No matter your journey or area of practice, ask lots of questions, especially early in your career. I work alongside a team that, for the most part, has been practicing law since before I was born. If you do not have the resources at your firm or company, then seek out someone through an alumni network, a bar association, or the general community. Whether it is how to interact with your client, how to use an assistant or paralegal, or a substantive legal issue, ASK!
For me, I have kept the following in mind:
Luck is what happens when preparation meets opportunity.
Failure can be one of your greatest teachers.
Don't let perfection be the enemy of the good.
What do you enjoy doing outside of work?
By far and away, the best things in my life are my wife, Amanda, and our daughters, Phoebe and Margo. Amanda is a tremendous chef and baker, and I love to eat – we are the perfect match. Together, we enjoy traveling and cultivating new friendships. With our daughters, we like to horse around at playgrounds and spraygrounds, go swimming, take long walks, and be silly. I am grateful for my work-life balance, which allows me to spend invaluable time with my girls.
What are you passionate about?
Finding joy. Treating everyone with compassion and empathy.