Scott A. Hajost '80
Forming the Perfect Union of International and Environmental Law
Aug. 1, 2020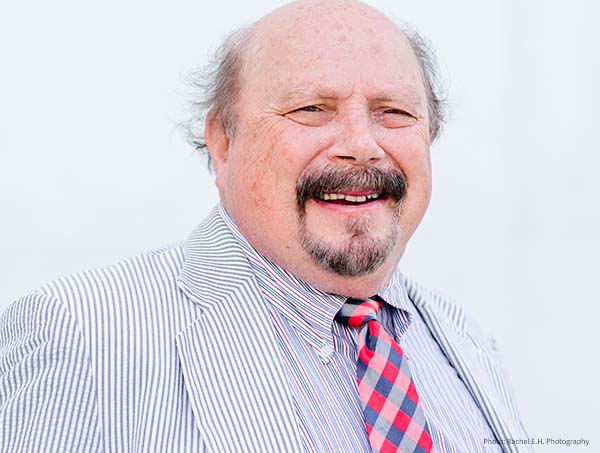 Scott Hajost '80 is an international environment and conservation policy and law expert and manager with over 36 years leading global environment and development projects through work with the U.S. government, non-governmental organizations, and multilateral institutions.
Scott is chair of the board at Thinking Animals United and senior wildlife policy advisor with the National Whistleblower Center, where he advises on wildlife crime policy. Most recently, he was chief of party for the Wildlife Crime Tech Challenge, a global initiative of USAID in partnership with the National Geographic Society, Smithsonian Institution, and TRAFFIC wildlife trade monitoring network. Before that, he was chief of party for the global USAID-funded Forest Carbon, Markets and Communities (FCMC) program.
Scott started his career as a U.S. State Department lawyer working on international environmental and oceans issues, including negotiation of international agreements. He served as acting associate administrator for international activities at the U.S. Environmental Protection Agency (EPA). He was also the first EPA associate general counsel for international activities before leaving the government to become international counsel at the Environmental Defense Fund (EDF).
After EDF, Scott served almost 15 years as the executive director of the USA Multilateral Office at the International Union for Conservation of Nature (IUCN), including overseeing the organization's United Nations (UN) mission. He later served as senior counsel at the Center for International Environmental Law before taking over as head of USAID's FCMC program.
Scott is also vice-chair of the board of the Antarctic and Southern Ocean Coalition, senior advisor to the Global Island Partnership, and an elected member of the Executive Committee of the US IUCN National Committee. He has received awards for his efforts and has enjoyed amazing experiences and travel through his work.
He earned his B.A. in history and ecology from the University of Dallas, his M.A. in history from Miami University, his J.D. at The University of Toledo College of Law, where he graduated first in his class and won the Dean's Award. He also completed course work at the Hague Academy of International Law.
Photo: Rachel E.H. Photography
---
Q&A with Scott Hajost
Why did you choose to come to Toledo Law?
It was a bit happenstance. I was a resident of Texas and Ohio. I thought I was going to stay in Dallas and go to Southern Methodist University's law school. However, I considered Toledo Law as an option after looking at its international and environmental law courses. Also, my family lived in Lancaster, Ohio. My wife was interested in graduate school in English. The department held a graduate assistantship for her based on my phone call. That was dispositive in giving Toledo a try. She got her master's degree in English and linguistics at Toledo, while I got my law degree. We planned on moving after law school.
Did you always have an interest in moving to/working in Washington, D.C.?
Originally, I thought we would remain in Dallas for the foreseeable future. As law school was wrapping up, we planned to go to San Francisco, where I had a great job offer from Pillsbury, Madison & Sutro (the former name of the oldest large law firm in California based in San Francisco, and one of the largest in the U.S.). My wife was accepted into the Ph.D. English program at Berkeley. We were preparing to move when the job offer came in from the Office of the Legal Adviser at the U.S. State Department. That opportunity in D.C. in public international law was my first choice. The offer was unexpected, so we reversed course and came to D.C.
What were the turning points in your education and career that led you to where you are now?
Professor Rich Edwards taught international law. He was connected to the American Society of International Law and the State Department's Legal Advisers Office. Professor Edwards became my international advisor. That was key. I was part of the college's Jessup International Law Moot Court team. We won the region and came in fifth in the country with the finals in D.C. In my last summer, I was also able to study European Union law in Brussels and at the Hague Academy of International Law for credit. Those experiences reinforced my interest in international law. At the same time, I was also able to study environmental law under Professor Roger Andersen. This allowed me to combine international law and the environment. Coming to the State Department, I obtained my first-choice position in the office dealing with oceans and the environment, and everything took off from there.
What do you enjoy most about being a lawyer/having a law degree?
I never practiced traditional law. I was an international lawyer who combined law, policy, and management. The key was the intellectual training to analyze, think, and approach problems. To this day, I do not practice law, but intellectual training serves me well.
What is the most challenging aspect of being a lawyer/having a law degree?
I certainly had some pressure to come up with innovative approaches and solutions to issues. I was an international negotiator developing treaties and working on them, which to some degree, I still do. I was also expected to be right.
What have been some of the interesting or fascinating experiences you have had as a result of your work?
I have had an amazing set of experiences: working on the U.S./Soviet maritime boundary in the early 1980s, going to Moscow twice; all my Antarctic Treaty work, including my incomparable distinguished visitors trip to Antarctica; developing EPA's first-ever international strategy and meeting Margaret Thatcher; my role in the 1992 Rio Earth Summit, leading IUCN's climate delegation in Argentina, IUCN extensive field visit to Southern Africa including my Dad, meeting Nelson Mandela; overseeing the IUCN UN Permanent Mission to the UN; helping launch the Mangroves for the Future Initiative with the support of former President Bill Clinton; running the Global Wildlife Tech Challenge. The list could go on.
What suggestions do you have for current law students and new lawyers who might be interested in practicing in this area or doing this type of work?
Try for a position that allows you to do this policy work. I was lucky where I landed, but there are ways and other organizations. The U.S. government offers great experience where you have more responsibility. I was leading delegations around 27 years old. Make good outside contacts. Volunteer. Be patient, but persistent. If someone wants to do international law and policy, D.C. is the best place to do so.
What do you do to break away from work and relax?
Skiing, skiing, and skiing. We have owned a place at Snowshoe, W. Va. for over 30 years and go there a lot. Big Sky, Montana and Zermatt, Switzerland are two of my favorites. I also really liked Bariloche in Argentina during our summers. Not long ago, it was still windsurfing and some mountain biking. Travel – I have had the good fortune to have gone all over the world. Waterfowl hunting with the guys. I also enjoy soccer and baseball.
What are you passionate about?
International affairs, the environment, rule of law, skiing, Washington Nationals, D.C. United, and good wineries.
Do you have a favorite memory from attending Toledo Law?
Professor Rich Edwards, Jessup Moot Court, skiing in Michigan, and cross-country skiing in Toledo parks. Some good friends during the time there such as Tracy Drake and Bob Cohen.
How did Toledo Law prepare you for your legal career?
I cannot say enough about Professor Rich Edwards and international law, Jessup International Law Moot Court team, the ability to study international law in Europe, and a wonderful introduction to environmental law by Professor Roger Andersen.
Share something you want Toledo Law students or alumni to know about you.
Set your sights and passions high, try to glean every experience you can, and focus on what you like. If you desire to make a difference, work toward that. Find a space to occupy, which I have been able to do in the international environmental sphere.
What was the best advice someone gave you?
Do what you are passionate about and care about and aim high.