Katie Hunt Thomas '09
CREATING AN INCLUSIVE COMMUnITY
by Margaret Beccavin | August 7, 2023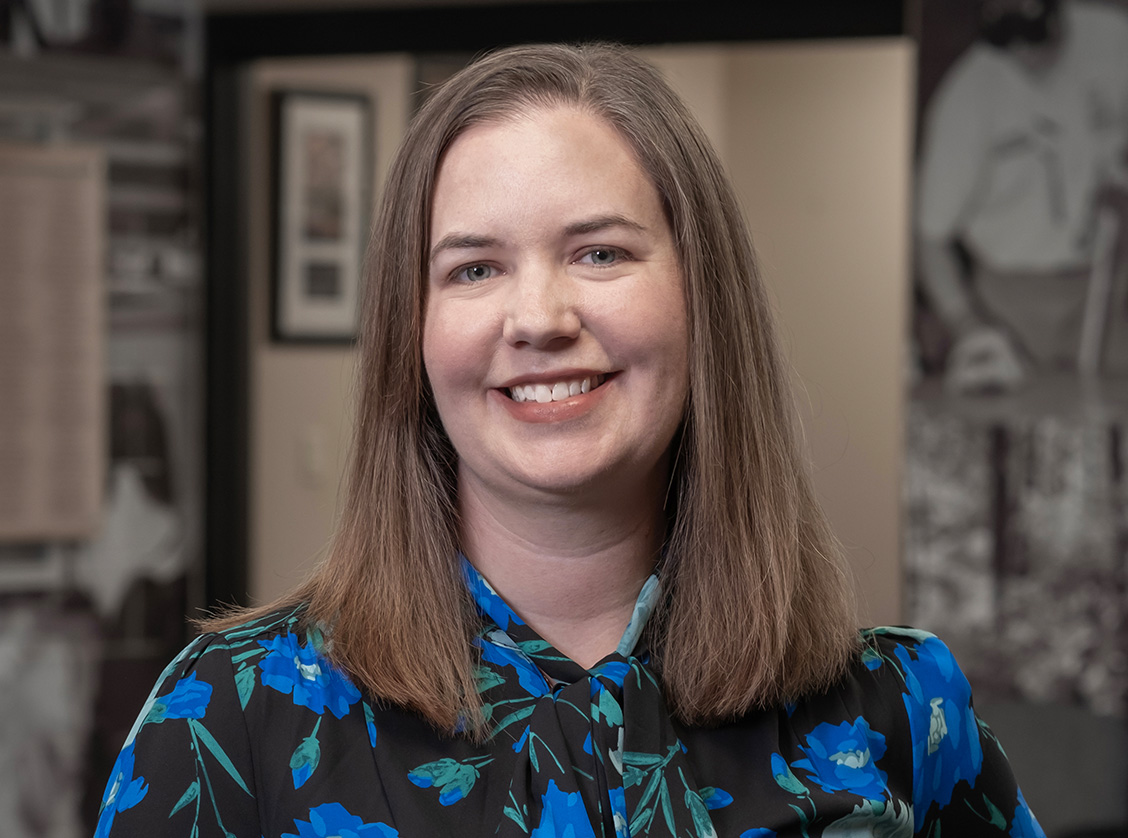 Katie Hunt Thomas '09 is an attorney and the director of advocacy at The Ability Center of Greater Toledo. Her focus is on areas such as the Fair Housing Act, Americans with Disabilities Act, Section 504 of the Rehabilitation Act, the Family Medical Leave Act, and the Individuals with Disabilities Education Act. Katie is dedicated to making a positive impact in the lives of individuals with disabilities, ensuring their rights and opportunities are protected and expanded. Her personal experiences have driven her to be a formidable advocate in the field of disability rights. 
Katie didn't grow up dreaming of becoming a lawyer, she just knew she wanted a career that was academic and would allow her to have a positive impact on others. Keeping those goals in mind, she decided that pursuing a law degree would satisfy her passion for academia as well as being able to leave her mark on the world.  
Her decision to pursue law school was deeply influenced by her personal experiences with her sister, who has Down syndrome. "I had many direct experiences with how hard it was for my parents to ensure that my sister received an appropriate education," said Katie. "Once, my parents needed to bring in an advocate to a meeting with my sister's school because the school refused to agree to set a goal that my sister would learn to read. My parents were successful in their push, and today, my sister's ability to read has been a huge boost to her quality of life – her ability to get a job and to understand what is going on around her. Without an advocate who knew the law, it wouldn't have happened." 
As a student at Toledo Law, Katie took Disability Law, taught by Professor Nicole Porter. This class resonated strongly with her, and she went on to write her final paper on the Individuals with Disabilities Education Act, earning the highest honors in the class. She went on to do an independent study with Professor Porter based on disability law. These courses marked the beginning of Katie's path towards a career in disability law and advocacy. 
Under Katie's leadership at The Ability Center, their advocacy program received NCIL's Region V Advocacy Award in 2019, recognizing their impactful work. She has been involved in several major civil rights victories, including Ball v. DeWine, a class-action lawsuit advancing community-based living for people with disabilities, and other significant cases enforcing the ADA. 
During the COVID-19 pandemic, Katie collaborated with the Northwest Ohio Hospital Association to create a policy that ensured equitable care for people with disabilities if the hospitals became overwhelmed. She has also been instrumental in passing legislative victories, such as an ordinance in the City of Toledo to accommodate people with disabilities in zoning laws and outlawing discrimination in housing based on source of income. 
Katie has contributed to several publications, including a chapter in "Inclusive Leisure: A Strengths-Based Approach," edited by Mary Ann Devine and Lynn S. Anderson, titled "Legal Foundations of Inclusion." She has also published several papers and booklets at The Ability Center, including "The Rights of People with Disabilities in Inclusive Neighborhoods" and "Vital Connections: Civil Rights and Public Policy Issues Affecting People with Disabilities in Pursuing Inclusive, Accessible Transportation." 
Prior to her work at The Ability Center, Katie worked with Advocates for Basic Legal Equality, Inc., and Murray & Murray Co. LPA, honing her expertise in various legal areas. She has also taught as an adjunct professor in the Disability Studies program at UToledo, and will teach Disability Law during the 2023-2024 academic year at Toledo Law. 
Katie earned her J.D. from The University of Toledo College of Law, cum laude, and her B.A. in English, magna cum laude, from Xavier University.  
---
Q&A with Katie Hunt Thomas
Where did you grow up? 
I grew up here in Toledo, Ohio. 
Do you have a favorite memory from attending Toledo Law? 
I went into law school knowing that I wanted to be a public interest lawyer, and I have lots of good memories of PILA and the excitement of getting exposed to many of the different areas of law that are in that sphere. 
What have you found most satisfying about your career thus far? 
For a job like mine, this one is easy. As lawyers, we have the ability to understand and change systems in ways that those who haven't had our education cannot. My favorite part of the job is understanding a new, complex problem and being able to structure and push a solution. 
Do you have any suggestions for law students/new lawyers interested in a similar career path? 
Get experience in public interest law through internships and other experiential opportunities while you are in law school. Public interest employers are looking for those who have a genuine interest in the field, and those experiences demonstrate that interest. Fellowship opportunities like the Equal Justice Works Fellowships are a great way to get your foot in the door. 
What was the best advice you ever received? 
If you know your area of interest, especially if it is specialized, reach out to those who are involved in that field and ask to get lunch. Very few people will turn down a chance to meet a new person. Those contacts will be invaluable in figuring out how to navigate your next steps. 
What do you enjoy doing outside of work? 
I enjoy spending time with my husband and two children, enjoying our wonderful Metroparks system and the Toledo art scene. 
Who is someone you admire and why? 
Tammy Duckworth - a U.S. Senator who has made strides both in disability rights and women's rights.