Candice Kline '08
Creating Success in a Second Career
May 1, 2023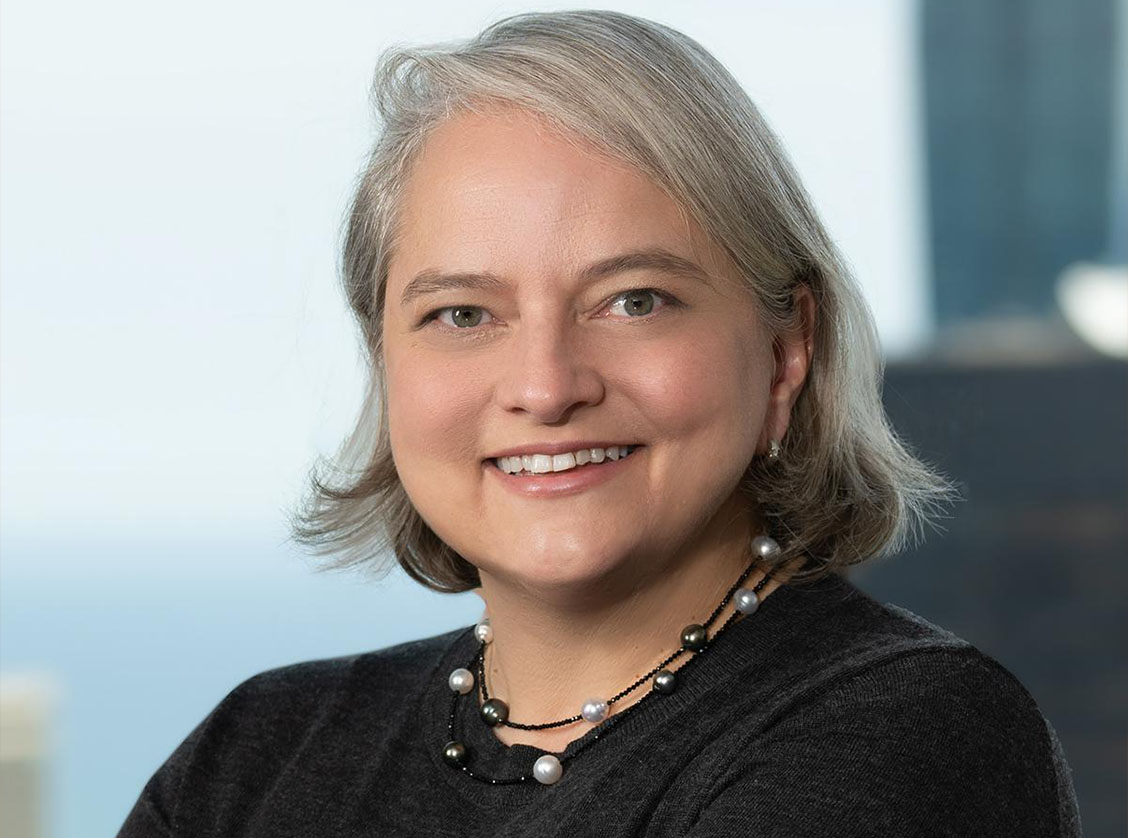 Candice Kline '08 is a partner at Saul Ewing LLP, where she focuses on bankruptcy, restructuring situations, and commercial litigation. Her practice includes loan and deal work, including M&A, workouts, and loan administration. She represents debtors, creditors, fiduciaries, and public interest stakeholders. She practices in Illinois and Ohio with a nationwide docket in complex commercial matters.  
Prior to her legal career, Candice earned her MBA from the University of Chicago in Finance and Marketing, forging a career for many years in global commercial banking and business, including startups. She always had an interest in politics, debates, and civil rights, and first considered law school while earning her bachelor's degree.  
After years in her banking career became centered in New York, Candice and her husband considered returning to the Midwest, where she was born and raised in Oregon, Ohio. A legal career was appealing, and she was excited about reconnecting with Toledo. "My main goal was to return to the Midwest," says Candice, "and when I really focused on that decision, it became one of coming home." Even though the idea of returning to school as a second-career student was daunting, she knew she wanted to pursue a legal education and was appreciative of the opportunity to do it in her hometown on a full scholarship.  
While at Toledo Law, Candice took advantage of summer externship opportunities. She did a public service externship with Judge Farnan in USDC, D. Delaware which exposed her to bankruptcy cases and other federal litigation. She later took a bankruptcy class with Judge Whipple. Between these experiences, and her first career in global commercial banking and business, Candice had found her niche in legal practice. 
When asked what she has found most satisfying about her legal career, Candice says, "I enjoy making a difference and achieving breakthrough results. The demands suit my tenacity, grit, and creativity. I push hard to solve problems, execute, and navigate difficult situations." She says commercial bankruptcy is a hard area of practice because often clients and counsel are experiencing extreme stress and distress. There are high stakes, and it is a complex, demanding, and highly rewarding field.  
Candice serves in leadership roles at various bar and trade associations and on boards and advisory boards for nonprofit organizations. She is a former officer and director of the TMA's Chicago/Midwest Chapter and an ex officio co-chair of its pro bono committee. She is also a board member and vice chair of the Bankruptcy Section Executive Council for the Commercial Law League of America (CLLA). 
Candice earned her B.A. in Economics and Government from Oberlin College in 1993, her M.B.A. in Finance and Marketing from the University of Chicago, Booth School of Business in 1997, and her J.D. from Toledo Law in 2008. 
---
Q&A with Candice Kline
Where did you grow up?  
Oregon, Ohio – born and raised on Navarre Ave. by Pearson Park. I attended Oregon Public Schools and graduated from Clay High School. 
Are you a first-generation law school graduate?  
I am a first generation college graduate and law school graduate. My father is a farmer and worked as an engineer and designer in the automotive industry in Toledo and Detroit. My mother is an LPN nurse who mainly worked in Oregon, Ohio. I am the oldest of five children. My youngest brother, Christopher Kline, graduated from UToledo's engineering program. 
Was someone in your family (or close circle) an attorney? If yes, did this have an impact? 
My great uncle Dale Kline graduated from UToledo and had a thriving practice in Port Clinton. His daughter Sandra Kline earned pharmacy and law degrees and worked in Chicago for years. I may have had some role models in the family without knowing it. I feel as if I have followed in their footsteps. 
Do you have a favorite memory from attending Toledo Law?  
I have many. I think of Professor Hopperton when I negotiate settlements, his lectures still resonate with me. Professor Klein would always comment on how my Kline is spelled the wrong way. Turns out, he was right. My family name was Americanized after immigration. Professors Davis, Eisler, Zietlow, and Barrett all shared wisdom I use today. Professor Eisler's observations on contract law were practical and direct. I also recall Law Review, and the gift of great friendships. 
What did you find difficult about your time in law school?  
I probably tried to do too much with school but also law review, PILA, and so on. My go-to approach is to do everything. I probably could have done less in hindsight. I was exhausted by graduation. 
What was most helpful to you during your time at Toledo Law?  
Definitely career development and placement opportunities. Heather Karns, who has recently left Toledo Law, was a bedrock of support and help. I had great summers, interviews, and placement opportunities throughout.  
What have been legal career highlights?  
I've had some big cases in chapter 7 and 11 practice. I have had notable appellate victories in the First, Third, and Sixth Circuits. In the Seventh Circuit, I won a bankruptcy appeal in the district court overturning the trial court's decision that basically gave my client his life back. We then settled using the Seventh Circuit's mediation program. In the First Circuit, I had the opposite result, denying discharge to a former bank CEO who was then extradited to Ireland. Most of my work involves business and financial affairs and touches the corporate bankruptcy and restructuring realm. I frequently speak and write on third-party releases in plans of reorganization, which is a major issue in mass tort bankruptcy cases. 
What are some of the struggles you have encountered and how did you navigate?  
My biggest challenge is business development, always and every year. In big law practice, you are your book of business. Law business development is distinct from other businesses and is tough for many attorneys, including me. My approach to business development is to do great work, stay visible, and persevere. 
What were some career pivot-points/decisions that led you to where you are now?  
I decided to leave Sidley and join a well-respected Ohio-based litigation boutique with a Chicago office, Carpenter Lipps. This move emphasized my litigation side of practice, developed my Ohio connections, and pushed me to explore the entrepreneurial side of practice. I still work with my old firm and value those relationships. 
What do you wish you would have known in law school?  
I would have liked more perspective on how long it takes to develop a thriving law practice, and what factors, including luck and sponsors, may make a material difference. Hard work along does not make this career flourish. 
Where do you see areas for growth on the part of the legal profession?  
Regulatory compliance as laws are passed annually that change the landscape for businesses. Cannabis law is an example of a thriving practice driven by regulatory compliance. Technology will continue to impact the legal profession. After Covid, my practice is nearly paperless. That took quite some getting used to, and will only continue. I would like to see more access to quality legal advice for individuals and small businesses and nonprofits that find it difficult to pay for legal services and either self-serve or forego engaging counsel. The results are often unfortunate. 
Do you have any suggestions for law students/new lawyers interested in a similar path?  
What should new attorneys keep in mind and be thinking about? New lawyers should consider seeking as much experience as possible as soon as possible and appreciate the persistent hard work required to earn stripes in the profession. People think in terms of years in practice. It takes a long time to grow and develop. 
How has your family supported you in your legal career?  
My family is very proud, and always thought I should have become an attorney. Apparently I was a loud and argumentative child. I had started my career in banking though because that path was more accessible after college. It worked well and I still enjoy banking and financial services. A key to my ability to devote serious time to my work is my husband, Tom Unger. He does so much to support my career and my involvement with the University of Toledo. I am lucky. 
What was the best advice you ever received?  
To stay the course. It's important to have a steady pace, show commitment, and nurture relationships in any endeavor. 
What do you enjoy doing outside of work?  
I enjoy time with my family, sports, gardening, good food and drink, music, art, and reading a broad range of fiction to military history. My husband and I do glassmaking together (see www.tuckhandmade.com). I love joining him at the Toledo Museum of Art or Corning Museum of Glass. If I weren't practicing law, I'd be an artist, or an artist's assistant. 
Who is someone you admire and why?  
This is a hard question. I would say Dr. McBrayer, my English teacher at Clay High School. He pushed me hard to click onto high academic achievement and Oberlin College. At the time, Dr. McBrayer probably knew me better than I knew myself. I admired his accomplishment (via the University of Toledo) in English and drafting, his cultural guidance, and directness.