Kurmmell (K.W.) Knox '97
Building Community and Improving Circumstances
by Heather Karns | August 1, 2022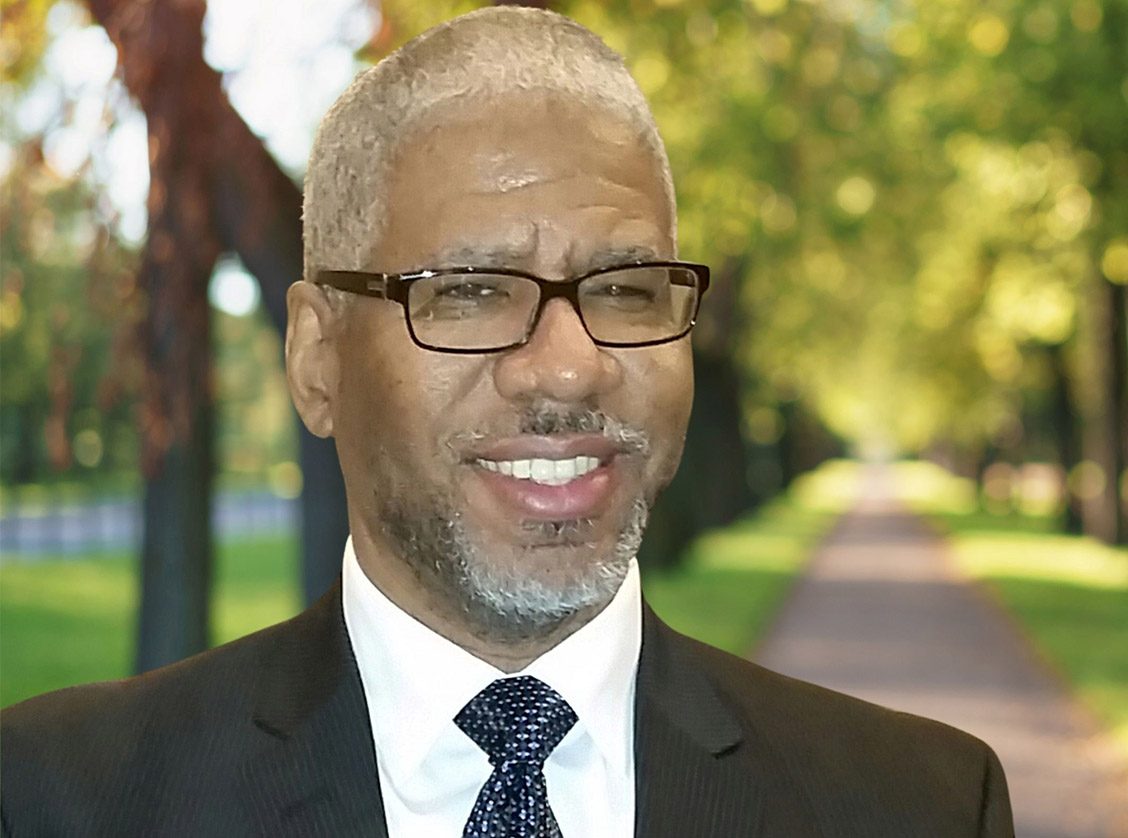 Kurmmell Knox '97 goes by K.W. and is the Principal Broker for Milagro Realty Group, a brokerage for the sale of Real Estate. K.W. also serves as Executive Pastor for IMPACT Church and is the 1st African American elected to the Roseville, MI City Council.  He has been married to Kimberly Reyes Knox for 25 years and they have two sons Kristian (22) and Kameron (15), along with their dog, a Cane Corso named Kountessa.
K.W. grew up on the east side of Detroit, attending Detroit Public Schools. After he obtained his bachelor and master degrees, he was looking for an opportunity to create change and establish credibility when he walked into the room. These intentions led K.W. to pursue law school. He chose to attend The University of Toledo College of Law because he became engaged just before being accepted to law school and wanted to stay close to home. He recognized he would receive a quality education within close proximity to Detroit. K.W. made an effort to stay very involved while he was in law school, making time for student organizations and part-time work. His most memorable experience was giving the introduction for the late Johnny Cochran when he came to speak on the importance of being an advocate for your clients. 
Immediately after law school, K.W. worked as an associate in a small firm in Detroit working with clients handling personal injury claims. Prior to his current work with Milagro Realty Group, he served as CEO for NDLx (New Dimension Logistics), an international freight forwarding brokerage. K.W.'s career experience is diverse and spans the private and public sectors. A major pivot-point in K.W.'s life followed after the death of his business-logistics partner. It was then that K.W. sought a new opportunity and established a Real Estate Brokerage. Of his career thus far, he says, "Being able to help people that end up in circumstances beyond their control and sometimes beyond their understanding has been the most satisfying." 
In addition to obtaining his law degree in 1997 from Toledo Law, K.W. obtained a B.S in Organizational Communications in 1989 and an M.A. in College Student Personnel in 1992, both from Eastern Michigan University.  
---
Q&A with K.W. Knox
How did Toledo Law prepare you for your career?  
The research, writing and practical education skills I learned at Toledo Law were immeasurable. I use them every day in my position as a Principal Broker for Milagro Realty Group.
What has been a career highlight?
Being recognized as a top producing partner for Landstar Logistics from 2010-2014. This was when I served as CEO of NDLx (New Dimension Logistics, LLC.).  
What were some career pivot-points/decisions that led you to where you are now?
I have always been interested in learning new skills and stretching myself to be better.  After the death of my partner in the logistics business, I sought my new opportunity and established a Real Estate Brokerage. 
What has been the most challenging aspect of a more recent position? 
As the housing market goes through its cycles, understanding that while I cannot prevent downturns, I can certainly manage my firms position and provide leadership to get us through the difficult moments.  Fortunately, I work with great people, and we have been able to withstand the volatility. 
Do you have any suggestions for law students/new lawyers interested in a similar path? 
My suggestion to any law student/new lawyer is to be open to all opportunities, because you never know where they may lead. 
What should new attorneys keep in mind and be thinking about? 
Proving yourself with small tasks can open doors that you may not even have considered, but have the capability to further your career beyond anything you could imagine.   
What was the best advice you ever received?
Every opportunity presented is an opportunity to excel.   
What do you enjoy doing outside of work?
I enjoy listening to music, watching movies and traveling with my family.  I am a Life Member of the Omega Psi Phi Fraternity, Inc. and I serve as International Rules Chairman.  I enjoy the community service we provide, and the committee work I do to help the organization be more effective and efficient in its processes. 
Who is someone you admire and why?
The late Grant Reynolds is one person I admire.  As a mentor for me and one of the men that advised Harry Truman in the desegregation of the Army, he set the tone for me to do things to make our community better and create change. 
Is there anything else you would like alumni (or current students) to know about you?   
During Law School, I was fortunate to serve as Moot Court Vice Chair and Black Law Students Association Treasurer.  I also worked in the Law Library and was a member of the Toledo Chapter of the American Inns of Court.