Douglas Leavitt '12
Making a Difference in Family Law
Aug. 1, 2020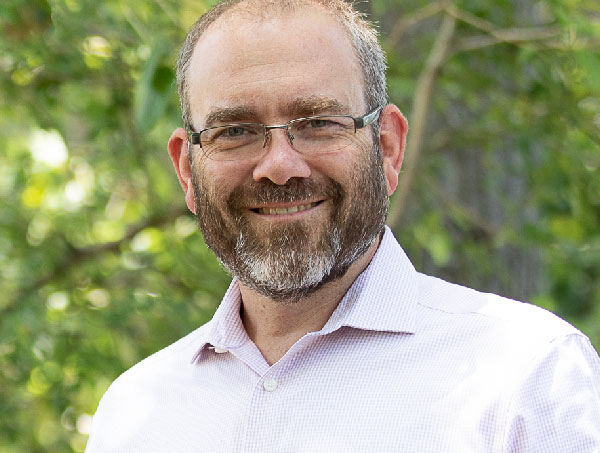 Douglas (Doug) Leavitt '12 served five years in the United States Navy. After completing his service, he moved to Toledo, Ohio, where he worked while earning his bachelor of arts in organizational management from Bluffton University. He went on to receive his juris doctor from The University of Toledo College of Law.
Doug did not choose to attend law school because he wanted to be a lawyer. He chose it to satisfy his intellectual curiosity. After attending a Torts class with his wife, he was blown away by the level of student engagement and realized it was something he wanted to do.
As Doug approached graduation, he was aware of the tough legal market and knew he wanted to litigate. As a result, he took steps to develop practical skills. He sought opportunities such as the legal clinic, trial-based classes, a prosecutorial internship, and working at the public defender's office during his third year. He also conducted research and found resources to aid in starting a solo practice along with learning basic QuickBooks skills, web design, and how to navigate case management software. There were countless resources available to establish a business. Even with so many resources, he knew running a business would not be easy. He made mistakes but states, "I focused on learning my craft and growing slowly vs. building a kingdom on a foundation of sand."
After graduation, Doug relocated to Boise, Idaho, where he started a solo practice specializing in domestic relations, primarily high conflict and protective order cases. He merged his solo practice with his current firm in 2017 to form Leavitt Ryan PLLC, which concentrates in family law and litigation.
Doug says that he didn't find family law; family law found him. He realizes that many attorneys shy away from this area of law because it can be "messy," but he has concluded this is an area where he can have the most influence. While it can be challenging at times, the most successful cases come with "indescribable emotional rewards."
Doug lives in Boise with his wife and fellow Toledo Law graduate, Sydney Leavitt '12. They have two children, Charlotte and Caroline, ages 7 and 5.
---
Q&A with Doug Leavitt
How did you find your way to Toledo Law for your education?
I resided in Toledo when I started applying to law schools and had extensive interactions with previous graduates prior to making a final decision. The cost, quality of education, and location made the choice easy.
Do you have a favorite memory from attending Toledo Law?
I don't know about a specific memory, but I truly enjoyed the entire three years I attended.
How did Toledo Law prepare you for your career?
I can say without a doubt that the education I received was second to none. This foundation was essential to my ability to start my career on my own during an uncertain market.
What were the turning points in your career that led you to where you are now?
The first turning point was moving to another region of the country during a tight employment market. I was aware of the possibility that I would need to start my own firm prior to the move, so I was prepared when it happened. Starting my own firm made it easy to work extremely hard at what I did, as it was the only way I was going to survive and provide for my family. The second turning point was when I took on a case against my current firm. The facts were not on my side, but my handling of the matter concluded in a great result for my client and a desire from my current firm to merge with my firm and work together going forward.
What is the most challenging aspect of your work, and how does your legal education and training help you?
I believe the most challenging aspect of my work is when my personal morals don't align with my legal ethics. Meaning, I have a duty to represent my clients. Sometimes I am faced with circumstances or facts that I personally don't agree with, but the duty to my client is the controlling question. I feel this dilemma is likely more prevalent in family law over other areas of law.
What have you found most satisfying about your career?
I truly love the area of law I practice in. It is a high stakes area of law as the issues often times address how people are able to live their lives and spend time with their children. The issues are not limited to questions of language, investments, or transactions. The arguably most difficult variables are the personalities of the parties. The most satisfying cases for me are the ones where I am able to help a client establish a relationship with their child that didn't exist before walking into my office.
Do you have any suggestions for current law students or new lawyers who might be interested in pursuing this practice area or career path?
My suggestion for current law students/new lawyers is to remember that law school is only the start of your education. It teaches you how to find answers, but not all of the answers. If you approach every case as if you are the dumbest person in the room, you will likely be the most educated on the facts and law by the time you get to trial. With regard to my specific area of law, remember to be sympathetic to the circumstances of your clients. Not everyone walking in your office had the opportunities you did or made the same choices you did in life. However, they are seeking your help with the most valuable thing in the world, their children. Finally, your reputation in this profession is everything and needs to be protected. Handle it with care.
What do you enjoy doing outside of work?
My family and I take in the great outdoors of Idaho whenever possible. We ski nearly every weekend in the winter and do extensive camping in the summer. I also bird hunt, fly fish, and referee rugby. We are a big Disneyland family too.
What are you passionate about?
I am passionate about learning new things and having new experiences. I am even more passionate if they involve my family.
Is there anything else you would like alumni to know about you?
I am still a huge Toledo Rockets fan and enjoy running into alumni when the teams are playing out my way. My last encounter was in Salt Lake City when the football team was playing Brigham Young University.