Megan Mattimoe '07
"Mettle of Mattimoe '07 improves lives of trafficking victims"
by Rachel Phipps '07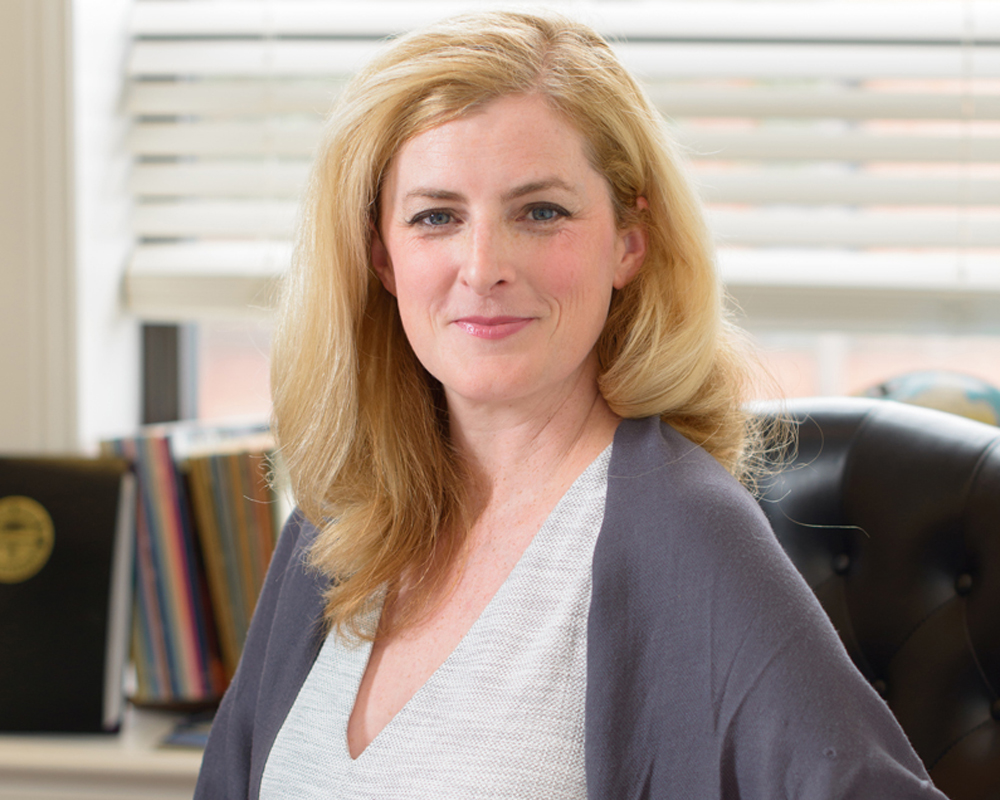 When Megan Mattimoe '07 sees something wrong, she has to fix it. Always has, always will.
The recipient of a 2015 Jefferson Award for her work with Advocating Opportunity, the nonprofit she founded almost five years ago, Mattimoe works to protect victims of human trafficking in Ohio and across the country.
Mattimoe first encountered the devastating effects of human trafficking – which usually involves children or adults being forced to engage in sex or labor for another's profit – as a brand-new assistant public defender in the juvenile division of the Lucas County Common Pleas Court in Ohio.
In 2009 Mattimoe was appointed as the attorney for a young girl accused of violating the terms of her probation. Her client, an "incredibly smart" twelve-year-old, had a single delinquency adjudication for breaking and entering, but otherwise a clean record. In working with the young girl over the course of several months, Mattimoe noticed a change in the child's demeanor and appearance, and the girl explained that on weekends she was being sold for sex by her mother at an agricultural labor camp. When Mattimoe's client revealed this to her probation officer a few days later, she was immediately removed from her home and separated from her younger sister.
"Then everything really goes wrong," says Mattimoe.
The girl is bounced around the foster care system. She runs away from several different foster homes. She is picked up by two other trafficking rings. She suffers from post-traumatic stress disorder, and, when subpoenaed to testify against one of her traffickers, is agitated and distracted on the stand.
"At every turn, she was failed by the system," says Mattimoe, who looked around and discovered a criminal justice system where trafficked children were routinely being treated as criminals and not as victims of child abuse. She saw trafficked children in detention, and victims returning to their traffickers or being picked up by different trafficking rings. And, true to her nature, Mattimoe set out to fix it.
She researched and reached out to those working with the population of trafficked minors and adults in Northwest Ohio. And she told anyone who would listen – the courts, the FBI, local police – "This isn't right; we have to fix it. We can do better."
Mattimoe founded her nonprofit, Advocating Opportunity, in 2011. The organization represents and advocates for all trafficking victims, adults and minors, females and males. Mattimoe regularly consults on trafficking cases in state and federal court and advocates for policy and legislative initiatives at all levels of government. She works closely with law enforcement and government officials to identify best practices for prosecuting human traffickers and protecting individuals.
I meet Mattimoe in her office, which is neat, though art and awards are propped along every available surface – the cabinet, a bureau, the floor.
AO, as Mattimoe's nonprofit is often called, seeks to provide holistic, comprehensive, trauma-informed legal and social services to trafficking victims. When asked what exactly makes the work of AO different, Mattimoe is quick to tell me that the trafficking survivors identify the goals of their legal and rehabilitation strategies.
"Sometimes our clients fail or stumble a bit," says Mattimoe, "but it is crucial that they have agency and authority over their lives." This victim-centered approach is starkly different from the reality many trafficking victims encounter when they enter the criminal justice system.
Mattimoe measures success in a representation by answering a single question: Does the survivor feel successful? "This means on whatever terms feel true to the survivor," says Mattimoe.
"We never close a client's file and clients may return at any time for services," she adds.
Mattimoe has assisted in dozens of interviews and trafficking cases conducted by the FBI and local law enforcement. She has worked with the FBI's Innocence Lost Task Force in Northwest Ohio for over six years and is one of only two guardians ad litem appointed through the juvenile court in Lucas County, Ohio to represent trafficked minors in FBI cases. (The other is Catherine Hoolahan '86, a staff attorney at AO.) Mattimoe also trains attorneys, guardians ad litem, courts, service providers, and law enforcement throughout Ohio to work with trafficked and exploited persons. 
"Megan is having a huge impact in these cases," says Judge Connie Zemmelman '81, who met Mattimoe six years ago when Mattimoe was a public defender in juvenile court. "She is passionate and compassionate. She knows how to talk with trafficked children and the kids trust her. And she is an entire networking system all by herself."
Mattimoe and AO continue to be recognized for their work. In addition to the Jefferson Award, Mattimoe is a 2015 Fellow with the Ohio State Bar Foundation. In 2014 the Ohio State Bar Foundation named AO its Outstanding Organization of the Year. In October 2015 AO received a Victims of Crime Act (VOCA) grant from the Ohio Attorney General's Office.
Mattimoe got a shot at overhauling Ohio's human trafficking laws in 2011 when she was asked by State Representative Teresa Fedor to join a team working on the state's "Safe Harbor Law." Mattimoe spent the next six months helping to write and advocate for the bill, which sought to bring Ohio law in line with its victim-centered federal counterpart, the Trafficking Victims Protection Act, passed in 2000.
Mattimoe met with legislators, provided both written and live testimony at the Statehouse in Columbus, and took endless calls from legislators. The Safe Harbor Law, passed in June 2012, increased the trafficking in persons criminal penalty, but it also provided robust assistance for human trafficking victims – and it is these provisions that make Mattimoe most proud.
"Ohio's Safe Harbor Law was drafted to provide courts with a statutory mechanism to monitor and provide trauma-informed services to human trafficking victims," Mattimoe explains.
For example, judges are now directed to determine whether a minor is a human trafficking victim, and, if so, the law provides a procedure to set aside a complaint for prostitution or other offense related to the minor's human trafficking victimization. In addition, a court must now appoint a guardian ad litem in cases where a juvenile may be a trafficking victim. The new law recognizes that trafficking victims are routinely arrested for prostitution and other charges without an investigation into whether the victim was forced to commit the act, and adult trafficking victims may now expunge charges related to the trafficking from their records. Another important piece of the Safe Harbor Law mandates law enforcement training and data collection.
In 2014, AO spearheaded the creation of the National Expungement and Vacatur Database, a national database that catalogues cases, articles, redacted court documents, and news reports. The database serves as a central resource for attorneys assisting trafficked persons who are seeking to vacate state level criminal convictions for crimes they were compelled to commit. Many organizations worked on the database, which launched in February 2015; it is now hosted and maintained by the Human Trafficking Pro Bono Legal Center in Washington, D.C.
Since starting AO Mattimoe has recruited an accomplished and hard-working board, and the work and footprint of the nonprofit are expanding.  AO just opened a Columbus office in October, and Mattimoe believes AO's model – filling gaps in services and capitalizing on existing community resources – can be duplicated in other cities as well.
She is in the process of hiring two client advocates and two interns. The week I speak with her, Mattimoe is on a breakfast meeting blitz, recruiting cultural institutions over coffee and pastries to provide opportunities for dance, art, and music to trafficking victims. The blitz worked; as I write this piece, AO partners now include the Toledo Museum of Art, the Arts Commission of Greater Toledo, and the Toledo Ballet.
This past summer Mattimoe was appointed as a part-time magistrate in Toledo Municipal Court, where she handles traffic and non-violent criminal matters. She is in the process of creating and implementing a series of forms for her courtroom, which she believes will help defendants better understand the process and charges they face.
See, always fixing things. We can only hope she never stops.