Steven Pacitti '86
Building Networks in Vegas
Aug. 2, 2021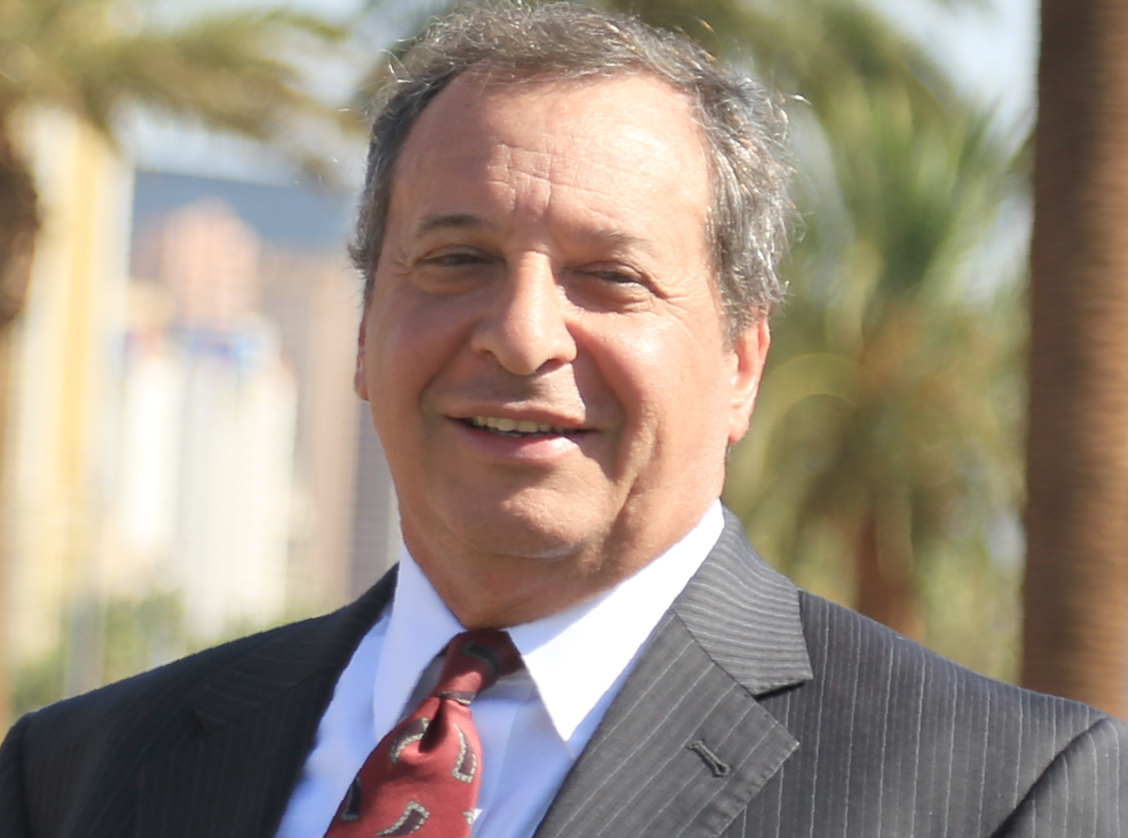 Steven Pacitti '86 grew up on a farm in Gerry, N.Y. His uncle lived in Monroe, Mich., and since he has always been close to his family, he applied to The University of Toledo College of Law. After graduation, Steve earned an LL.M. in taxation from the University of Florida.
As Steve enjoyed the warm weather but not the humidity of Florida, he decided to move to Albuquerque, N.M. in the late 80s. Because of the scarcity of tax attorneys in New Mexico at the time, he was fortunate to be hired by a European movie company filming in the state. After meeting with the company, Steve's name spread around the entertainment industry because of the plethora of movies and television being filmed there. Then, one by one, Steve met others in the sports and music fields and began representing those individuals as well.
After decades working for other firms and organizations, Steve made the strategic business decision to go solo, primarily spurred by the economic conditions of the time. He now practices in Las Vegas, concentrating on business/corporate, entertainment & sports, intellectual property, nonprofit organizations, and tax.
Steve specializes in negotiating and preparing trademark, copyright, and rights of publicity licensing agreements for high-profile clients, such as Georges St-Pierre, Leon Spinks, Coolio, NFL superstar Steven Jackson, Shaquille O'Neal, boxing superstar Danny Romero, Hulk Hogan, Andre Agassi, and Steffi Graf. Steve has sat on both sides of the negotiating table in most every area of sports and entertainment. With his legal and tax background, he brings business acumen and practicality that gets deals done. As general counsel for some of Las Vegas' most popular nightclubs, he negotiates sponsorship and appearance agreements for numerous celebrity nightclub appearances, including Mariah Carey, Britney Spears, and many others.
Steve's advice to attorneys begins with, "Always do the right thing." He also points out that to be a general counsel, you have to be a generalist, "It's always better to be able to satisfy 80% of your client's needs and refer them to a specialist when necessary. The more you do, the more indispensable you are to your clients, and the easier it is to retain those clients."
Steve describes himself as a farm kid who is grateful for the opportunities in his life. "I have had an incredibly lucky and interesting career. It's a bonus that I get paid for it."
Steve received his B.B.A. in accounting from St. Bonaventure University, his J. D. from The University of Toledo College of Law, and his LL.M. in taxation from the University of Florida.
---
Q&A with Steven Pacitti
What were the factors that influenced your career moves?
I've been with small, medium, and large firms and in-house. The large firm I was working with when the recession hit folded. Several firms wanted me to join them, but as I discovered, it was mostly to share overhead because transactional departments had no work. I actually had a managing partner in a firm tell me that he could "teach me how to make more money from my existing clients." I've always been busy, so instead of giving $10,000-$15,000 a month to firms for overhead I don't use, I decided to do things for myself. Timing is probably the most critical factor. In my case, I had the requisite experience to be able to represent my clients competently.
Has anything changed about your work during the last year?
About 50% of my practice is in sports and entertainment; the other half is general business. Obviously, tax overlays everything. With technology and media distribution constantly changing, there are always things to learn; taxation, obviously continually changes. With COVID and the economy, the entertainment industry, as well as the business world in general, took a hit. I was fortunate to have been retained by several clients working in the medical and testing field, so I wasn't as affected as many were.
What have you learned (big ideas or day-to-day aspects) during your time in law firms or working for yourself?
ALWAYS DO THE RIGHT THING. Overall, if you're going to be a business or transactional lawyer, be diverse. Don't work in a narrow area of law. Be conversant in as many areas as you can. Take on diverse projects and figure them out. Don't always expect someone to show you. Do the things (like tax) nobody wants to do. If you're going to be general counsel, you have to be a generalist. It's always better to be able to satisfy 80% of your client's needs and refer them to a specialist when necessary. The more you do, the more indispensable you are to your clients, and the easier it is to retain those clients. The medical field has general practitioners and specialists. I'm a general practitioner; that's what I enjoy. I don't have to continually market for clients because I have a loyal book of clients who stay with me. As far as everyday practice: (a) get a set of drafting conventions and stick with them; (2) the most important communication you'll have with your clients is your bill - don't nickel and dime them or otherwise charge them for things other than your services – a "no charge" for a phone call once in a while won't kill you; (3) don't write in legalese, especially to laypeople, they stop reading it.
What is the most challenging aspect of your work, and how does your legal education and training help you?
The most challenging aspect of my work is dealing with clients and especially with other attorneys. We had a very gregarious bunch in law school. One thing that law school taught me was that you can't read or research enough, especially source documents and statutes. Toledo was a great experience because it was of a high enough standard to give a great education without the competitiveness of a top-tier school.
What suggestions do you have for current law students and new lawyers who might be interested in the type of work you do?
If it's tax, get into a good LL.M. program. If it's corporate and business, find a mentor. Don't do it yourself. There's too much to learn. In litigation, the facts and issues are framed; they're not changing. When you're writing contracts and advising clients, things are constantly changing. It will take a good 5-10 years to get proficient. Learn and do as many areas and projects as you can. Everyone has good work, so the opportunities will be there with any firm. If it's a high-demand area of law, such as entertainment or sports, learn areas nobody else wants to learn, like tax or analytics. Network, network, network; get out and meet people. Most organizations, like the Sports Lawyers' Association, give tremendous discounts for law students. Join the organizations and attend their annual (or regional) conferences.
Life can't be only about work. What things do you enjoy doing, and how do you find time?
I enjoy my friends, golf, sports, and riding my motorcycle. I'm very lucky that my clients think enough of me to invite me to their events and performances. My practice brings me out to many diverse events with many diverse people, so in that regard, my work and my leisure time often overlap.
What was your experience like at Toledo Law?
I enjoyed my experience very much. I had wonderful classmates. We had a very gregarious and social group. I think my class has been particularly successful, and for that, I am very proud of them. I was astonished to find two of my classmates in my LL.M. program at Florida. That speaks highly of a UToledo education.
Do you have a favorite memory from attending Toledo Law?
My professors, my friends, and winning intramural softball.
How did Toledo Law prepare you for your legal career?
Besides a sound educational background, I came from an accounting undergrad, so I had forgotten how to write. Law school re-taught me how to write. Now I am constantly recognized for my clear and concise writing style.
What are you passionate about?
My family, friends, and being the best lawyer and draftsman I can be.
Can you share any good advice others have shared with you?
I had a mentor who, when you asked him a question, would sometimes answer it and sometimes would just say, "Read the law." As a result, I commonly find myself telling lawyers to "read the law." Go to the source material, don't just read the articles.