Steven Vandercook '14
Launching Exciting Career with NASA
May 3, 2021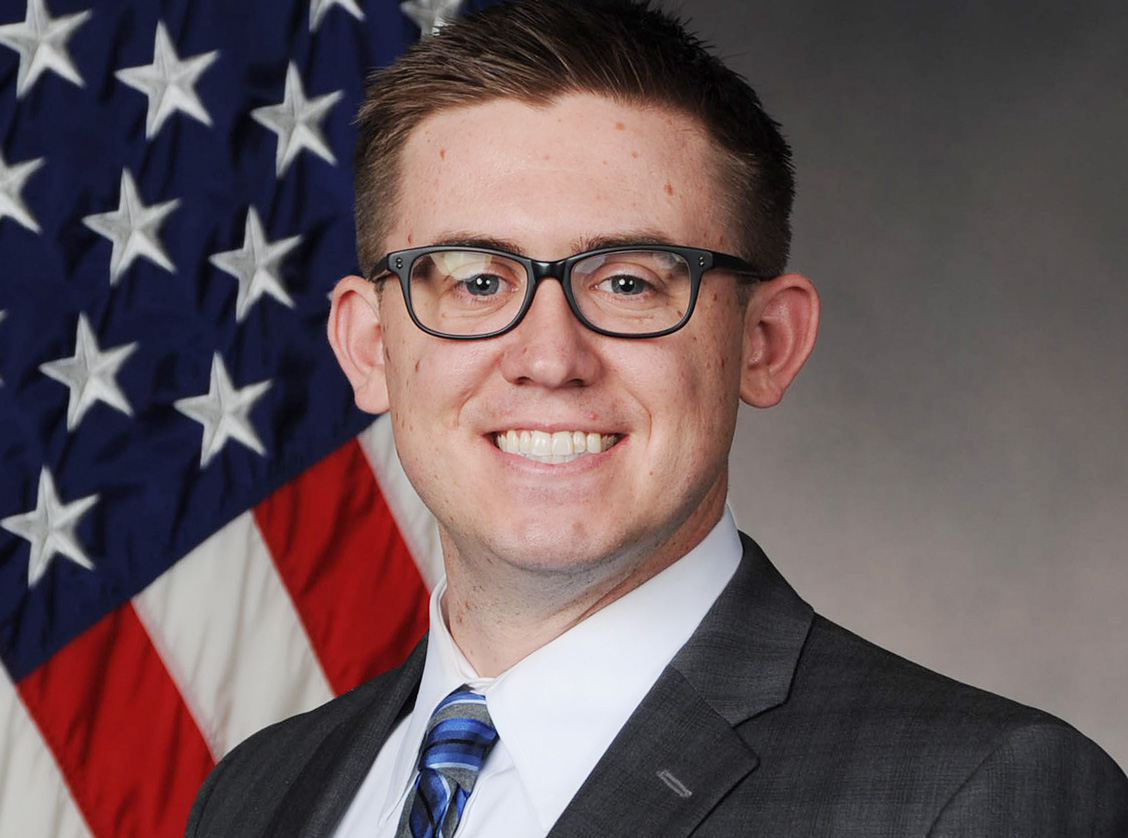 Steven Vandercook '14 works as a contracting officer at NASA's Kennedy Space Center to support the next chapter in human space flight. His J.D./M.B.A. joint degree from The University of Toledo helped him land his dream job, where he sees the direct impact of his work on projects that affect everything from ground operations to the International Space Station.
Steven grew up in Toledo and attended Toledo Law because both of his parents graduated from the University. Immediately after graduating from law school, he went to work as a contract specialist with the Air Force Research Lab at Wright Patterson Air Force Base in Dayton, Ohio. He credits Toledo Law for his career field and current work as a NASA contracting officer in Cape Canaveral, Fla., where he enjoys seeing the direct impact of his work. Steven says, "There is nothing quite like being woken in the middle of the night to a rocket launch shaking the windows in your home. I have learned to be grateful for my career thus far and for finding employment that I truly enjoy."
Steven received his B.S. in marketing and political science from Florida State University, his M.B.A. from The University of Toledo, and his J.D. from The University of Toledo College of Law.
---
Q&A with Steven Vandercook
What was your experience like at Toledo Law?
I absolutely loved my time at Toledo Law. I may not have enjoyed the stress-induced exam weeks as much, but I felt at home. I loved all of my professors, and I do not think I could have gone anywhere else and felt that. From their brilliance to their respective experiences, every professor made Toledo Law worth it. I have gained everlasting friendships and enjoyed incredible experiences from my time at Toledo Law. I would not have changed anything.
What were the turning points in your education (law school or otherwise) and career that led you to where you are now?
I would have to say that the turning points in my education happened at a relatively young age. I pretty much always knew what I planned to study in undergrad, and that it was preparing me for a stint in law school. Attending Toledo Law, however, made it possible for me to get a joint M.B.A. degree, which is what led me directly on the path I am on currently. Had it not been for Toledo Law, I would not be in the career field I am now, nor would I be able to say that I work for NASA.
What was your first step after law school?
My first step after law school was accepting a position with the Air Force Research Lab at Wright-Patterson Air Force Base in Dayton, Ohio, in the contracting directorate. I received the offer just before graduation, and I accepted an August start date.
How did you make your way to Florida and specifically to NASA?
After working for the Air Force in Dayton for three years, I applied for and accepted a position with the Naval Research Laboratory in Washington, D.C. While that position did not turn out to be exactly where I wanted to work, it helped me gain the necessary experience to qualify for an interview with NASA. Specifically, my position at NRL worked directly with the Naval Center for Space Technology and Ocean & Atmospheric Science & Tech Directorate, which helped my application for NASA stand out. After a few months at NRL, I eventually accepted a job with NASA at the Kennedy Space Center, working for the Mission Support Procurement office.
What is the most challenging aspect of your work, and how does your legal education and training help you?
The most challenging aspect of my work currently has been balancing the work from home life this pandemic has brought on with actual home life. Prior to the pandemic, however, finding complex solutions to complex problems that arose frequently was challenging. My legal education has assisted me in multiple ways. First, it has helped me when authoring special contractual provisions, as well as authoring memos and other writings for approval from those above my position. Secondly, my legal education and training have assisted me in finding new and different ways to solve problems and to think critically and swiftly when problems do arise.
What have you found most satisfying about your career so far?
I have found that I was most satisfied in my career when I walked down to the water to watch SpaceX send up the crewed missions to the International Space Station. Knowing that I was able to work on various projects ranging from biological studies onboard the ISS, drafting a new contract for the propellants that fueled the rockets, and administering the operation and support contract for all ground operations here at Kennedy Space Center, has been very satisfying.
As you think back on interviews, can you share a unique interview question that you have been asked- or that you like to ask?
The very first interview I took for the Air Force was at UToledo, and I remember the very last question they asked. They asked for three different and unique uses for a paper clip. I believe they did it to see our creativity, our problem solving, and our efficiency in answering the question, though I could not say for sure. That was seven years ago, though, and I still remember it to this day.
What suggestions do you have for current law students and new lawyers who might be interested in the type of work you do?
I would suggest that you create a profile on USAJOBs.gov and you establish search alerts for job postings for where you want to work. Watch out for on-campus interviews (or video-conferencing) from Wright-Patterson AFB personnel, as well as any job postings online. Many Toledo Law graduates work at Wright-Patt, so you can always reach out to one of them for any information on hiring updates. It is much easier to get your foot in the door at a place like Wright-Patt, and then try to move around because Wright-Patt offers an excellent training program that other government agencies know about and look highly upon should you ever wish to move.
What do you enjoy doing outside of work?
I enjoy camping, hanging with my dogs, and going to the beach. During this pandemic, hanging out with friends, safely, has been more important than ever.
Do you have a favorite memory from attending Toledo Law?
My favorite memory from Toledo Law was actually during one of Professor Eisler's classes during my 2L year. I remember her calling on me during class in a way that only she could. From then on, we got into a lengthy discussion, which I sadly do not remember. It is one of my last memories of her and it always reminds me that she was not only a wonderful professor, but also a remarkable person.
How did Toledo Law prepare you for your legal career?
Toledo Law taught me so much that it would be unfair to try to list anything, as I know I would forget something along the way. However, it is fair to say that without Toledo Law, I would not be where I am today. I learned so much at Toledo Law, and it has kept me prepared for every challenge I have faced along the way.
What are you passionate about?
I am passionate about learning and about expanding my horizons. I do not want to get to a place of complacency, and I always want to challenge myself. I do enjoy our nation's space endeavors through NASA and read about new adventures and discoveries often. I also am passionate about politics and love to study both the politics of today and of yesterday. I follow the SCOTUS Blog, and I like to read the opinions issued just to see the constitutional law arguments at the heart of the cases.
Share something you want Toledo Law alumni to know about you.
I take great pride in having attended Toledo Law, and I would love to get more involved with alumni outreach. If there are more of us out here—let's get together!
Share a piece of good advice someone else has shared with you.
I cannot remember where I heard this, or who might have told me this, but I have always tried to share that you should not make assumptions about anyone or anything. Whether it be work-related or in your private life, I feel that making an assumption more often than not leads to an inaccurate result. Part of this, to me, is learning to listen to others and ensuring that you learn everything you can, so that you are prepared for whatever might come your way.