UToledo Engineering-Medicine Research and Innovation Collaboration (UTEMRIC)
Dr.Thomas Papadimos, MD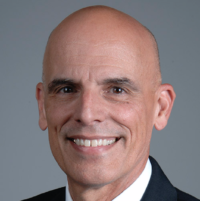 Dr. Papadimos is a Professor of Anesthesiology; Director of Critical Care Medicine; Associate Dean for Interprofessional and Immersive Simulation; and Medical Director of the Interprofessional Immersive Simulation Center at The University of Toledo's College of Medicine and Life Sciences. He has 30+ years of experience and practice in Anesthesiology and Critical Care. He is a fellow of the American College of Critical Care Medicine. His research interests include modeling cognitive loads in medical tasks, education through medical simulation, clinical decision support systems, anesthetic toxicity, and medical philosophy. Dr. Papadimos is pursuing projects which surround the use of medical simulation to train extracorporeal membrane oxygenation (ECMO) skills, and the development of clinical decision support systems for "ICU of the Future". Dr. Papadimos received a BS from Heidelberg College, an MD from the Medical College of Ohio, and a MPH from Johns Hopkins University. He completed a General Preventive Medicine Residency at the Johns Hopkins University School of Public Health, an Anesthesiology Residency at the University of South Florida, and a Critical Care Medicine Fellowship at the Mayo Clinic. Since joining UT, Dr. Papadimos is stimulating interdisciplinary R&D (e.g. Engineering-Medicine R&D Collaboration) aimed at securing large team grants.
Dr. Vijay Devabhaktuni, PhD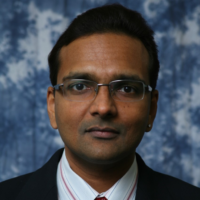 Dr. Devabhaktuni received the BEng degree in EEE and the MSc degree in Physics both from BITS Pilani, India, and the Ph.D. degree in Electrical Engineering from Carleton University, Canada. His Ph.D. received the highly competitive Senate Medal. At Concordia University, Canada, he held the prestigious Canada Research Chair in Computer Aided High-Frequency Modeling and Design. At the University of Toledo, he is a Full Professor in the EECS Department of the College of Engineering. During 2012-2016, he served as the Director of the College of Engineering for Interdisciplinary Research. Since January 2017, he is a Prestige Professor and the Senior Director of Research Development & Innovation in the Anesthesiology Department of the College of Medicine and Life Sciences. His R&D interests include applied electromagnetics, biomedical applications, computer-aided design (CAD), device modeling, human-machine teaming (HMT), infrastructure monitoring, neural networks, optimization methods, RF/microwave design, virtual reality, and other emerging areas. Dr. Devabhaktuni secured funding of about $5M, authored 190 technical papers, and is advising 14 graduate students. To date, he graduated close to 50 research-based MS and Ph.D. students. Dr. Devabhaktuni is a registered professional engineer of APEGA Canada and is a Senior Member of the IEEE.