---
Major Focus AreaS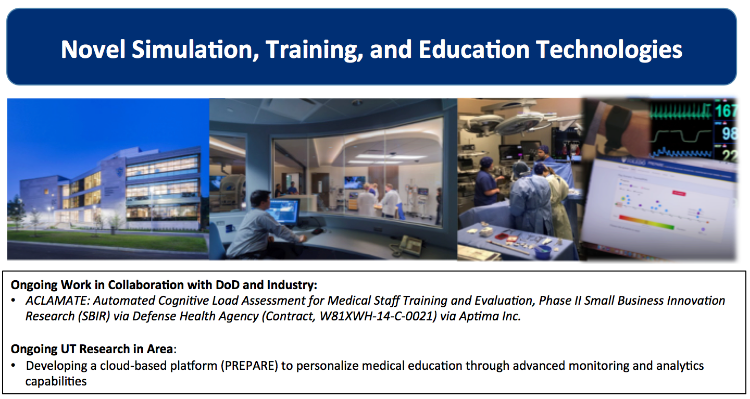 ---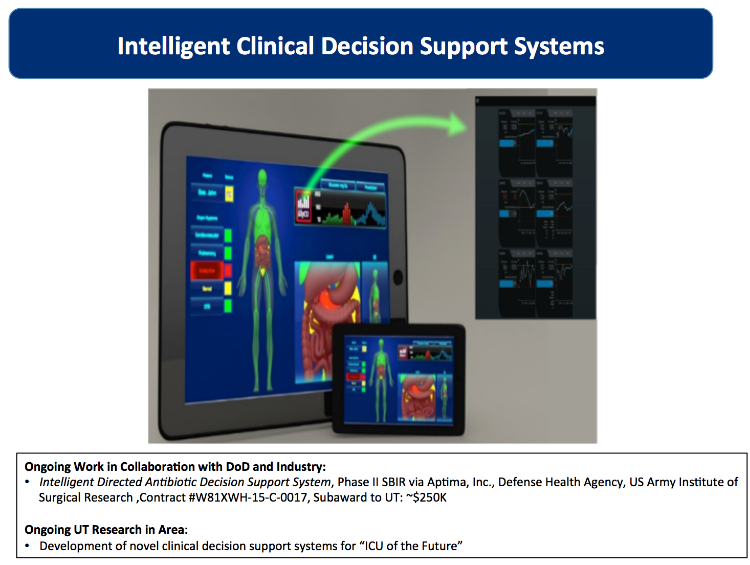 ---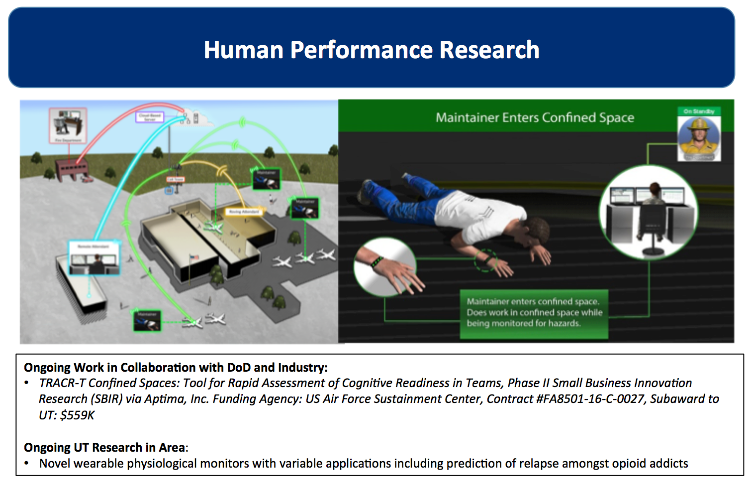 ---
Collaborations 

---
INDUSTRY COLLABORATORS

---
Director 
Dr. Scott M. Pappada: 

Dr. Scott Pappada has over 14 years of combined research and development experience in Academia, as well as the Medical Device, Healthcare, and Defense industries. He  has a broad background in biomedical engineering with particular areas of expertise in signal processing, machine learning, mathematical modeling, and software development.  He currently holds multiple faculty appointments within the University of Toledo's (UT) College of Medicine and Life Sciences (Department of Anesthesiology) and College of Engineering (Departments of Bioengineering and Electrical Engineering and Computer Science). He also holds a position as Simulation Fellow within the UT's Lloyd A. Jacob's Interprofessional Immersive Simulation Center (IISC). He is Director of the Healthcare Technology and Innovation Laboratory located within the University of Toledo's IISC. His current research involves the development of software applications including intelligent clinical decision support systems and data visualizations to improve healthcare provider performance across a number of healthcare settings such as the ICU. Additionally, he is working with faculty across UToledo to develop technologies to improve upon human performance, and healthcare education and training via simulation-based medical education. He is also working towards the development of a wearable technology that monitors and predicts the risk for relapse in patients with opioid addiction.  He has authored over 16 combined peer-reviewed scientific journal articles and book chapters, holds 2 US Patents and has contributed to over 40 national conference presentation/proceedings. He has contributed to the acquisition of over $5M in research funding over his career in industry and academia. Dr. Pappada received his Ph.D. in Engineering with a Bioengineering concentration from the University of Toledo in 2010, and a Bachelor's of Science in Biomedical Engineering with a minor in Biomedical Sciences from Marquette University in 2005.
---
Publications
Peer Reviewed Journal Publications
Pappada SM

, Papadimos TJ, Clinical decision support systems: From medical simulation to clinical practice,Symposium for Int J Acad Med, 2017, In Press 
Vanderbilt A, 

Pappada SM

, Stein H, Harper D, Papadimos TJ,  Increasing patient safety with neonates via handoff communication during delivery: A call for interprofessional healthcare team training across GME and CME, Advances in Medical Education and Practice, 2017
Bhandary SP, Lipps J, Winfield SR, Abdel-Rasoul M, Stoicea N, 

Pappada SM

, Papadimos TJ. NASA Task Load Index Scale to Evaluate the Cognitive Workload during Cardiac Anesthesia Based Simulation Scenarios,International Journal of Anesthesiolgy and Research, August 2016, In Press
Papadimos TJ, Sipes AC, Lyaker MR, Murphy CV, Tsavoussis A, 

Pappada SM

. The importance of emotional intelligence to leadership in an academic health center. The International Journal of Academic Medicine, July 2016.
Pappada SM

, Papadimos TJ, Lipps J, Feeney JJ, Durkee KT, Galster SM, Winfield S, Pfeil S, Castellon-Larios K, Bhandary SB, Stoicea N, Moffat-Bruce SM.  Establishing an instrumented environment for simulation-based training of healthcare providers: an initial proof of concept. International Journal of Academic Medicine, July 2016.
Comorbidity Polypharmacy Score and Its Clinical Utility: A Pragmatic Practitioner's Perspective

. Review Article, 

Journal of Emergencies, Trauma, and Shock, 2015.

(2013)

 Evaluation of a Model for Glycemic Prediction in Critically Ill Surgical Patients. 

PLoS ONE

8(7).
8.      Pappada SM, Cameron BD, Rosman PM, Papadimos TJ, Borst MJ, Bourey RE, Neural Network Based Real-time Prediction of Glucose in Patients with Insulin Dependent Diabetes, Diabetes Technology and Therapeutics, February 2011, 13(2), pp. 135-141.
Papadimos TJ, 

Pappada SM

, Lather JD, Bazalitski V, Stawicki SP, Cameron BD, Pan ZK. Correlation between CCL20 and serum glucose in postoperative coronary bypass patient: A call for further investigation. OPUS 12 Scientist 2010; 4(1):1-2.
Pappada SM

, 

Borst MJ, Cameron BD,  Bourey RJ,  Lather JD, Shipp DM, Chiricolo A, Papadimos TJ, Development of a neural network model for predicting glucose levels in a surgical critical care setting, Patient Safety in Surgery 2010, 4:15.
Pappada SM

, Cameron BD, Rosman PM. Development of a Neural Network for Prediction Glucose Concentration in Type I Diabetes Patients. Journal of Diabetes Science and Technology. Sept. 2008 Vol 2. Issue 5, p.792-801.
Badano A, 

Pappada SM

, Kelley EF, Flynn MJ, Martin S, Kanicki J, Luminance Probes for Contrast Measurements in Medical Displays, SID 03 Digest (Society for Information Display), pp. 928-931, 2003. 
---
Book Chapters
Durkee, K., Hiriyanna, A., 

Pappada, SM

., Feeney, J. and Galster, S., Multi-model Approach to Human Functional State Estimation. In International Conference on Augmented Cognition (pp. 188-197). Springer International Publishing, July 2016
Durkee K, 

Pappada SM

, Ortiz A, Feeney J, Galster S,Using Context to Optimize a Functional State Estimation Engine in Unmanned Aircraft System Operations. 

in Foundations of Augmented Cognition, D.D. Schmorrow and C.M. Fidopiastis (Eds.): Proceedings of HCI International 2015, Springer-Verlag Berlin Heidelberg, pp. 24-35
Durkee, K., Geyer, A., 

Pappada, SM

, Ortiz, A., & Galster, S. (2013). Real-Time Workload Assessment as a Foundation for Human Performance Augmentation, in Foundations of Augmented Cognition, D.D. Schmorrow and C.M. Fidopiastis (Eds.): Proceedings of HCI International 2013, Springer-Verlag Berlin Heidelberg, pp 279–288.
Pappada SM

, Cameron BD, "Neural Network Modeling Approaches for Patient Specific Glycemic Forecasting" in: Patient-Specific Modeling in Tomorrow's Medicine, 2012, Gefen A (Ed.): Springer, Springer Series: Studies in Mechanobiology, Tissue Engineering and Biomaterials, Volume 9, pp. 505-530.