THE CITY OF TOLEDO AND NORTHWEST OHIO AREA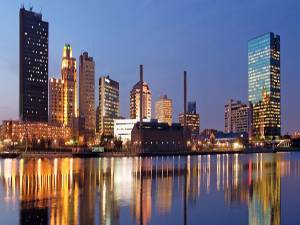 The city of Toledo is located in northwest Ohio at the western shore of Lake Erie and borders the state of Michigan. The Toledo metropolitan area has a population of approximately 651,000, what makes it the fourth most populous city in the state of Ohio, after Cincinnati, Cleveland and Columbus. The city offers a wide array of cultural opportunities including a world-class art museum, a symphony orchestra, an opera, an active jazz society, and many theatres. A variety of activities are available not only in Toledo but also in the nearby (1-2 hours driving) cities of Ann Arbor, Columbus, Cleveland, Dayton, Detroit, and Fort Wayne. Within 3-5 hours of driving distance, one can also visit Cincinnati (OH), Chicago (IL), Pittsburgh (PA), Lexington (KY), Louisville (KY), Buffalo/Niagara Falls (NY), and Toronto, Canada. Toledo, as most of the 
Great Lakes
 region, has a humid continental climate characterized by four distinct seasons with varying temperature and precipitation. 
---

Not far from Toledo there are a number of fun and interesting attractions. The Maumee Bay State Park (~35 minute drive) offers a beach and great wildlife viewing. Also close by  is the resort area of Put-in-Bay on South Bass Island. In the summer, Cedar Point amusement park attracts millions of visitors each year. In the fall, picking apples at one of the local orchards is a seasonal favorite. 
The Imagination Station is

 a non-profit, hands-on science museum located by the Maumee river in downtown Toledo. The facility has more than 300 exhibits for children of all ages and immerses

 visitors of every age in a fun and educational multi-sensory experience. 

The Toledo Botanical Garden is a beautiful green space open to the public seven days a week, where one can enjoy the natural allure of different themed gardens, including the Shade Garden, one of the region's finest hosta collections, an Herb Garden, Pioneer Garden, Vegetable Garden, and a Perennial Garden. 
Additional information about Toledo and the northwest Ohio area can be found in the following links: