Welcome from the Chairwoman
Mission
The Department of Physiology and Pharmacology is dedicated to further the Mission of the University of Toledo College Of Medicine and Life Sciences to improve health in the communities and region we serve through scholarly biomedical research, teaching and service activities related to the study of Physiology, Pharmacology and Molecular Medicine.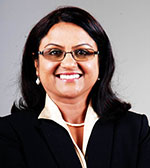 The Chair's Note
Welcome to the Department of Physiology and Pharmacology!  The Department is historically renowned for its many seminal research contributions and remains dedicated to the highest quality in research, graduate and postdoctoral training and medical education.  Building upon this strong foundation of excellence of our faculty, we look forward to an exciting future as the Department is currently poised for significant growth and expansion. 
The current research programs within the Department are multi-disciplinary and apply state-of-the-art, sophisticated genetic and physiological technologies to study various aspects of molecular medicine, genetics and systems biology related to cardiovascular, renal, metabolic and endocrine systems.  One of the University Research Council approved Centers, the Center for Hypertension and Precision Medicine, is tightly integrated with the Department and directed by senior faculty members from the Department. Research work from the Department has been published in prominent top-tier peer-reviewed Journals including Cell, Science, PNAS and Nature Communications and the faculty members of the Department continue to obtain extramural research funding from the National Institutes of Health (NIH) and various other scientific organizations such as the American Heart Association and the American Diabetes Foundation.
Our faculty members contribute to the teaching mission of the University as teachers and mentors of the future workforce of the Medical and Scientific Community. The Departmental educational programs provide training for graduate and medical students as well as postdoctoral fellows. Graduate students admitted to the PhD or MS programs of study in Biomedical Sciences are offered specialization in four distinct tracks, among which the Department is largely and primarily aligned with the track focused on Molecular Medicine.  Our students enjoy a highly supportive environment geared towards 'fostering a curious mind' including formalized activities organized through the Departmental Training Leaders Course (TLC) program. They are also exposed to a variety of opportunities to build their skills in their networking and leadership potentials.  
The Department takes pride in furthering the service mission of our University by the scholarly service activities of our faculty members promoting our research in various regional, state, national and international professional organizations. Faculty members serve as Editors of prominent journals and as peer-reviewers of National and International scientific review panels including the NIH. Department faculty members continue to serve in major leadership positions for national and international organizations such as the American Physiological Society, the American Diabetes Association, the American Heart Association and the Council on Hypertension of the AHA.
Thank you for your time to visit us on the web. I encourage you to please browse through our entire website to find more information on our research, education and service activities.
Bina Joe, PhD, FAHA, FCVS (APS)
Distinguished University Professor and Chairwoman