College of Nursing Honors
Purpose
The University of Toledo College of Nursing (CON) Honors Program is under the umbrella of the Jesup Scott Honors College. Our program provides undergraduate nursing students an opportunity to increase the depth and breadth of their program of study, emphasizing independent discovery, analysis and the application of knowledge to the practice of nursing while developing core competencies, and tackling real-world challenges through experiential learning in local, regional and global communities.
Honors nursing courses allow students to explore specialized areas of study, participate in scholarly research endeavors and develop collegial relationships with faculty and clinical instructors. Honors students enjoy being mentored by faculty while fulfilling their research experience.
Eligibility 
Upon admission to the B.S.N. nursing major, honors students must have an overall GPA of 3.3 or higher and must meet with the CON honors program director to design a program of study to focus on a particular area of interest. To maintain good standing in the Honors Program, students must achieve a 3.3 overall GPA and minimum 3.3 GPA in nursing coursework. If the nursing GPA falls below 3.3, students have 2 consecutive semesters to bring their GPA back up to 3.3. Students must meet with the CON honors program coordinator whenever the GPA falls below 3.3.
Required Courses
All CON honors students must take the following HON courses for a total of 9 credit hours:
• HON 1010 Ideas and Society (3 cr hrs)
• HON 2010 Multicultural Toledo (3 cr hrs)
• HON 3010 Community Engagement  OR HON 4950 OR 4960 Honors Seminar (3 cr hrs)

Students must complete HON 1010 by the end of the first year.  HON 2010 and HON 3010 OR HON 4950 OR HON 4960 must be completed by the end of the second year. The College of Nursing Honors advisor will contact students not meeting these guidelines to discuss continuation in the Honors Program.
Required Nursing Courses
All CON honors students must complete at least 15 credit hours of the following NURS honors courses: 
• NURS 3220 Medical-Surgical Nursing 1 (5 cr hrs)
• NURS 3280 Advanced Fundamentals (3 cr hrs)
• NURS 3310 Mental Health Nursing (4 cr hrs)
• NURS 3320 Medical-Surgical Nursing 2 (5 cr hrs)
• NURS 3330 Pediatric Nursing (4 cr hrs)
• NURS 3540 Pathopharmacology 2 (3 cr hrs)
•NURS 4070 Family Health Nursing (4 cr hrs)
• NURS 4510 Population Health (4 cr hrs)
• NURS 4700 Nursing Care of Persons & Families with Complex Care Needs(3 cr hrs)


Honors Capstone Project
The Honors Capstone Project (3 credit hours) offers a scholarly experience which integrates knowledge and skills learned throughout the undergraduate curriculum as well as to reflect the student's attainment of the goals of the program. Students complete the honors capstone project in their last year of the nursing major.
Recent Graduates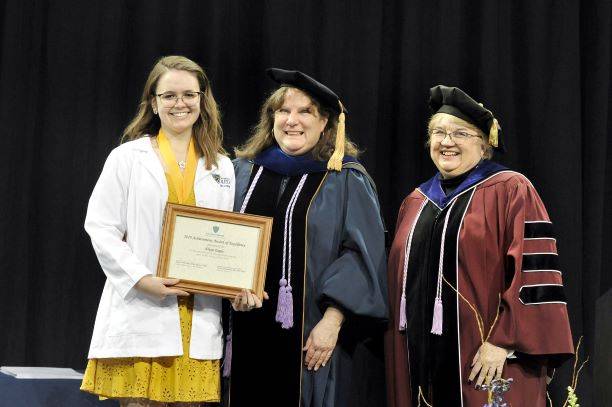 Alexa Eagle will serve as a Registered Nurse with the University of Michigan hospital in the emergency department.  "The diversity of ideas my peers offered in Honors courses opened my mind to different perceptive and ways of thinking," Alexa said. "These courses offer a level of education that I wouldn't receive otherwise." She evaluated in her thesis the effects that a child's CDKL5 Disorder or Rett syndrome diagnosis have on the caregiver's mental and physical health.
Hunter Perrin has been accepted to Johns Hopkins University for the Fall to begin work on his doctorate of Nursing. Hunter prizes two memories of his time with the JSHC – a trip to Taiwan with three other Honors students and his recent presentation at the American Association of Colleges of Nursing Master's Education Conference. The latter served as a venue for Hunter to share his thesis research into the psychological development of adolescents after a school shooting, identifying what nurses can do to address this trauma. "All of my culminating hard work was pieced together in one place, and the fulfillment I felt after presenting there is something I will never forget," he said.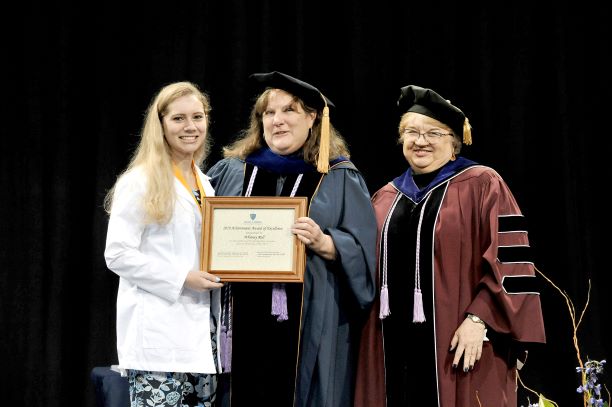 Whitney Roll has interviewed as C.S. Mott Children's Hospital in Ann Arbor and the Riley Children's Hospital in Indianapolis, she is excited for her future. A favorite memory, Whitney values the trip she and three other Honors Nursing students went on with a professor to Taiwan. "The goal was to become culturally aware of the countless ways to practice medicine," she said. Noting the high volume of child fever complaints in pediatric emergency rooms, Whitney drafted for her capstone educational resources for families to clarify misconceptions about fever.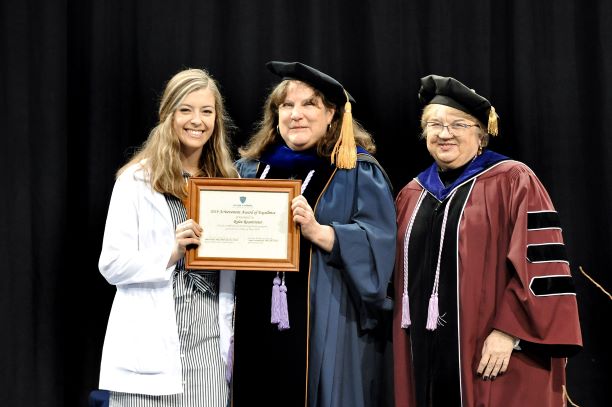 Rylee Rosentreter is grateful for the opportunity to travel to Guatemala and Nicaragua on JSHC service learning trips. "These eye-opening trips changed my way of looking at the world, and I will be forever thankful to the Honors College for that," she said. Rylee researched opioid use among youth for her thesis, devising educational strategies to prevent abuse in local schools via posters, pamphlets, assemblies, and health fairs. She will enter the job market upon graduation as a nurse in her hometown of Ann Arbor.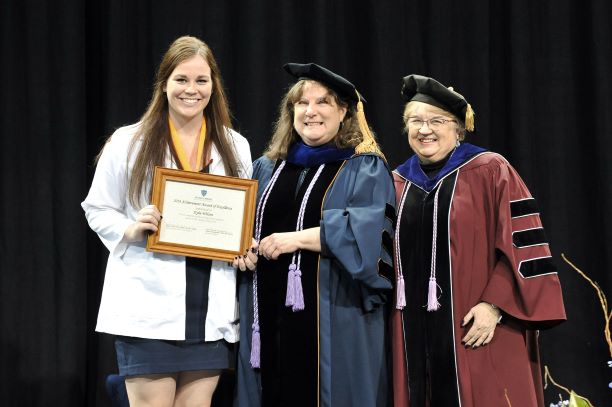 Kylie Wilson hopes of working for a cardiac unit, she is currently interviewing for nursing positions with Columbus hospitals. Kylie will always remember her "Endgame" seminar with Dr. Armstrong, where the class visited area cultural institutions and small businesses before generating proposals for community development. She responded in capstone project to the national increase in depression over the past decade by designing physical activity regiments for patients in the months before the effects of psychiatric medications can take hold.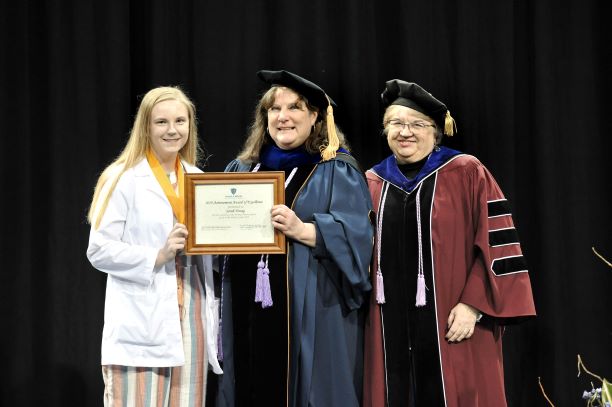 Sarah Young fondly recalls the Honors trips to Imagination Station. "Honor students were the only ones there that day, so we got to have the run of the place and enjoy all off the interactive exhibits – it was a lot of fun!" she said. Combating low-health literacy is the goal of her capstone project. Sarah created an educational whiteboard video about fever that will hopefully be played in emergency room waiting areas at various ProMedica facilities. She is currently applying for jobs with a desire to work in a pediatric operating room.