New Beginnings Debt Forgiveness Program
Don't let outstanding debt to UToledo keep you from earning your diploma.
New Beginnings is a debt forgiveness program for qualifying students who come back to UToledo.
Here's how it works:
Re-enroll in a degree program at UToledo.
Successfully complete your courses and New Beginnings program requirements.
Watch $500 of UToledo debt disappear from your bill each semester.
We'll forgive up to $2,000 in UToledo debt over four semesters.
We know it can be hard to balance life and school sometimes. But you've invested so much already. Why not finish your degree?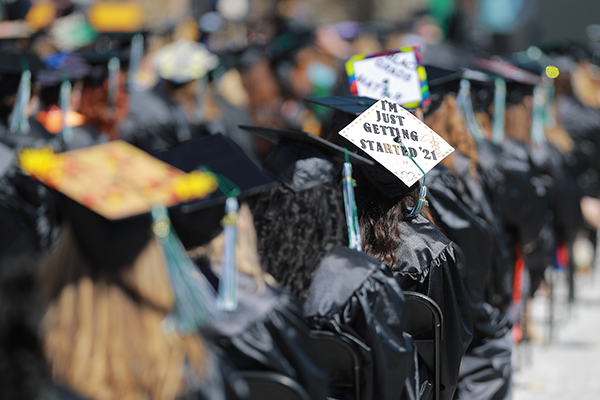 WHO IS ELIGIBLE FOR NEW BEGINNINGS?
New Beginnings is open to former UToledo students who meet all of these requirements:
Minimum 2.0 cumulative UToledo GPA
Student account balance of $2,000 or less with no other outstanding balances owed to the University and not in collections with the State of Ohio
Enrolled in a UToledo degree program
Not in default on federal aid
Good disciplinary standing
Maintains Satisfactory Academic Progress
Sat out at least two academic semesters
NEW BEGINNINGS PROGRAM REQUIREMENTS
If you successfully complete the New Beginnings program requirements, the University of Toledo will forgive up to $500 of debt each semester, with a maximum of $2,000 forgiven over four semesters. Requirements include:
Successfully complete all credits each semester, taking a minimum of six (6) credits per semester
Maintain a minimum 2.0 cumulative GPA each semester
Maintain consecutive enrollment (fall and spring semesters) while in the program
File a FAFSA, if eligible 
Participate in financial counseling
Pay your account balance by the payment due date each semester
Participate in a free course taught by University staff that tracks all program requirements, which include:

An initial meeting
Financial aid counseling
Completion of financial literacy online modules
Two academic advisor meetings (one before the start of the semester and one after midterms/before registration for next semester)
Three success coach meetings (start of term, midterm, end of term)
Wellness workshop
Additional requirements as recommended by the support team (e.g., tutoring or other support services)
WE WILL SUPPORT YOU
We want you to succeed. You will have a team to support you until you complete your degree: a success coach, an academic advisor and your instructor for the New Beginnings course.
 They will offer financial and academic guidance and connect you to resources to help you navigate challenges. They will share information and work together to make sure you're on track to finish your degree.
HAVE QUESTIONS?
Call 419.530.5789 or email newbeginning@utoledo.edu.