Leadership Messages
September 2022
Message from the dean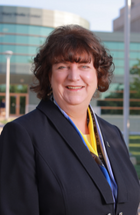 The semester has started! It is so wonderful to be back in the classroom and to walk through the hallways and see so many students. For me, September is a transition month. It represents a transition from the activities of the summer, perhaps vacations and extra time with loved ones to settling into the fall routine with a focus on academics. Prior to the start of the semester, we are enthusiastic and create expectations and hopes about what the semester will bring. This is so important as it prepares us for the new season. Now the season is upon us.  We must honor the commitments we made, to ourselves and to others. If we struggle or if reality is not quite what we expected, we must persevere. We practice, learn, do it again, never give up.  We are accountable to our peers. If we said we would complete a promised activity, we follow through. We take personal ownership and are accountable to each other and to ourselves.

September 25th is World Pharmacists Day, established by the International Pharmaceutical Federation (FIP). This year's theme is "pharmacy united in action for a healthier world." The theme showcases pharmacy's positive impact on health around the world. Pharmacy has had an extraordinary impact on health during the pandemic. It is estimated that over 258 million COVID-19 vaccinations, or 43% of all COVID-19 vaccinations administered in the U.S., were given by community pharmacists and their teams. Over 50% of US COVID-19 vaccinations were given via pharmacist-led teams. Over 50 percent! Student pharmacists administered 1.3 million vaccinations. Additionally, over 42 million patient specimens were tested by pharmacists for COVID-19 and over 100,000 COVID-19 monoclonal antibody treatments were provided by pharmacists (for more details, see Grabenstein, JD. Essential Services: Quantifying the Contributions of America's Pharmacists in COVID-19 Clinical Interventions.  Journal of the American Pharmacists Association (2022), doi: https://doi.org/10.1016/j.japh.2022.08.010. epub ahead of print.)  Pharmacists and their teams worked extremely hard for a sustained period and often under difficult circumstances. Pharmacists during the pandemic honored the commitment they made when they first professed the Oath of a Pharmacist: "I promise to devote myself to a lifetime of service to others through the profession of pharmacy." This incredible display of dedication truly inspires me. My great hope for all of us as we move into this new academic year is that we honor the commitment to be the best that we can be.
 

Dean Pam Heaton
---
Message from the Chair of the Department of Pharmacy Practice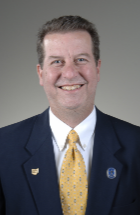 Greetings! For this month's Chair's Message, I thought it might be fun to mix it up a bit. Throughout our lives, we all have experienced humorous quotes and stories from colleagues, patients, learners, and others we may have encountered in your everyday work. They run the gamut of simple unintended levity, to typographical errors or outrageous auto-corrections, to just plain comical remarks. Although most of these one-liners and quips are just good fun and probably should be enjoyed for that alone – a good laugh – many of them have a take-home message if you stop and take the time to think about them.
 
Here are just a few of my favorites: some that should make you smile; some that probably will make you scratch your head and say "What???!!!" but all just for fun. I've added some editorial comments of my own; and although I think you can figure out most of these yourself, I've provided explanations where the intended meaning may not be readily apparent. Finally, please note that names have been changed to "protect the innocent"! So, away we go…
 
From a CV, under the section for Work Experience:
"Worked at the impatient pharmacy."
"Here… fill this script… NOW! Don't make me get impatient with you!"
 
"For the eighteen years I've been alive so far, I'd say I've had my fair share of scary situations. I have a mom, dad, two sisters, and one brother."
Opening lines from an individual's essay. Yes, the rest of the essay provided a little more explanation… and no, the scary situations were not the mom, dad, two sisters, and one brother!
 
"Patients were double blinded as to the treatment they received."
Investigators double blinded their patients? Not sure how one does that. "Ok, cover your left eye… and now the right... there we go. Now swallow this capsule!"
 
"Propranolol showed both reduced ICU length of stay (p<0.001) and decreased morality (p=0.002)."
From a journal club presentation. Well, the patients receiving propranolol got out of the ICU sooner... but geez, were they ever a bunch of unscrupulous pigs.
 
"I took the test last week and did not do so good. I had to use the restroom during the math section and my time ran out."
Did their time run out on the math section… or in the bathroom? This was getting dangerously close to TMI.
 
"That pharmacy book saved my life."
An acquaintance, early in the semester, on his way to class, laid down his motorcycle to avoid a collision. He ended up sliding across the road on his back, and the asphalt chewed right through his backpack… but not the textbook that was inside. Yes, honest to goodness, a true story!
 
"The patient's potassium was low… and his magnesium was low… so we gave him 15 mM of sodium phosphate."
The ultimate pharmacotherapeutic

 

non sequitur.
 
"As I consider the influence of Kevin, the essence of his character is clear. Kevin is calm. Kevin is driven. Kevin is patient-focused and student-focused. Kevin cares about people. Bill has focus."
Excerpt from a letter of support for a faculty award. Sounds like this Kevin guy is pretty awesome... but who is Bill? Beware of copy/paste and recycling old letters!
 
And finally:
 
"We know that fresh brains is always a good thing."
Classic example of "lost in translation". This came from an international partner at a signing ceremony, attempting to convey the concept of youthful minds and new ideas. Still, his English is way better than any foreign language I pretend to speak!
 
I hope you've enjoyed the comic relief for this edition of the Rocket Pharmacy Update, brought to you, compliments of pharmacists, educators, learners, and others through the years. I suppose the bigger message is to always remember to maintain a good sense of humor as you go through your day-to-day duties and responsibilities of teaching, learning, patient care, and discovery… and as always, GO ROCKETS!
Dr. Martin Ohlinger