Reintroducing the College Leadership Team
October 2021
Monica Holiday-Goodman, Ph.D., R.Ph. - Interim Dean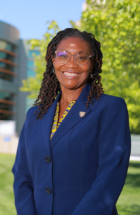 This month, we will hear from Dr. Martin Ohlinger, chair of the Pharmacy Practice Department. Dr. Ohlinger has been a faithful member of the faculty for over 20 years. In that time, he has developed a reputation of excellence in teaching and service to the College, the University, and the community. I hope that you enjoy this month's leadership message.

Interim Dean Monica Holiday-Goodman
---
 Martin Ohlinger, Pharm.D., BCCCP, FCCM - Chair for the Department of Pharmacy Practice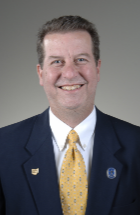 We Belong To One Another 
Welcome back, everyone! Though it is still September as I write this message and the autumnal equinox is barely in our rearview mirror, the new academic year still seems quite fresh to me. Yes, the leaves are beginning to turn, and there is a bit of a cooler snap in the afternoon breezes; but flowers are still blooming, and some of the harvestings is just beginning. Also, I am just really darn excited to say welcome back… back to campus in a way we haven't been in the last year and a half. Of course, we are still feeling the effects of the pandemic: masks still cover our smiles (but not the smiles we can see in each other's eyes!); COVID numbers and data continue to fill the news and our social media; professional travel is still limited and national meetings are canceled or moved to virtual formats; and although most of our classes are now face-to-face, and large-scale events including Rockets athletics has returned in full force, there remains a feeling of uncertainty… that things aren't quite 100% normal.

So, when will we return to "normal"?  Well, I could say I don't know the answer to that question.  But, I don't think we should be seeking the answer to that question. In fact, I don't think that is even the question to be asked. Rather, what are we doing to make the best of the world we live in? How are we responding to the ever-changing world around us? As we do return to recreate a world that is closer to the pre-COVID world we remember, what are we doing to re-connect to others around us… our family and friends, our colleagues, our students, and the broader community?
 
In a recent edition of The New Yorker, commenting on the re-opening of New York City, Zach Helfand wrote, "…we've returned not to normalcy, but to one another." Normalcy, I think is relative. It is shaped by our past experiences, which is all we can ever know, no matter how forward-thinking we are. We must recognize that we may never return to the normal we once knew. However, it is crucial that we recognize we are, as the writer tells us, returning "to one another". We are blessed to belong to one another. Students – I hope that you feel as though you belong as part of a UToledo community; sometimes excelling, sometimes struggling, but always dedicated to your learning and development as pharmacists and pharmaceutical scientists, and more importantly global citizens. Faculty and staff – I hope you feel as though you belong to a group of colleagues and friends doing their best every day to contribute to improving the human condition, through teaching, research, and service.  And alumni – I hope you feel as though you belong to a proud group of Toledo graduates who chose to entrust four-plus years of their lives to this institution and continue to do so in giving back with your time and talent.
 
We belong to one another. Take good care of yourself, and take good care of those around you, as we continue to return to one another.
 
GO ROCKETS!