Derek J. Gyori, PharmD, BCOP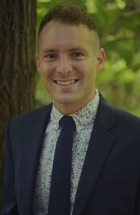 Assistant Lecturer
  Hematology/Oncology Pharmacist
  Department of Pharmacy Practice
  Frederic and Mary Wolfe Center 114D
  Phone: 419.383.1961
  E-mail: derek.gyori@utoledo.edu
Area of Research
Oral and Intravenous Chemotherapy, Immunotherapy, Supportive Care, Medication Safety, Quality improvement
Educational Background
| | |
| --- | --- |
| Pharm.D. | University of Findlay, 2016 |
Training
ASHP-accredited Hematology/Oncology Pharmacy Residency, Indianapolis VA Medical Center, 2018
ASHP-accredited Pharmacy Practice Residency, Mercy Health St. Vincent Medical Center, 2017
Scope of Practice
Hematology and Oncology Pharmacy
Residency Preceptor
Staff Pharmacist

Ohio Society of Health-System Pharmacists Membership Marketing, and Media Division Director 2019-Present
National Community Oncology Dispensing Association Oncolytics Today Editorial Board Member
Awards, Honors and Grants
American Society of Health-System Pharmacists New Practitioner Pharmacist Leadership Development Grant, 2020
Mercy Health Outstanding Research Award, 2017
TEVA Outstanding Student Award, 2016
Publications and Journals
1. Gyori DJ. FDA Approvals for Q4 2020 & Q1 2021. Oncolytics Today. Spring 2021.
2. Yencho SW, Austin J, Betka E, Gyori D et al. Cancer Healthcare Utilization Impact of Precision Therapeutics: Hospitalization/ Emergency Visits. Cancer Sci Res. 2020; 3(2): 1-3.
3. Gyori DJ, Hanna K. Oral Oncology Drug Approvals by the FDA for Q1, Q2, and Q3 of 2020. Oncolytics Today. Fall 2020.
4. Gyori DJ, Bullington SM, Crawford BS, Vernon BP. Evaluation of appropriate use of bisphosphonates and denosumab in patients with cancer. J Oncol Pharm Pract. 2020; 26(2): 286-292.
5. Gyori DJ, Hanna K. New FDA Oral Oncology Drug Approvals for 2Q19 and 3Q19. Oncolytics Today. Fall 2019.
6. Gyori DJ, Hanna K. New Indications for Two Oral Oncology Drugs Approved by the FDA in 1Q19. Oncolytics Today. Summer 2019.
7. Gyori DJ, Orr J. Positive Quality Interventions: Abemaciclib-Induced Diarrhea. National Community Oncology Dispensing Association.