Steven M. Peseckis, Ph.D.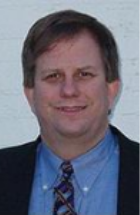 Associate Professor
  Department of Medicinal and Biological Chemistry
  BO 2837
  Phone: 419.530.6039
  E-mail: steven.peseckis@utoledo.edu
AREA OF RESEARCH
Peseckis research group interests in general revolve around heterotrimeric G-protein mediated signal transduction. As tools, we use informatic and experimental methodologies including molecular biology, cell biology, synthetic chemistry, and molecular modeling.
The group in 2004-2005 includes three Ph.D. candidate graduate students each with a distinctive project focus.
Gregory White, R.Ph., is investigating his theory concerning neurotension receptors, immune factors, and psychiatric disease states. Additionally, he is planning to use his experimental results to support drug development using molecular modeling and docking.
Rick Dudley, R.Ph. has made a series of lipophilical amino acids with an incorporated fluorescent tag and is studying the compounds behavior in regards to entering into and localizing within cells. Additionally, he is making modified peptides that will enter into cells, be processed, and then presented by MHC Class I molecules to the immune system in order to study aspects of diabetes. Overall, his research will lead to new understandings and methods for delivey of small drugs and peptides into cells.
Marc Christensen, R.Ph. has constructed models of a M1 muscarinic receptor and a phospholipid bilayer using MODELLER and Amber 8. He has combined the models of the G protein-coupled receptor and bilayer and is working to acheive meaningful molecular dynamic calculations using the combination. The resultant model will be used in ligand docking studies, attempts to predict active conformation of receptor, and models of receptor bound with heterotrimeric G-protein.
Educational Background
| | |
| --- | --- |
| Ph.D. | Massachusetts Institute of Technology, 1983 |
| B.A. | Dartmouth College, 1978 |
Professional Experience
Associate Professor, The University of Toledo (2000-present)
Assistant Professor, The University of Toledo (1994-2000)
Research Fellowship, Sloan Kettering Institute, NY, NY (1991-1994)
NIH Fellowship, Princeton University, Princeton, NJ (1990-1991)
Issued Patents
Bagli, J.F., Peseckis, S.M. (1986). 5-Substituted-6-aminopyrimidines, Composition and Uses as Cardiotonic Agents for Increasing Cardiac Contractility. United States Patent #4,617,393.
Peseckis, S.M., Bagli, J.F., Heaslip, R.J., Colatsky, T.J. (1991). 5-Substituted-6-Aminopyrimidine Derivatives. United States Patent #5,002,949.
Publications and Journals