Susanne T. Nonekowski, Ph.D.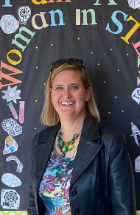 Distinguished University Lecturer
  Clinical Professor of Medicinal Chemistry
  Department of Medicinal and Biological Chemistry
  Bowman-Oddy 2831
  Phone: 419.530.1979
  E-mail: susanne.nonekowski@utoledo.edu
Area of Research 
My focus at this time involves best practices in teaching methods particularly those that support deep active learning.  I am especially interested in methods that support critical and problem -based thinking skills in medicinal and biological chemistry.  
EDUCATIONAL BACKGROUND
| | |
| --- | --- |
| Ph.D. in Medicinal Chemistry | University of Michigan, 2001 |
| M.S. in Medicinal Chemistry | University of Michigan, 2000 |
| B.S. in Biochemistry and Medicinal Chemistry | State University of New York at Buffalo, 1994 |
SCOPE OF PRACTICE
Undergraduate Courses
Sole Instructor
MBC 3552: Physiological Chemistry II: Cellular Metabolism and Homeostasis, 2019 (100 students)
MBC 3560: Physiological Chemistry II: Chemical Regulation of Cells, 2019 (50 students)
MBC 4710: Targeted Drug Design, 2009-present (10-30 students)
MBC 3100: Practices in Pharmaceutical Research 2011-2013 (30-40students)
MBC 3560: Physiological Chemistry II: Metabolism and Gene Regulation, 2002-2018, (150 students)
MBC 3330: Applied Drug Design, 2008 (77 students)
MBC 3550: Physiological Chemistry I: Structure and Macromolecules, 2002 (160 students)

Co-Instructor
MBC 3850: Immunology and Microbiology Laboratory, 2002; 2010-present (120-130 students)
MBC 4710: Targeted Drug Design, 2004; 2008 (30-50 students)
MBC 3330: Applied Drug Design, 2011-2015 (30-40 students)
MBC 3100: Practices in Pharmaceutical Research, 2014-2015 (10-30 students)
MBC 3320: Medicinal Chemistry II: Drug Targeting to Receptors, 2004-2005; 2009 (150 students)
Graduate Courses
Sole Instructor
MBC 5100: Research Practices in Medicinal Chemistry 2004, 2011-2013(1-20 students)
MBC 7100: Research Practices in Medicinal Chemistry 2004, 2011-2013(1-20 students)
Co-Instructor
MBC 5260: Biochemical Techniques, 2012-2014 (1-30 students)
MBC 6190: Advanced Medicinal Chemistry, 2007; 2009-2013(1-30 students)
MBC 7260: Biochemical Techniques, 2012-2013 (1-30 students)
MBC 8190: Advanced Medicinal Chemistry 2007; 2009-2013(1-30 students)
CEM 6430: Advanced Medicinal Chemistry 2007; 2009-2013(1-30 students)
CEM 8430: Advanced Medicinal Chemistry 2007; 2009-2013(1-30 students)
MBC 6650: Advanced Biological Chemistry 2007 (29 students)
Awards, Honors and Grants
Association of American Colleges & Universities Project Kaleidoscope STEM Leadership Institute (PKAL), July 2019
Inaugural University of Toledo Distinguished University Lecturer, May 2017
Inaugural University of Toledo Leadership Institute Workshop Series, Dec 2016- May 2017

2020-2021 Outstanding Teacher Award
Publications and journals