Connections To University Resources
University Resources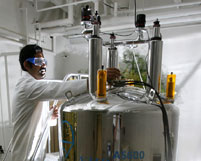 Rocket Innovations was created to connect you to UT's vast academic resources in a manner that is quick, easy, and efficient. Whether you're interested in finding faculty expertise in a particular subject matter, getting advice on how to best move your business or research idea forward, finding incubation space to develop your ideas, or learn more about ways in which you can more effectively support the university's efforts, we'd like to hear from you. Send us an e-mail, or use our Request Assistance form.
Research Centers and Infrastructure
Research is Ohio's newest growth industry. A robust research environment is critical for Ohio's ability to compete for the jobs of the future. We are harnessing the resources of UT to assist Ohio in its quest to emerge as a major force in the global economy, building on our strengths in research to keep—and attract—top talent.
UT represents an enormous repository of expertise, and our faculty are conducting world-class research and transferring their discoveries to the marketplace. According to the National Science Foundation (NSF), the University ranked 166th among all US universities in 2007 R&D expenditures and, within Ohio, UT was ranked 5th in terms of R&D expenditures.
UT also now has 16 active spin-off businesses, generating about 100 local technology positions. Several have attracted $1 million + in third-party validation funding.
UT currently has 3 campuses with more than 400,000 square feet of research space and business incubation space with plans to grow in the next two decades to keep up with the university's growing research mission.
UT has many centers and institutes that actively engage with the businesses and the community. UT also has two Centers of Excellence designated by the State of Ohio - The Center of Excellence in Advanced Renewable Energy and the Environment and The Center of Excellence in Biomarker Research and Individualized Medicine (BRIM). A Center of Excellence in Transportation and Logistics has also been proposed to the State of Ohio.
Internships and Co-Ops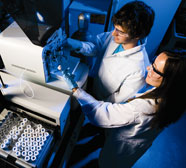 Brainpower is Ohio's greatest business generator, and a well-trained workforce is Ohio's most powerful energy supply. With over 230 degree programs, UT educates many of the areas physicians, nurses, engineers, business managers, teachers, lawyers, and other professionals. We're committed to recruiting Ohio's best and brightest and preparing them for great jobs here at home. Your current and future workforce are right here. Find them through our internship programs and placement offices.