Business Formation And Commercialization
Business Formation
Entrepreneurs are Ohio's biggest cash crop. UT provides ideal conditions for cultivating entrepreneurs. Our entrepreneurship programs and business incubators are yielding startups in high-growth fields, and new jobs are being developed.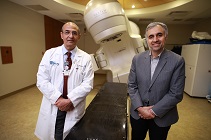 Seed Capital and Entrepreneurial Resources
Northwest Ohio's business community can tap into UT's resources for assistance with business formation, strategic planning, and acquisition of innovation-related funding. Rocket Innovations can connect you to experts at the University of Toledo in your area of business, or direct you to one of our business incubators so you can grow your business.
Rocket Innovations – Our Innovation Fund helps secure innovation funding for companies developing commercially viable technologies. Connect with us for business development resources and assistance. Rocket Innovations works closely with The Center for Technological Entrepreneurship and Innovation in the College of Business and Innovation for business development resources.
Inventions and Products
Discovery is Ohio's soundest investment. We're putting our stock in research, and the returns are multiplying. UT researchers are finding new ways to advance the field of renewable energy, protect the environment, and understand the complexities of biomarker discovery.