Quick reference
Upcoming Events
SOUNDS OF THE STADIUM
Saturday, October 18
8pm, Valentine Theater
HOMECOMING
Saturday, October 25
REcources and Info
/
Department of Music
Upcoming Events

October
18

Rocket Marching Band
Sounds of the Stadium
The Valentine Theater
8:00pm
All Seats - $5
Group Discounts

25

UT vs. UMass
HOMECOMING



29

Halloween Spooktacular
7pm, Doermann Theater
UT Wind Ensemble & 
Concert Chorale


November
15
Toledo Holiday Parade
10am, Downtown Toledo



19

UT vs. BGSU
8pm, ESPN2/U


 
For more events click here.
Welcome to the UT Band Program
The Band Program at The University of Toledo offers a variety of performance and educational opportunities for all university students. Whether you are interested in pursuing a degree in music, or are simply looking to continue with music as a source of entertainment and self-growth, it's an exciting time to be involved.
News & Updates
Rocket Marching Band in Concert this October 18 in the beautiful Valentine Theater in downtown Toledo.  Tickets available from the Valentine Box Office.  All seats $5.  Group discounts available.  For tickets, call 419-530-2375.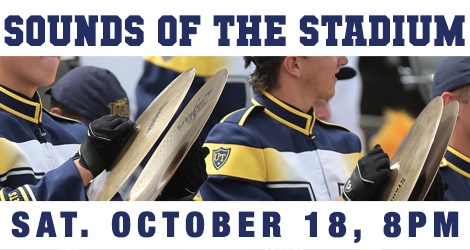 WIND ENSEMBLE will perform its very popular Halloween Spooktacular on Wednesday, October 29 at 7pm in Doermann Theater.  Ghouls and Goblins galore!  Wear your costumes and enjoy this light-hearted seasonal favorite.


Music Department Scholarship and Program Entrance Auditions for Spring 2015 are scheduled for December 6.  Students interested in an early audition for Fall 2015 may also audition on this date.  Contact the UT Department of Music for more information - 419.530.2448.


Rocket Marching Band 2015. Visit the RMB page for more information and how you can be involved in our 2015 season.
Our Bands
THE ROCKET MARCHING BAND
The University of Toledo Rocket Marching Band is one of the largest and most visible student groups on campus! With over 150 musicians, dancers, color guard, and majorettes, the RMB is a positive source of pride and school spirit for you as well as the entire UT community. Auditions for the RMB Drumline, Color Guard, Feature Twirler, and Dancing Rockettes will begin in April of 2014. There are no formal auditions for wind players. If you plan to attend UT next fall and are interested in joining the Rocket Marching Band, visit the RMB page for more information.
WIND ENSEMBLE & SYMPHONIC BAND
The concert ensembles are a vibrant part of the Department of Music and the Band Program at UT. The Wind Ensemble (auditioned) and the Symphonic Band perform several concerts throughout the year.  Both ensembles are open to all UT students, regardless of major.  Whether you want to be challenged as a player or just want to have fun playing music, we have an ensemble for you.