/studentaffairs/reslife/
Welcome
/studentaffairs/
Resources
Get Connected
Horton International House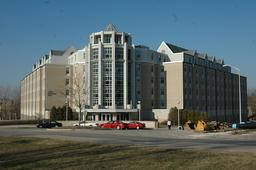 1730 West Rocket Dr. 
Toledo, OH 43606
Reception Desk: 419.530.1600Layout and Furniture Measurements
Virtual Tour: Bedroom (Requires Flash)
Virtual Tour: Suite (Requires Flash)
Virtual Tour: Recreation Room (Requires Flash)
Highlights
Horton International House is a suite-style living facility with an international focus and houses 400 students. Suites are either 4-person, with two double bedrooms, or 6-person with two double bedrooms and two single bedrooms. Each suite includes a furnished living room and private bathroom. The facility houses a ritual washroom and community kitchens. NEW FOR 2013-2014 residents living in the Horton International House are not required to have a meal plan.  Horton International House is home to our Global Entrepreneurship and Innovation Living Learning Community and the Global Exchange Living Learning Community.
Location
Horton International House is conveniently located near Rocket Hall and our University walking, jogging and bike path. This building has limited single room availability.  
Fun Fact
The Horton International House was named after Dr. Frank Horton, the 13th President of The University of Toledo. Under his tenure, UT experienced a building boom with the construction of 14 different buildings. Some of those buildings include the International House, a student health center, the Center for Visual Arts at the Toledo Museum of Art, an expansion of the Student Union and Wolfe Hall.
Video Tour 


Room Features

4-person Suites

yes

6-person Suites

yes

2-person Rooms

yes

Single Rooms

yes

In-Suite Bathroom

yes

Co-ed by Suite

yes

Air-Conditioning

yes

Alcohol Free

yes

Computer Lab

yes

Elevators

yes

Community Kitchens

yes

First-Year Focus

no

Cable Service

yes

Telephone and Voicemail Service

yes

Data Hook-Up (in room)

yes

24-Hour Info. Desk

yes

Floor Lounge

yes

Wheelchair Accessible Rooms

yes

Convenience Store

yes

Laundry Facility

yes
Pricing
(Per Semester)
Double Room: $3,656
Single Room: $4,387
Hall Director
Latrece Seneca
419.530.1605
latrece.seneca@utoledo.edu
Grad. Asst. Hall Director
Kirstin Keller
419.530.1608
kirstin.keller@rockets.utoledo.edu