Health Professions Living Learning Community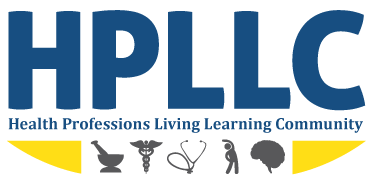 The Health Professions Living Learning Community (HPLLC) is for students interested in health-related careers - athletic training, cardiovascular, community health, health care administration, health information management, nursing, pharmacy, pharmaceutical sciences, pre-dental, pre-medical, pre-occupational therapy, pre-physical therapy, pre-veterinary, recreational therapy, respiratory care, and speech language pathology.
Living
All HPLLC participants live together in Presidents Hall, a suite-style living residence hall. This building has 6-person suites with three double bedrooms. Each suite includes a furnished living room and private bathroom. Presidents Hall offers residents computer lab, study lounges, recreation room and meeting spaces. Living in this type of atmosphere provides you with many academic and social opportunities to help you become a successful UT student. View a room layout

Learning
The collaborative nature of the HPLLC nurtures an interdepartmental and intercollegiate teaching and learning style. HPLLC programs and activities focus on developing the team skills you'll need as a health care professional, providing tutoring and academic support, and putting you in touch with those already working in the field. It promotes a student-centered and community-oriented learning environment.
Community
The HPLLC is a community of students, residence hall advisers, ambassadors, advisers and faculty members. Students have the opportunity to live with peers, form study groups, attend classes together and become more involved in on-campus activities. The HPLLC provides a network for you to have a smooth transition from high school to the University, to be successful in college, and be more engaged in your learning!
There is a $75 per semester programming fee for HPLLC members.
View our brochure to learn more.