Accreditation
University Accreditation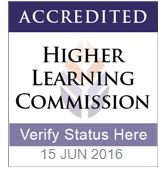 The University of Toledo is accredited by the Higher Learning Commission located at 300 North LaSalle Street, Suite 2400; Chicago, IL 60602-2504. (312) 263-0456 www.hlcommission.org
The University of Toledo is accredited by the Higher Learning Commission to award Associate's, Bachelor's, Master's, Specialist and Doctoral degrees. 
The official letter confirming the university's status of affiliation with the Higher Learning Commission can be found here.  
HLC 2016 Site Visit (www.utoledo.edu/hlc/index.html)
Accredited Programs
Individual program accreditations are overseen by the Office of the Provost.  Any reports being prepared for individual accreditors should be submitted to Vice Provost Dorothea Sawicki for review before being submitted.
Individual Program Accreditations and Endorsements