Saige (Daniel) Warren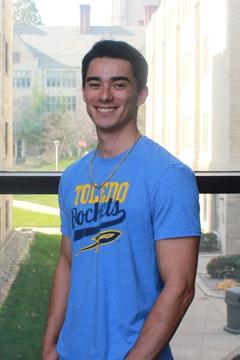 Organizations and Activities
Pi Sigma Epsilon
Kappa Delta Rho
Order of Omega
Internships and Job Experience
Incoming Summer 2023 Field Sales Intern | 3M
Sales and HR Intern | Integrated Talent Strategies
Outreach Coordinator and Admissions Ambassador | UToledo Admissions
---
Why Did You Choose the Neff College of Business and Innovation at the University of Toledo?
Ever since I was young, I had fallen in love with Toledo's campus. The Neff College of Business  and Innovation was recognized in the state, and it was exactly where I wanted to be. The size of the campus was exactly what I was looking for. It was a big enough school, but I didn't feel like just a number in class. Professors will get to know you personally and provide so much help and guidance.
What On-Campus Activities and Organizations Have You Been a Part of?
In the spring semester of my freshman year, I joined the social fraternity Kappa Delta Rho. I was involved from the start, and eventually became the Vice President of New Member Development.  
During my sophomore year, with some encouragement from my friends, I joined the professional business fraternity of Pi Sigma Epsilon. I have had so many amazing experiences and many members have helped shape me into the person I am today. They offer so many professional development experiences and opportunities to travel and compete in various sales competitions and attend seminars! Within the professional sales school, I recently competed in the Internal Sales Competition which gave me a sense of a real-world sales meeting. In my free time, I like to play intermural sports, such as basketball, volleyball, and soccer.  
What is Your Greatest Piece of Advice for an Incoming Freshman?
Get involved! At UToledo, we offer more than 400 organizations that can help provide long lasting friends and fantastic professional development. Most students only spend 4 years in college, so take advantage of all the opportunities this campus offers you! 
Who's your favorite professor you've had at the Neff College of Business and Innovation?
My favorite professor I have had is Gary Insch! He is one of the most personable professors who really does care about his students. Even in his larger lecture halls, he will still take the time to know his students and takes time out of his day to help make sure you understand his material.