Pi Sigma Epsilon Chapter Excels in National Competitions
by John Anderson III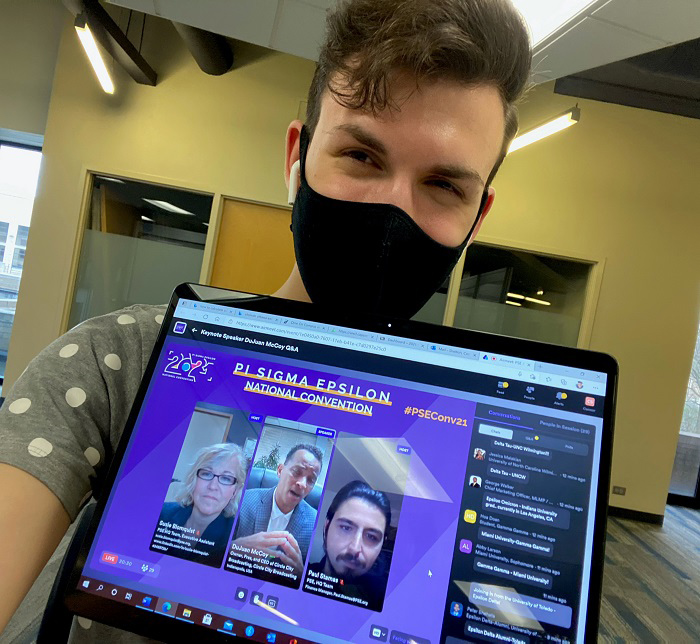 From March 31 through April 11, college students from chapters across the country competed in Pi Sigma Epsilon's (PSE) Virtual National Convention. Originally planned to occur in St. Louis, MO, the annual convention and its accompanying competitions had to adjust their formats and transition to an online offering due to the ongoing global pandemic.
Members from around the nation partook in several competitions at the national convention, including the fraternity's premier competition—the Pro-Am Sell-a-Thon®.
Additional competitions included PSE's National Speakers, and two brand new competitions: the Mutual of Omaha Interview Competition and the New York Mets/Milwaukee Bucks Professional Sports Selling Competition. For the first time in the fraternity's 69-year history, alumni were invited to compete in these virtual competitions.
Students from the Edward H. Schmidt School of Professional Sales within the John B. and Lillian E. Neff College of Business and Innovation at The University of Toledo competed in various competitions that were both individual and at the chapter (team) level. Each student team consisted of an upperclassman student leader with prior nationals experience and 4-5 additional team members.
The Pro-Am Sell-a-Thon® is a unique competition, as it is the nation's only yearlong sales competition. This means that a student's score from both the regional convention and national convention are combined to award a "Yearlong Winner." The workload and dedication to excellence displayed by the student participants was immense, as UToledo's Jordan Fannin was awarded 5th place.
"During my time at Nationals, I had an amazing experience bonding with my class and getting to know everyone at a deeper level and the competition pushed me out of my comfort zone," said Fannin. "Through Nationals, I gained major confidence in public speaking skills, as well as team leadership."
Other competitions within the convention were designed to showcase what each chapter was able to do throughout the year and highlight the leadership structures in place at the chapter level.
"I'm very proud of how well our students' hard work paid off at Nationals this year, said Dr. Katy Johnson, faculty advisor for the UToledo PSE chapter. "They adapted well to the changed format of the convention this year and represented our chapter and the university very well."
Finalists for the National Awards Program and for the National Education Foundation Scholarship Program competed on site as well. Winners were announced for the 19 different categories in the National Awards Program, and over $35,000 in scholarships were awarded.  
Despite the virtual format, the UToledo John B. and Lillian E. Neff College of Business and Innovation's chapter found great success.
The Neff College of Business and Innovation's Pi Sigma Epsilon's official results were:
Competition Teams:
Top Chapter Recruitment Program (first place)
Lewis F. Gordon Top Gold Chapter (finalist)
Top Management Team (finalist)
Top Social Media Strategy (finalist)
Top NM Development Program (finalist)
Top Marketing/Sales Project- Profit (finalist)
Interview Competition
Jordan Fannin (1st place)
Desiree Fisher (Runner-up)
Peter Shehata (3rd place)
Speakers Competition
Matthew Abraugh (finalist)
Hanna Gerlica (finalist)
Pro-Am Sell-a-Thon®
Jordan Fannin (finalist 5th place)
Sarah Cullen (semifinalist + Top 10)
Desiree Fisher (semifinalist)
Jenna Clouse (semifinalist)
Scholarship Recipients:
Jakob Stober (Alumni Scholarship)
Sarah Cullen (3M Scholarship)
Khoi Ho (Federated Insurance Scholarship)
Gabriella Asche (Future Leaders)
Pi Sigma Epsilon is the nation's only professional business fraternity for men and women in the fields of sales, marketing, and management. Since its inception in 1952, PSE has enriched the lives of over 50,000 people and has established chapters on over 170 campuses nationwide. For more information on Pi Sigma Epsilon, visit https://www.pse.org/.