Professor Hong's new book reflects expanding horizons in emerging global markets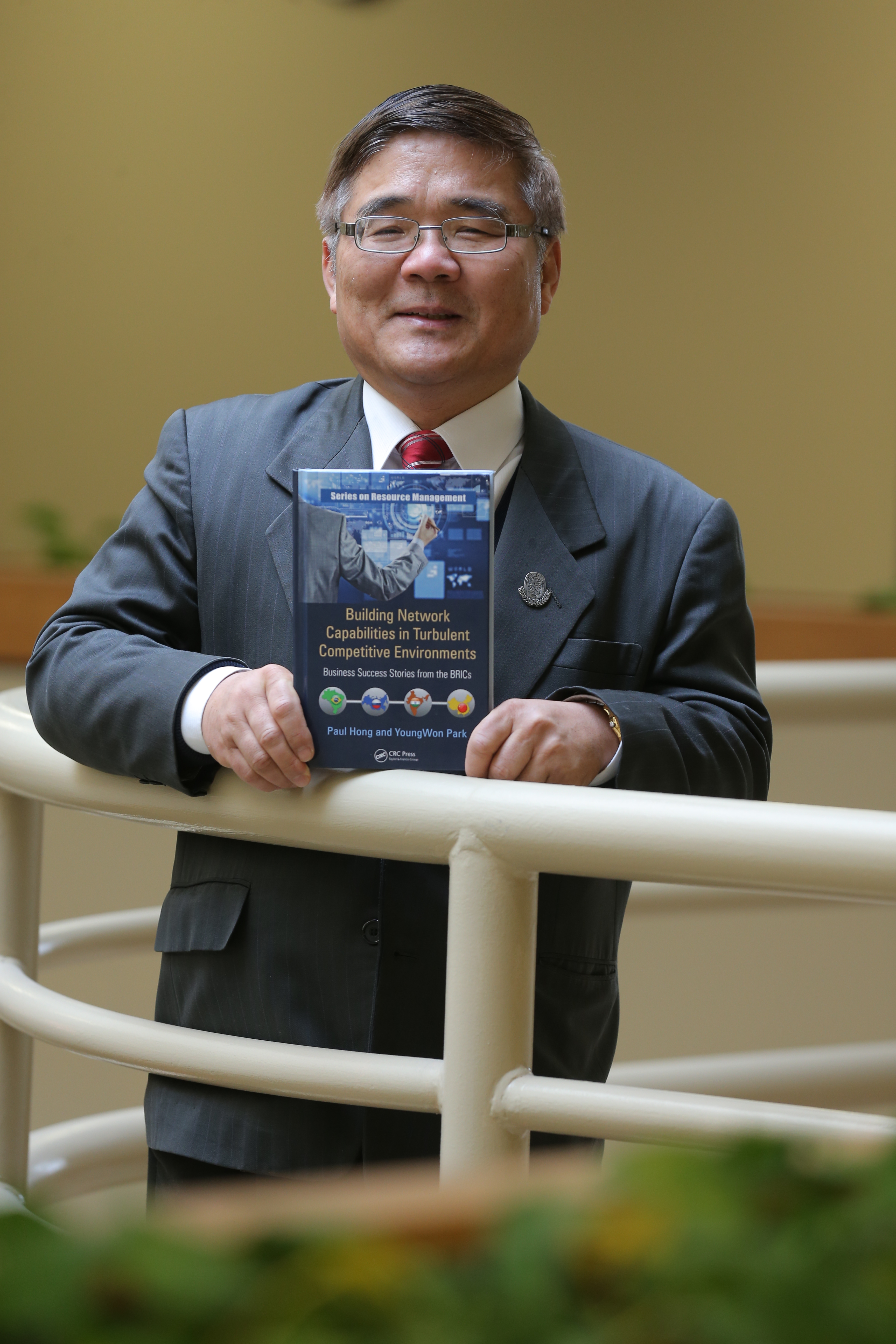 Learning from successful businesses located in critical areas of the global economy not only provides useful and practical information for other business owners, but also provides rich resources for students studying in business colleges.
That is why Dr. Paul Hong, professor of operations management at The University of Toledo College of Business and Innovation, wrote Building Network Capabilities in Turbulent Competitive Environments. Business Success Stories from the BRICs, published in December, 2014. Dr. YoungWon Park is the coauthor.
"Brazil, Russia, India and China (BRIC) are among the largest and fastest growing economies in the world," Dr. Hong said. "The enormous size of the customer base in these emerging markets is the strategic concern of global business firms. Successful market performance in these markets requires sound understanding of dynamic environmental factors and timely investment of appropriate resources. This book presents strategies for recognizing the challenges and optimizing the opportunities for building network capabilities and competitive advantage within the context of these emerging markets."
Dr. Hong previously wrote a book about building networking capabilities in global companies in Korea and Japan, but noted that his new book expands that to the "next level," with a different research model that looked at what the companies do, recent plans and successes, and much more.
"The seed idea was part of a UT discussion," Dr. Hong explained.   "We had 15 general papers and did field visits to companies in Russia, China, India and Brazil.  We met senior executives at their sites. We tracked their revenue in sales and their market share.  They did not just want to tell their stories; they wanted to be seen as credible, explain what they are about, what they are doing and to have the value of their company recognized."
"We did not just want a nice story," he added.  "We wanted to see their challenges and problems and how they address them.  We see how they became leaders in their country, and then became globally competitive.  They also wanted to learn from us, learn about what we do and share what other companies do."
The initial reaction toward the book from professors around the world has been extremely positive.
"BRICs have increased their influences on the entire world economy since the beginning of this century, but there have been relatively few studies that focused on their critical industrial issues. The balance between their tenacious field works and logical thinking has made this seminal book's arguments persuasive to both researchers and practitioners in the field of global management," noted Takahiro Fujimoto, Professor of Faculty of Economics, The University of Tokyo and a Senior Research Associate, Harvard Business School.
"It can be used for MBA students for case studies and Ph.D. students as cases leading to problem identification, and/or hypotheses formulation. The cases can also be used as training materials for industrial people about how to develop network capacities within and beyond BRICs countries. I highly recommend this book to both academic and practical people," said Hongyi Sun, Ph.D., Department of Systems Engineering and Engineering Management, City University of Hong Kong.
"A sound theoretical framework is provided at the beginning of the book, to help the reader in interpreting the various cases. This makes the book interesting for both managers, students and researchers," noted Federico Caniato, Ph.D., Associate Professor, Dipartimento di Ingegneria Gestionale, Politecnico di Milano, Italy.
"This book is a must read for executives, researchers, and students who are serious about expanding their knowledge and understanding how to create competitive advantage in the global marketplace of the 21st century!" said, Clinton O. Longenecker, Ph.D., Stranahan Professor of Leadership and Organizational Excellence at the UT College of Business and Innovation.
Dr. Hong stated, "This research is not just an individual effort. It is not about me, but about the College of Business and The University of Toledo. This book was possible because COBI supported my research, gave me time to do it.  I have great colleagues, and really appreciated the support of the deans, our chairs, and the provost.  It is just like supply chain itself: It is not just one individual, but everybody contributes."
"Research is very crucial and very well related to teaching. It has great impact; it enhances the reputation of the college and the university. Through good research, teaching and our reputation we train and prepare students who are then successful in the marketplace.  Through my research I am returning back to the college and the university so I can be better at preparing students."
"I always wanted to write books because I do a lot of research, to actually be able to benefit society at large. A book like this enriches quality teaching because I can speak from my own experience, not just from what someone else says through a textbook."
"The students all want to be successful," Dr. Hong said. "Now they know global companies and understand global issues.  We prepare our students very well, and that gives us satisfaction. It also emphasizes to students that we are on a tier with other national universities. It tells them you are in a very good college of business, and it builds their sense of confidence.  We tell them 'You are destined to succeed.' "