Standardized Patients
What is a Standardized Patient (SP)?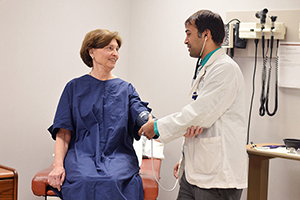 A standardized patient is someone who has been trained to portray, in a consistent, standardized manner, a patient in a medical situation. Standardized Patients, or SPs are used by the University of Toledo to teach and evaluate students. SPs learn a case based on a real patient and are interviewed and/or examined by students as though they were that person in the doctor's office or clinic. They give the patient's history and simulate their physical findings.
Standardized Patients are a highly realistic learning resource for students. They help the students develop skills in interviewing and examination techniques.
The Standardized Patients convey an illness in a consistent and measurable way. Multiple SPs can be trained to do the same clinical case. They receive the same information and responses while still offering a unique simulation for the student. This way, we accurately teach and assess students according to one standard. We strive to provide simulations that can be accurately reproduced.
By using SPs, students have the opportunity to practice the skills they are taught before they work with real patients. These encounters provide a safe setting to make mistakes and learn from those mistakes without doing any harm to a real patient. These experiences are not intended to replace the experience they will need with real patients. They add to their training so they can do a better job. SPs can be more consistent, more objective, and more flexible than real patients.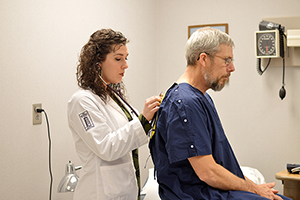 How do I get involved?
Complete our online application. After receiving your completed application, we will contact you to schedule an SP informational session. We will go over all aspects of the program and answer any questions you may have. Characteristics we look for in an SP are a positive attitude, no biases toward gender, race, religion, or national origin. We look for someone who is reliable and punctual, understands confidentiality, is comfortable with their own health and in dealing with health professionals. We are not looking for individuals who want to pursue their own agenda with doctors or the medical system.
 "Success in medicine and success in life directly relates to our ability to relate to each other"

Dr. James L. Madera
Chief Executive Officer and Executive Vice President
of the American Medical Association