Department of Educational Foundations & Leadership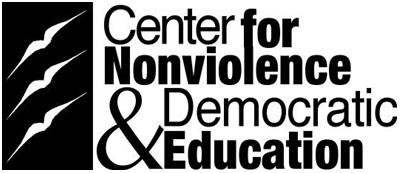 Mission 
The purpose of the Center for Nonviolence & Democratic Education (CNDE) is to understand and educate, locally and globally, for a nonviolent, democratic, peaceful, ecologically sustainable, and just society. CNDE provides an interdisciplinary forum for the study of nonviolence and democratic education, within which a number of research initiatives are being undertaken, as well as curriculum development and the organization of seminars, symposia, discussion groups, etc.  CNDE is an expression of The University of Toledo's mission to "improve the human condition" through research and education. 
In general CNDE is devoted to the pursuit of the following three broad questions: 
(1) What are the causes and ways of preventing all forms of violence, including injustice, locally, nationally, internationally, and globally?
(2) What moral, political, and social frameworks support a democratic, just, peaceful, and ecologically sustainable society?
(3) What kind of education is needed to create and sustain a democratic, just, peaceful, and ecologically sustainable society?

 
Betty Reardon Archives
In October of 2009, the Betty Reardon Archives opened at The University of Toledo's Canaday Center for Special Collections.Betty Reardon, founder of the Peace Education Center, Columbia University, is an internationally renown peace scholar and peace educator. She has been instrumental in the establishment of peace education institutions and programs around the world. Dr. Reardon has produced an extensive body of scholarship and curriculum that define the fields of peace studies and peace education. The Reardon Collection consists of publications, unpublished manuscripts, curriculum, reports, scholarly presentations, and correspondence from the 1960s to the present.
Event Announcement: https://utnews.utoledo.edu/index.php/11_17_2009/peace-scholars-collection-available-in-canaday-center
Archive Finding Aid: http://www.utoledo.edu/library/canaday/HTML_findingaids/MSS-226.html
Canaday Center website: http://www.utoledo.edu/library/canaday/
In Factis Pax
InFactis Pax is a peer-reviewed online journal of peace education and social justice dedicated to the examination of issues central to the formation of a peaceful society - the prevention of violence, political challenges to peace and democratic societies. Social justice, democracy, and human flourishing are the core factors which highlight the importance of the role of education in building peaceful societies.
Please visit the In Factis Pax Website at http://www.infactispax.org/


Online Graduate Certificate in Foundations of Peace Education
 The Online Graduate Certificate in Foundations of Peace Education program is designed for educational professionals working in a variety of educational environments, ranging from P-12 schools, community colleges, universities, and non-governmental organizations. The program requires completion of four (12 semester hours) of graduate courses. All courses are offered online (distance learning). Twelve credit hours earned by a non-degree seeking graduate certificate course credit may be applied toward the Masters programs in Educational Psychology (FEEP) or Educational Theory and Social Foundations (ETSF, FOED, FEPE, FEES) or the Doctoral degree in Educational Foundations; however, an admission application to these programs must be field separately. This certificate will provide students with the concepts, skills, and values to infuse peace education throughout the curriculum, thereby providing them with greater opportunities to be hired in a variety of educational settings.
For more information, please visit the Certificate Webpage at:  
http://www.utoledo.edu/online-degree-programs/programs/certificates/peace-education.html
Affiliations
The Center for Nonviolence and Democratic Education (CNDE) is supported by faculty affiliates of the University of Toledo as well as local, state, national and global affiliate organizations who engage in activities consistent with CNDE's mission. Below are links and information to learn about the affiliates that make CNDE's work possible.
International Institute on Peace Education (IIPE)
http://www.i-i-p-e.org/
The IIPE is a multicultural and cooperative learning opportunity that has brought together educators and professionals from around the world to learn with and from each other in short-term learning communities that model principles of critical, participatory peace pedagogy.  The Institute is an opportunity for networking and community building and has spawned a variety of collaborative research projects and peace education initiatives at the local, regional, and international levels.   The International Peace Bureau, in nominating IIPE for the 2005 UNESCO Peace Education Prize described it as "probably the most effective agent for the introduction of peace education to more educators than any other single non-governmental agency."
Community-based Institutes on Peace Education (CIPE)
https://www.i-i-p-e.org/projects/cipe/
CIPEs are sustainable, community-based, non-formal peace education teacher training initiatives designed to address the lack of formal opportunities for the preparation of educators in the methods and practices of peace education.  CIPEs are locally developed and taught in the local language to more adequately address local manifestations of violence, local and national educational policies, and prepare educators in culturally and contextually relevant educational practices. 
Global Campaign for Peace Education (GCPE)
https://www.i-i-p-e.org/projects/gcpe/
In addition to the IIPE and CIPE there is a constantly growing global network of peace educators who are participants in the Global Campaign for Peace Education (GCPE).  Founded in 1999, the GCPE is an international network that promotes peace education among schools, families and communities to transform the culture of violence into a culture of peace.
Contact Us
The Center for Nonviolence and Democratic Education
Gilliam Hall, Mail Stop 921
The University of Toledo - Main Campus
2801 West Bancroft Street
Toledo, OH. 43606-3390

fax: 419-530-8447
phone: 419-530-2475

Dale T. Snauwaert, Ph.D.
CNDE Director
email: dale.snauwaert@utoledo.edu