Co-op Information for Current Students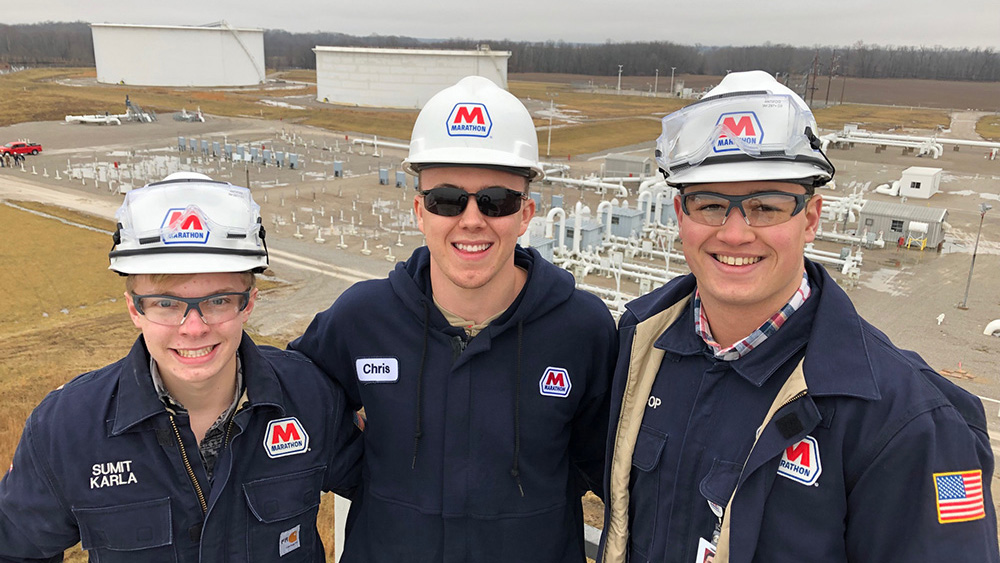 Co-op Search
Be in regular contact with your co-op director. Email or call to schedule a one-on-one session for:
Career exploration
Co-op search
GradLeaders
Resume and cover letter reviews
Mock interviews
Career EXPO preparation
Career Fair Plus app
LinkedIn Profile Reviews
Salary negotiation and evaluating a co-op offer
Co-op requirements
Alternative spring breaks, employer site visits and other events
Create your profile and upload your resume to the student web registration page. All resumes must be approved by your co-op director before you can submit them to companies. You also need a valid e-mail address on record (generally your engineering email).
Contact your co-op director to let us know about your interviewing schedule and any offers you receive. Once you've secured a position, we recommend you stay in touch with our office so that we receive the information we need to give you credit for your experience.
How to Research Potential Employers
Finding a co-op on your own
We are here to help you find co-ops, but you are ultimately responsible for securing your own experience. We strongly encourage you to seek co-ops on your own. You may know of companies in your hometown or have friends and relatives that can link you to experiences.
If you find a co-op on your own, submit the company and position information to your co-op director for approval by the Co-op Committee.
Unsuccessful co-op search
During the COVID-19 pandemic, many companies suspended their co-op programs. To help our students fulfill their co-op requirements, we developed an alternative online co-op —the Academic Industry Immersion Seminar (AIIS).
In the future, students unable to find a co-op or who have circumstances that prevent them from fulfilling their co-op requirement may use this one time-only substitute.
Who is eligible for the alternative co-op?
Bachelor of Science in Engineering students seeking a 1st, 2nd or 3rd co-op
Bachelor of Science in Engineering Technology students who have opted into the co-op program seeking a 1st, 2nd or 3rd co-op

Not for First year University of Toledo Students
Questions? Email The Shah Center at ecdc@utoledo.edu and reference AIIS, your name and major.
Co-op Financial Questions
Co-op registration fee.
The fee is $475 for each co-op. The fee supports the operation of the Shah Center for Engineering Career Development. Your account will be charged each time you register for a co-op.
Co-op fees will be billed and will be due on the same timeline as course tuition and fees, before the start of the term you co-op.
If you choose to do additional co-ops beyond the three required experiences, you will not be charged the registration fee.
Financial Aid.
To learn more about what happens to your financial aid while on co-op, visit our Co-op Financial Aid page. You also may email Rocket Solution Central or call 419.530.8700 with additional questions.
Common Co-op Questions
Get answers to your most frequently asked questions about co-ops, including what happens with housing while you're off campus.
Other Resources for Students
The Catharine S. Eberly Center for Women and Career Services are thrilled to announce that Kate's Closet and The Professional Menswear Closet have merged into one inclusive space to make professional clothing available to all Rocket students located in the Lancelot Thompson Student Union 3rd floor.
Change Of Employer policy
You may change co-op employers after your first co-op assignment, but not after the second and subsequent assignments. You must complete at least two consecutive co-op assignments with the same employer.
To change employers after your first co-op assignment, submit a written request to your co-op director during the first two weeks of the semester when you return for classes. The director will inform you when they approve or reject the request. You must not initiate a discussion with a new employer without obtaining approval.
Any deviation from this policy or unilateral student action to secure a new co-op employer without the prior approval of the Career Development Center can result in probation or suspension from the College.
After Returning from Co-op
Complete your student evaluation form by finals week. Ask your employer to complete the employer form. Forms will be sent to you and your employer via email. Failure to complete these forms means you will not get credit for your co-op experience.
Update your resume and profile on the student Career Development web page.
Co-op Information for International Students
Co-ops are a form of Co-curricular Practical Training (CPT). This means that because co-ops are part of our curriculum and you will receive course credit for them, you are eligible to work in the U.S. and be paid. UToledo's International Student & Scholar Services (ISSS) provides the guidelines for eligibility.  You need to fill out the proper paperwork through that office.