ROCKET STYLE CAREER CLOSET
The Rocket Style Career Closet serves as an on-campus resource for UToledo students. Students can select identity-affirming professional clothing items in preparation for upcoming interviews, career fairs, professional conferences, or new jobs at no cost to them.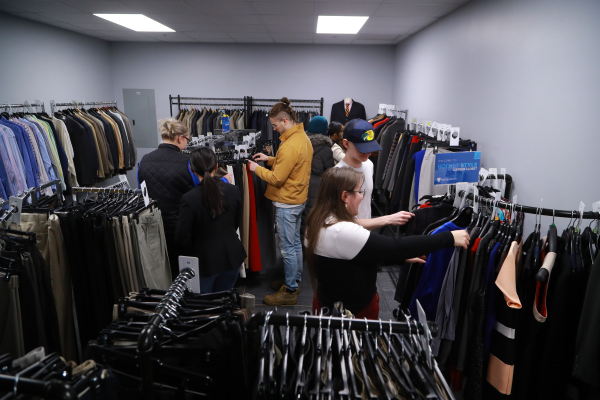 SHOPPER RULES
Only current UToledo students are eligible to shop.

 

Students must have a student ID or another type of photo ID 

 

Students can take up to 4 items per visit plus 1 accessory 

 

Items: pants, skirts, dresses, full suit, top, blazer, sportscoat, and shoes 

 

Students are allowed up to one full suit per visit 

 

Students are allowed up to two blazers or sports coats per visit 

 

Accessory: belts, socks, stockings, ties, scarves, bags, jewelry. 

 

Shoppers can make an appointment to shop or they can walk in during our open hours

Shoppers are allowed to shop one time each semester.

 

No food or drink is permitted in the closet.

 
WALK IN HOURS | FALL 2023 
Monday: 9:30 AM - 4:30 PM 
Tuesday: 9:30 AM - 4:30 PM 
Wednesday: 9:30 AM - 4:30 PM 
Thursday: 9:30 AM - 3:30 PM 
Friday: 9:30 AM - 4:30 PM 
Schedule an Appointment for Rocket Style
Donate to the  Rocket Style Career Closet
Questions?
Visit us in the Student Union for questions and to check out our new space!
Student Union 1550
419-530-3022