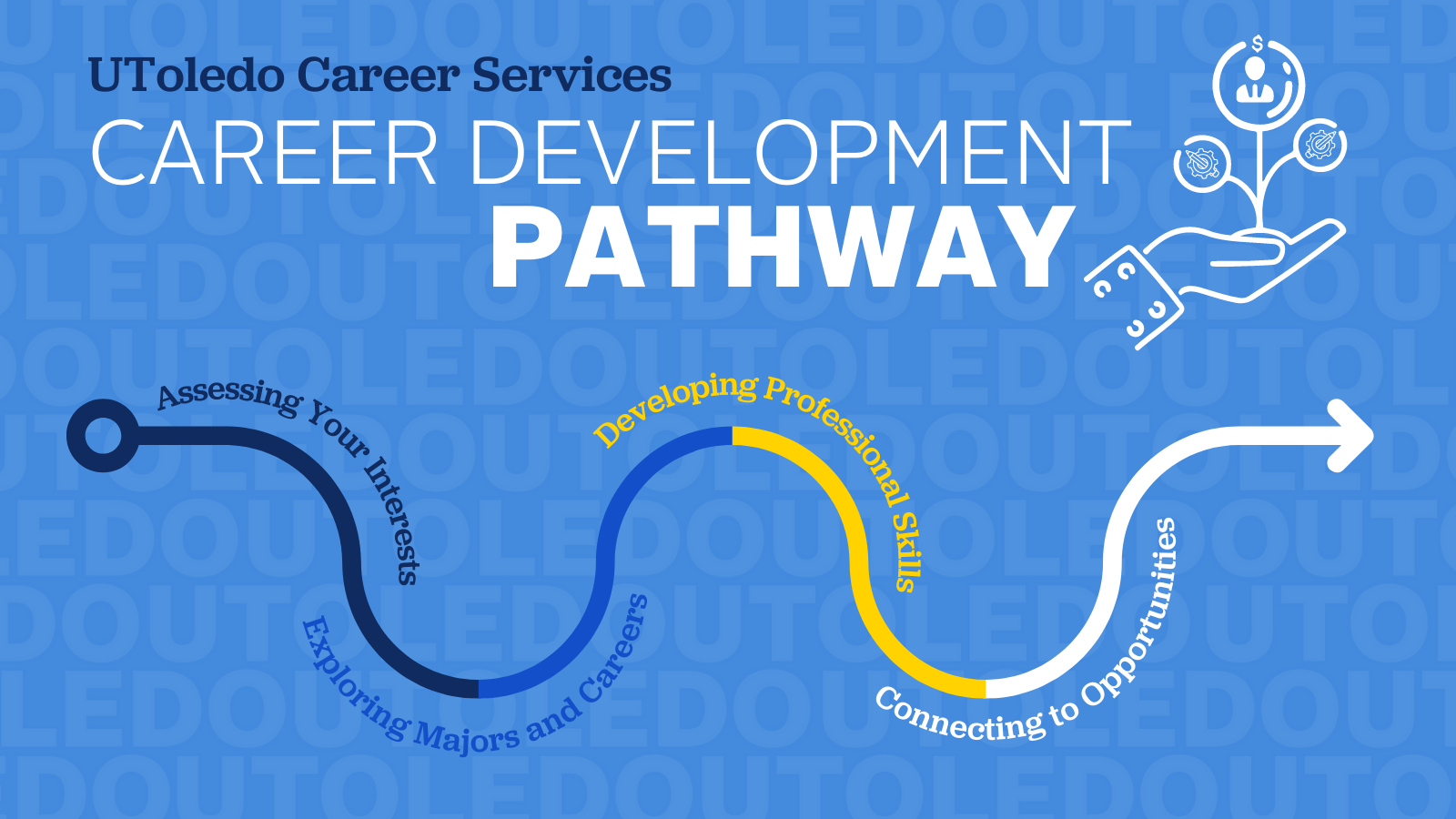 At the University of Toledo, we support all students engaging in career development activities to help them discover meaningful careers and professions that capitalize on their unique passions, interests, abilities, values, and academic studies.   
Career development should be an exciting journey for you as a student.
We view your career development journey as a series of stages with tasks and experiences to help you:
Know who you are

What careers might best suit your personal needs

Where you would like to work

How to showcase yourself to employers or graduate and professional schools

How to secure employment or gain graduate school acceptance



We know that each student is unique. We have created the Career Development Pathway as a framework to help all UToledo students to discover and reach meaningful careers and professions that are aligned with their academic studies and personal assets. 
The Stages of your Career Development Pathway 
A Final Note:
It is common to feel uncertain about any or all of the steps described above. Please be assured we are here to support you every step of the way. We have a variety of online tools to support you at each stage of the Career Development Pathway. Additionally, University Career Services is open for walk-in, virtual, and in-person appointments.
---
SCHEDULE AN APPOINTMENT TODAY!
Our staff is here to support you through your career journey. Head to Handshake to self-schedule today.
Schedule Your Appointment Now On Handshake How-To Video: Scheduling Appointments On Handshake

Shelly Drouillard 
Director, Career Services
LIAISON AREAS:
College of Law 
College of Medicine 

Demya Wimberly
Career Consultant 
LIAISON AREAS:
Judith Herb College of Education
Natural Sciences and Mathematics
Neff College of Business and Innovation
Nursing
University College

Tony Sherock 
Career Consultant 
LIAISON AREAS:
Arts and Letters
Engineering 
Health & Human Services
Jesup Scott Honors College
Pharmacy and Pharmaceutical  Scien