Recognizing that disabilities contribute to the rich fabric of our campus community, UToledo is committed to providing an equitable experience for all students, embracing the differences that make us unique.
MISSION OF The Office Of Accessibility and Disability Resources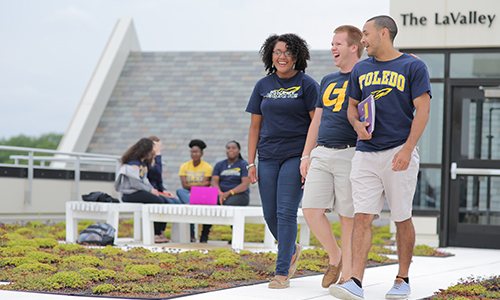 The Office Of Accessibility and Disability Resources partners with students, faculty, and staff to facilitate disability access essential to sustaining an inclusive campus experience. Access and accommodations ensure equal opportunity for students with disabilities to participate in all of the programs, activities, and services designed to transform our students into the diverse community of leaders we count on to improve the human condition.
ABOUT OUR TEAM
We value disability as a key aspect of human diversity. We are committed to removing and reducing barriers to equal access and opportunity for disabled individuals. We facilitate access through collaboration, education and action with our campus partners. We coordinate individualized accommodations to enable full participation.
Resources are available to support your path to success. More than 1,000 students across all campuses and disciplines are connected with our office. We are here to work together with you to let your potential shine.
CONNECT WITH OUR STAFF
We invite you to connect with ADR staff by calling 419-530-4981 or emailing studentdisability@utoledo.edu. Visit our Prospective Student webpage to learn more about affiliating with our office.
We look forward to partnering with you during your journey at UToledo.