PATH Project
Partners Against Trafficking in Humans (P.A.T.H.) is a community-wide, outcomes-based, coordinated, transparent, and data-driven response to human trafficking. P.A.T.H. addresses the barriers and gaps in direct service coordination, improves service
delivery, documents de-identified client
data to determine which combination of
services create a literal "path", or continuum
of care, to move victims to survivors, and 
survivors to thrivers.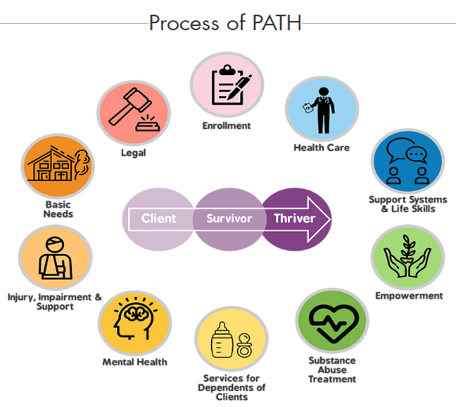 P.A.T.H. definitions of victims, survivors, and thrivers can be found here.
If you or someone you're working with many benefit from the P.A.T.H. Project, please complete the referral form and email it to PATHproject@utoledo.edu. This form can be used to refer both adults and minors.
For more information on the P.A.T.H. model, services provided and human trafficking resources or trainings, please email PATHproject@utoledo.edu.

The P.A.T.H. Guidebook