Youth Pages Toledo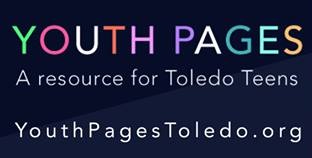 Preparing and empowering our local youth and university students to take control of their situation
We have, at some point in our lives, experienced some kind of pressure and stress involving school, work, family, friends, internships, and everything else in between. Students and teens can often be overlooked as experiencing the powerful stress of these things, but in Lucas County, there are many resources and opportunities to take advantage of as young adults in order to take on that stress.
Youth Pages Toledo is a collection of resources in Lucas County for University of Toledo students and youth in the area. These resources are available to provide options, choices, and education when a student or teen is in need. The resources are broken down into nine different categories: Drugs and Addiction; Social and Recreational Activities; Health and Counseling; Sexual Health and Teen Parenting; Violence; Rights and Responsibilities; School, Work, and Money; Human Trafficking Resources; and Living Arrangements.
Helplines are also available on the website if a student or teen needs answers to questions or may be experiencing a crisis.
You can access Youth Pages Toledo at www.youthpagestoledo.org

Youth Pages Toledo was created in collaboration with the Human Trafficking & Social Justice Institute, United Way of Greater Toledo, and the Lucas County Human Trafficking Coalition. Sponsored by the Ohio Children's Trust Fund, Zonta Club of Toledo, TARTA, and the Lucas County Human Trafficking Coalition.