Youth Nations 2018
Local to Global Leadership Experience  |  July 15-20, 2018
The University of Toledo is excited to host the 5th Annual Youth Nations Local to Global Leadership Experience! 
Join other high school students in learning how to be global leaders! 

Youth Nations Tuition: $475      Take advantage of this offer!
Limited time special tuition rate:  $275
This is the total cost for the program. There are no additional fees. Tuition is not refundable.
To register for this event, click the button below.
registration form 
Registration deadline Monday, June 25.

What is Youth Nations?
Youth Nations is a week-long interactive global leadership experience where high school students experience college life while participating in a persuasive presentation competition for University of Toledo scholarships.
The week focuses on creating opportunities for students to learn from our skilled faculty about issues that face our world. Participants will then have the opportunity to work in a team of several students to present a plan to change the world. Each team will compete for the chance to win a UT scholarship.
Students will have a real college experience, including staying on campus in our residence halls, spending time with expert faculty, and using our Student Recreation Center. Students can share a room with a friend or meet someone new.
The event fee includes housing, meals and program activities for one person.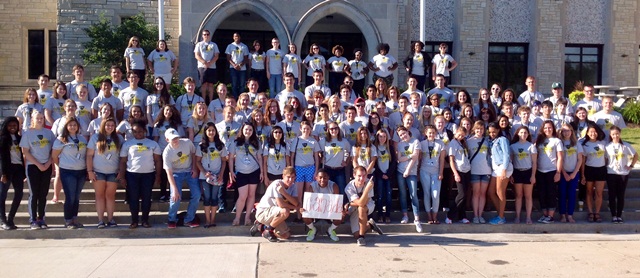 Who should attend?
This leadership experience is geared toward highly motivated high school students who are between their junior and senior year who have an interest to take their passion for learning and making a difference in global issues to the next step. Students should have a
minimum 3.5 GPA.
Global Issues
Participants will hear from global leaders and United Nations representatives about their experiences in leading global change. These representatives will speak about the following issues:
Human Trafficking
Civic Engagement
Green Energy
Public Health
Mental Health
Clean Water
Experiential Learning Opportunities
Students will also participate in one experiential learning opportunity. Students can choose a field location based on their personal interests or their future academic endeavors. This year's field locations include:
College of Pharmacy and Pharmaceutical Sciences Cosmetic Lab
Extracurricular Activities
Students will also get to participate in extracurricular activities based on the clubs and sports we have to offer. Some of the student's choices will be as follows:
Basketball
Soccer
Dodgeball
Challenge Course (Rock Climbing, High Ropes, & Low Initiatives)
Sand Volleyball
What will participants gain from this Youth Nations experience?
confidence in persuasive presentation and leadership
meet new people that share similar concerns and interest for global issues
first-hand experience on what life would be like on a college campus; familiarization of The University of Toledo campus
Questions? Email: youthnations@utoledo.edu