Forever Toledo Law
Aug. 1, 2020
Toledo Law pays tribute to members of our community who passed away over the last year through July 1, 2020.
---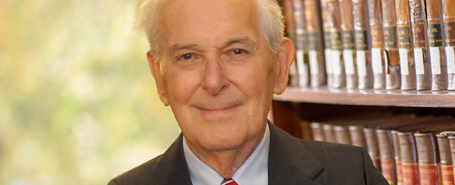 Remembering Beloved Professor and Friend
Toledo Law graduate and long-time friend, Rabbi Alan Sokobin '96, passed away on April 3, 2020, at the age of 94. Sokobin taught at the college as a part-time professor for many years. He was also the recipient of Toledo Law's Henry Herschel Community Commitment Award in 2012. He was a scholar, counselor, and friend. He will be deeply missed.
---
In Memoriam
1950s
'52 Peter L. Moran | 12/12/2019
'57 Richard J. Sullivan | 04/14/2020
1960s
'64 Dorothy B. McCrory | 06/15/2020
'66 Richard Guy Farrar | 06/26/2020
'66 Myron Eugene Sanderson | 10/09/2019
'67 Andrew John Barrick | 07/27/2019
'68 James Harold Allison | 11/24/2019
'69 Ronald L. Keaton | 02/16/2020
'69 Robert Joe Scheer | 12/15/2019
1970s
'72 John W. Sweetnam | 07/07/2019
'75 George Francis Runner | 09/13/2019
'76 Donald Arthur Brown | 03/05/2020
'76 George Lawrence Kentris | 06/16/2020
'77 David Lloyd Balas | 10/01/2019
'78 Patrick Caroll Campbell | 01/20/2020
'78 Keithley Bowen Sparrow | 06/13/2020
1980s
'81 William Arthur Byrne | 08/24/2019
'82 Anthony J. Bender | 10/15/2019
'82 Frieda Jean Fiske | 07/27/2019
'84 Scott Robert Lowrie | 10/30/2019
'84 Kris Alan Wittwer | 12/15/2019
'88 Kenneth Warren Phillips | 08/19/2019
1990s
'92 Sarah Ann Sodd | 09/27/2019
'92 David A. Spenard | 08/23/2019
'93 Neal Allen May | 10/27/2019
'96 Alan M. Sokobin | 04/03/2020
'98 Karen Sue Manahan | 04/08/2020
2000s
'03 Mark Lawrence Forgach | 12/09/2019
'08 Aubin J. Chang | 10/14/2019
---