Newsroom
Explore our Toledo Law newsroom below for access to the latest news content.
---
Stories & Press Releases
Local and national publications often highlight the college and the incredible achievements of our alumni, staff, and students.
Dominique Ditmore, Former Pro Wrestler, to Fight for Animal Rights as Law Graduate
Dec. 7, 2022
Cindy Kirby Named Assistant Dean for Student Affairs
Dec. 1, 2022
Toledo Law Students are Giving Back this Holiday Season
Nov. 16, 2022
Toledo Law Holds Annual Naturalization Ceremony in Honor of Constitution Day (Additional stories from The Blade and WTOL)
Sept. 19, 2022
---
Faculty in the News
As experts in their fields, our faculty members are consulted for analysis and opinion by the media. Several faculty members are interviewed for local television and newspaper articles and frequently comment in national publications such as The New York Times and USA Today.
Professor Joe Slater Quoted in Real Clear Investigations on Illinois Labor Unions
Dec. 8, 2022
Professor Ken Kilbert Discusses the 22nd Annual Great Lakes Water Conference with NBC 24
Oct. 28, 2022
Professor Eric Chaffee Discusses Securities Fraud and Disclosure When a Celebrity is Being Compensated to Promote an Asset
Oct. 3, 2022
Professor Lee Strang Provided Insight Regarding Religious Observance by Coaches after the Kennedy vs. Bremerton School District U.S. Supreme Court Ruling
Sept.11, 2022
Professor Gregory Gilchrist Quoted by Yahoo! Finance on Corporate Fines
Aug.27, 2022  
---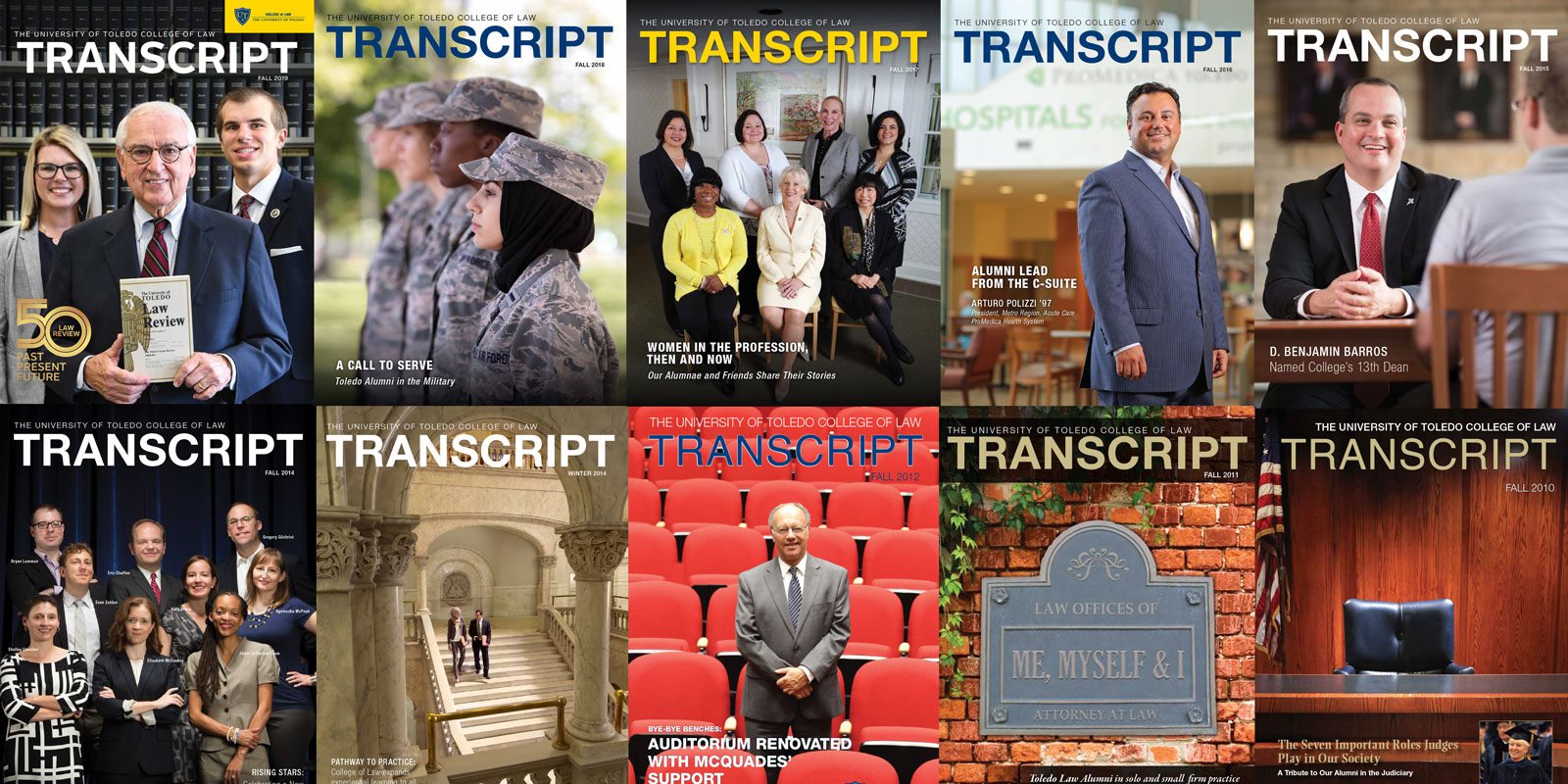 Alumni Magazine
Toledo Law's Transcript alumni magazine provides you with the latest alumni and college news, including feature stories, alumni profiles, faculty notes, class notes and more. Explore our alumni magazine to read about our incredible alumni network and its impact around the world.
---
Questions?
Toledo Law Communications
419.530.4712
lawcommunications@utoledo.edu