Newsroom
Explore our Toledo Law newsroom below for access to the latest news content.
---
Stories & Press Releases
Local and national publications often highlight the college and the incredible achievements of our alumni, staff, and students.
Toledo Law Students Hold a Candlelight Vigil for Tyre Nichols (additional stories on WTOL and The Blade)
Jan. 31, 2023
Toledo Law Students Host Name-Change Clinic (additional WTOL story)
Jan. 23, 2023
Dominique Ditmore, Former Pro Wrestler, to Fight for Animal Rights as Law Graduate
Dec. 7, 2022
Cindy Kirby Named Assistant Dean for Student Affairs
Dec. 1, 2022
Toledo Law Students are Giving Back this Holiday Season
Nov. 16, 2022
---
Faculty in the News
As experts in their fields, our faculty members are consulted for analysis and opinion by the media. Several faculty members are interviewed for local television and newspaper articles and frequently comment in national publications such as The New York Times and USA Today.
Associate Dean Rebecca Zietlow Explains the Origins of Non-Compete Clauses and Recent Court Challenges
March 19, 2023
Professors Rob Salem and Lee Strang Serve on Ohio Advisory Committee that is Conducting Study on Source of Income Discrimination in Ohio Housing
Feb. 17, 2023
Associate Dean Rebecca Zietlow Writes About the Federal Trade Commission's Proposed Ban on Non-Compete Clauses for Workers
Feb. 16, 2023
Associate Dean Rebecca Zietlow Constitutional Rights and School Dress Codes with 13abc
Feb. 1, 2023
Professor Joe Slater Quoted in Real Clear Investigations on Illinois Labor Unions
Dec. 8, 2022
---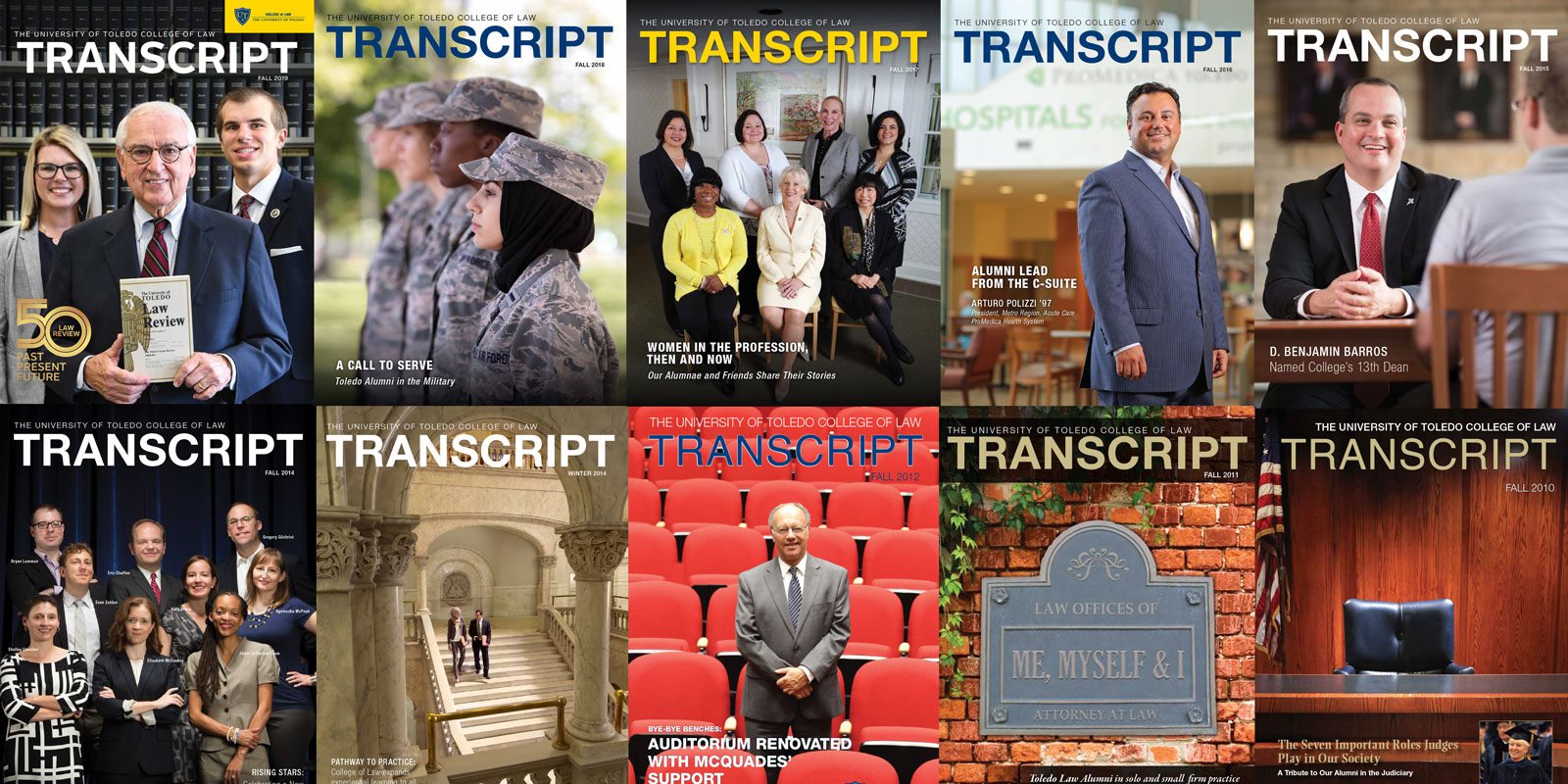 Alumni Magazine
Toledo Law's Transcript alumni magazine provides you with the latest alumni and college news, including feature stories, alumni profiles, faculty notes, class notes and more. Explore our alumni magazine to read about our incredible alumni network and its impact around the world.
---
Questions?
Toledo Law Communications
419.530.4712
lawcommunications@utoledo.edu