Newsroom
Stories and Press Releases
Shelby Miller Awarded Prestigious Peggy Browning Fellowship
Aug. 24, 2020
Toledo Law Students Revive National Lawyers Guild Chapter
Aug. 17, 2020
EPA Hosts Five Toledo Law Students for Summer Clerkships
July 31, 2020
Katie Hunt Thomas '09 of The Ability Center Discusses Mask Mandate Exceptions with WTOL 11
July 21, 2020
J.D. Candidate Ready to 'Jump in Feet First' Into Employment and Labor Law Career
April 29, 2020
More Stories and Press Releases
---
Faculty in the News
As experts in their fields, our faculty members are regularly consulted for analysis and opinion by the media. Many faculty members are interviewed for local television and newspaper articles, and several comment frequently in national publications such as The New York Times and USA Today.
Dean Ben Barros Published Op-Ed in The Hill on Filling Supreme Court Vacancy
Sept. 22, 2020
Dean Ben Barros Interviewed by 13abc on Legacy of Justice Ruth Bader Ginsburg and Future of the Supreme Court
Sept. 19, 2020
Professor Lee Strang Interviewed by The Blade on 2006 College of Law Lecture by Justice Ruth Bader Ginsburg
Sept. 18, 2020
Professor Nicole Buonocore Porter Quoted in Bloomberg Law's Daily Labor Report on Telework as ADA Accommodation During the COVID Pandemic
Sept. 17, 2020
Senior Associate Dean Geoff Rapp Interviewed by 13abc on Potential Big Ten Lawsuit
Sept. 14, 2020
---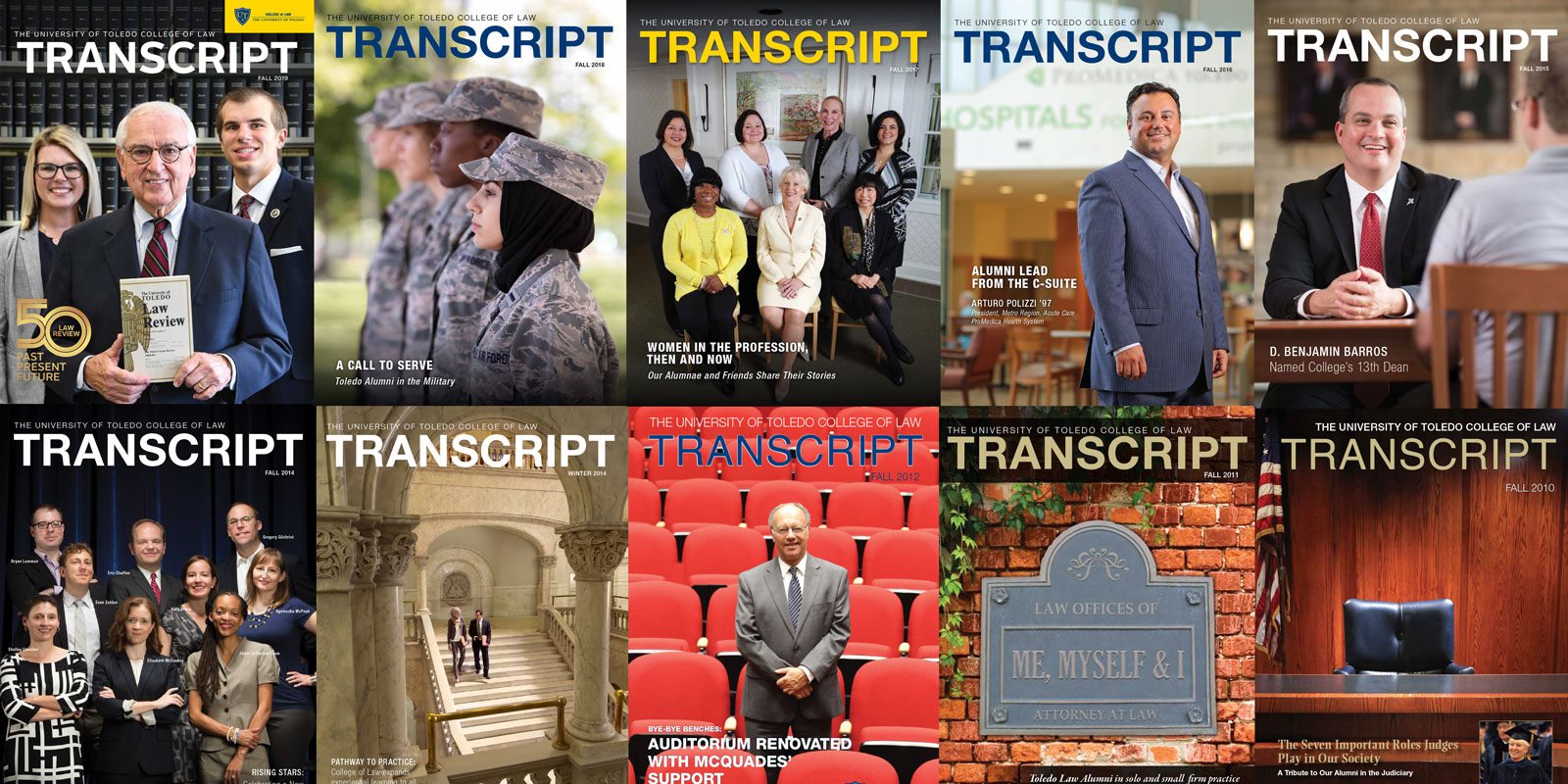 Alumni Magazine
Toledo Law's Transcript alumni magazine provides you with the latest alumni and college news, including feature stories, alumni profiles, faculty notes, class notes and more. Explore our alumni magazine to read about our incredible alumni network and their impact around the world.
---
Questions?
Toledo Law Communications
419.530.4712
lawcommunications@utoledo.edu