Newsroom
Explore our Toledo Law newsroom below for access to the latest news content.
---
Stories & Press Releases
Local and national publications often highlight the college and the incredible achievements of our alumni, staff, and students.
Amber Chuhy Named Assistant Dean for Admissions
July 27, 2022
Pass the Bar, Get the Job: Toledo College of Law Helps Students Reach Goals
July 23, 2022
Sheriff's Deputy Adds Law Student to Credentials
July 7, 2022
Celebrate Juneteenth, But Don't Forget the Thirteenth
June 16, 2022
Law Review Names 2022-23 Editorial Board
June 14, 2022
---
Faculty in the News
As experts in their fields, our faculty members are consulted for analysis and opinion by the media. Several faculty members are interviewed for local television and newspaper articles and frequently comment in national publications such as The New York Times and USA Today.
Professor Evan Zoldan Wrote an op-ed on the Transformative Effect a Supreme Court Ruling Could Have on State Regulatory Programs that Depend on Federal Standards for their Existance
July 2, 2022
Professor Geoffrey Rapp Discussed Why Lawmakers May Not Learn Much From NFL Commissioner Roger Goodell as He Defends the League and its Handling of Workplace Misconduct
June 21, 2022
Professor Joe Slater Discussed Employer Public Comments and Labor Law Violations in Bloomberg Law
June 14, 2022
Professor Lee Strang Provided Insight on Potential Changes in Local Government Flag Flying Policies
May 30, 2022
Professor Ken Kilbert Discussed the Lake Erie Bill of Rights
May 9, 2022
---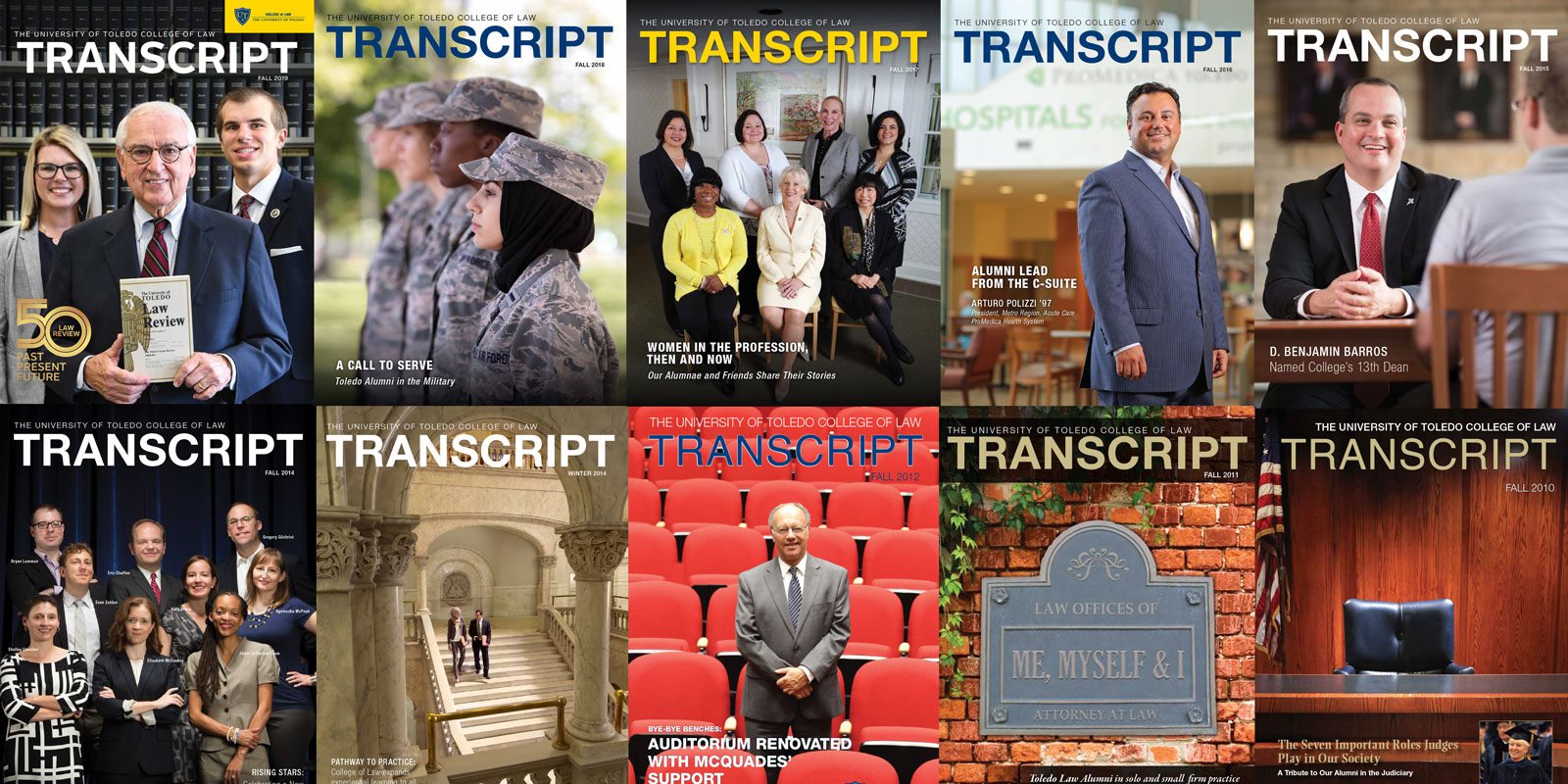 Alumni Magazine
Toledo Law's Transcript alumni magazine provides you with the latest alumni and college news, including feature stories, alumni profiles, faculty notes, class notes and more. Explore our alumni magazine to read about our incredible alumni network and its impact around the world.
---
Questions?
Toledo Law Communications
419.530.4712
lawcommunications@utoledo.edu