Virtual Preview Day
Saturday, April 4, 2020
Here are materials from our virtual experience on Saturday, April 4, 2020. We hope you were able to join us. If you missed it, we're happy to answer your questions. Reach out to our Toledo Law admissions team at law.admissions@utoledo.edu.
---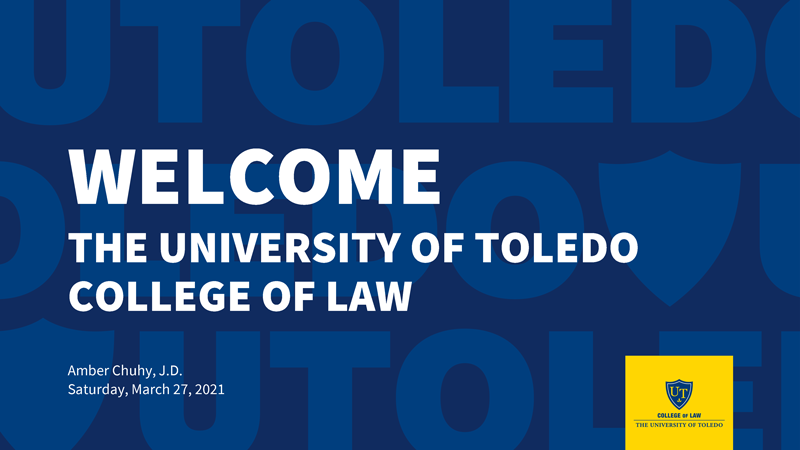 Transcript
Slide 1: Welcome
Welcome! Thank you for joining us for this interactive introduction to The University of Toledo College of Law. My name is Amber Chuhy. I'm the director of our admissions team and a graduate of Toledo Law. I'll be providing you with an overview of the UToledo campus, sharing information about our academic program, and then highlighting the admission process.
As guests are joining us, I want to share with you that attendee names are not visible to others except for hosts and presenters. Therefore, you will only see your own name in the attendee list.
Throughout the session, please feel free to pose questions to our team using the chat function in the bottom right. Jessica Mehl, the assistant dean of law admissions, Adam Lee, our assistant director, and current law student, Nicole, are available to assist you through the chat feature. Laura Schmidt, admissions analyst, is standing by to assist with any technical/connectivity issues.
To post your questions in chat, you can hover your mouse over the bottom of your window to access the chat icon or start typing in the bottom right window.
We will publicly address common questions during Q&A at the end of the session. We may post polls during the session and encourage you to actively participate.
Let me start by introducing our first presenter and dean of the College of Law, Ben Barros.
Dean Barros has served as Dean of the College of Law since July 2015. He teaches and writes in the areas of Property Law and Theory. He is the founding editor of the Journal of Law, Property, and Society, and in 2015, he released a widely used casebook on property law. Dean Barros practiced as a litigator before teaching. Immediately after graduating from law school, he worked as a judicial clerk for the U.S. District Court, Southern District of New York and then worked at two law firms in New York City.
Dean Barros graduated from Fordham University School of Law and holds a bachelor's degree in philosophy from Colgate University and a master's degree in philosophy from the University of Maryland.
[Dean Barros's remarks are not available]
Slide 2: Where's the law school on the UToledo campus?
We'd like to start today's presentation by giving you information on our campus. Our location in and affiliation with The University of Toledo is one of the many benefits of a Toledo Law education.
Slide 3: Location
The College of Law is housed in the four-story Law Center on the edge of The University of Toledo's Main Campus, which is located in a scenic suburban setting five miles from downtown Toledo. The University of Toledo is a safe, walkable campus in a vibrant residential neighborhood.
With a beautiful college campus, top-flight student recreation center, popular Toledo Rockets sports teams, and close proximity to downtown Toledo law firms, courts, and government offices, our location is something we are proud of at Toledo Law! We encourage you to take the University's virtual tour to get a better idea about campus. You can access the virtual tour from our website at utoledo.edu/law.
Slide 4: Inside the Law Center
While we're part of a larger university of more than 20,000 students, we're a small community within the Law Center. With under 300 students; on-site admissions, financial aid, career services, and registrar, we offer you the amenities of a large campus with the comfort of a small school.
Our classrooms are conveniently located on the main level of the Law Center with on-site parking to ease your commute. Each classroom is equipped with the latest technology, including power outlets at each desk and an interactive SMART Board for professors to incorporate digital media into your learning experience.
Toledo Law legal clinics, both onsite and in community practice settings, enable you to be placed in a supervised setting, where you will learn practical, professional skills as you explore the roles of a practicing attorney. More on our clinics in a couple of minutes.
Our Cubbon Courtroom allows you to perfect your opening statements, oral arguments, and trial advocacy in an environment designed to resemble a real-life courtroom.
The two-story Forum at the heart of the Law Center offers a spacious student gathering area with comfortable seating and a unique mix of work and study spaces with charging stations to help you stay connected. The LaValley Law Library is located within the upper-levels of the Law Center and features almost 42,000 square feet of study space with private study carrels, group study rooms, adjustable standing desks, a computer lab, and access to legal research databases.
As a Toledo Law student, you'll routinely engage distinguished members of the legal community in lectures, symposia, and national conferences in the McQuade Law Auditorium.
Located on the main level of the Law Center, the auditorium is the largest group space at the law school with tiered seating for more than 300 guests.
Our spacious Shumaker, Loop & Kendrick Student Lounge connects you directly to the renovated Law Center patio, offering quiet study space with a fantastic view. The room also doubles as event space allowing the college and law student organizations to host luncheons, dinners, speakers, and networking events.
Slide 5: Academic Programs
Founded in 1906, Toledo Law was accredited by the American Bar Association in 1939 and joined the Association of American Law Schools in 1941. Over the next couple of minutes, I will cover the academic benefits of a Toledo Law education.
Slide 6: Program Flexibility
Our J.D. program can be tailored to meet a variety of professional and academic goals with full- and part-time options. Incoming students have the option of starting in January or August.
Our full-time J.D. program is both rigorous and comprehensive, and you should expect the commitment over three years to be similar to that of a full-time job.
Our part-time program provides you the opportunity to earn a J.D. at your own pace. Courses are available during the day and evening in fall and spring semesters as well as optional summer session. Part-time students typically take 8-10 credit hours a semester, completing their course of study in four years.
In our two-year J.D. program, highly qualified lawyers are eligible for up to 29 hours of advanced standing credit for law studies completed outside the U.S.
We were one of the first law schools in Ohio to launch a 3+3 accelerated degree program. 3+3 allows you to earn both a bachelor's degree and a law degree in just six years instead of the usual seven. Our current 3+3 partnerships include:
Adrian College
Indiana Tech University
Lourdes University
Marietta College
Siena Heights University
Trine University
University of Findlay
The University of Toledo
Slide 7: First-Year Schedule
Law students across the United States take similar classes during their first year of law school. During your first year at Toledo Law, you'll take required courses that are the substantive building blocks for your legal education.
Civil Procedure - Pleading and Practice
Constitutional Law - Structure
Contracts I and II
Criminal Law
Property - Fundamentals of Ownership
Property - Transactions and Land Use
Torts
You will also take Lawyering Skills I and II, where you will learn legal research techniques and strategies, legal analysis skills, and how to write memos and appellate briefs.
Slide 8: Sample Schedule
This schedule provides a good example of the effort and time needed for full-time students to achieve success in law school.
As indicated a moment ago, we encourage students to treat law school like a full-time job. The sample schedule highlights this, showing a full 8 a.m. to 5 p.m. workday. This sample schedule includes time for students to allocate towards studying.
Slide 9: Upper-Level Courses
After your first-year, you will be considered an upper-level student at Toledo Law. Upper-level courses are offered year-round in the fall, spring, and summer. Summer courses are optional and can accelerate degree progression.
You will direct your upper-level course of study by selecting from a broad range of electives and substantive law courses, simulation courses, and legal clinics.
There are a few upper-level course requirements, which include:
Civil Procedure - Jurisdiction
Constitutional Law - Rights
Evidence
Legal Ethics
In addition, you will complete two upper-level research and writing projects, and the college's experiential learning requirement.
Slide 10: Options to Help You Achieve Your Goals
Toledo Law delivers excellence in legal education and provides many paths to professional success. We will now discuss the ways that Toledo Law can help you achieve those goals!
Slide 11: Certificates of Concentration
Toledo Law offers certificates of concentration to pursue specialized study. By earning a certificate, you will demonstrate to potential employers both genuine interest and higher-level knowledge in a particular field of law. We currently offer certificates in the areas of:
Criminal Law
Environmental Law
Intellectual Property Law
International Law
Labor & Employment Law
To earn a certificate of concentration, you must successfully complete required core courses plus additional electives to achieve a minimum of 10 credits in the field.
Slide 12: Joint Degrees
UToledo is a public, comprehensive research university — one of only 27 institutions in the nation offering degree programs in seven professional fields including law, business, education, engineering, medicine, nursing, and pharmacy.
As such, we can offer you a variety of joint degree programs to help you achieve your career goals. Most of our programs allow you to earn your J.D. alongside a second graduate degree in as little as four years, saving you time and money. You can also customize your own joint degree tailored to your personal interests and goals.
Please note that under American Bar Association guidelines, joint degree coursework must be taken after enrollment in the College of Law to be eligible for credit toward your J.D. degree. We cannot accept previous graduate coursework toward JD degree requirements.
Slide 13: Student Quote
"My favorite Toledo Law moment was arguing in front of federal judges as a finalist in the Fornoff Appellate Advocacy Competition during my 2L year." - Brandy Brown, class of 2019
Fornoff: Each year Toledo Law hosts the Fornoff Appellate Advocacy Competition. This competition helps second- and third-year students gain real-world experience in oral advocacy. Teams litigate in front of a panel of judges as either plaintiff or defense counsel. The competition begins with dozens of participants each spring and continues into the following fall semester. The purpose of the competition is to provide opportunities for students to develop the necessary skills to become not only outstanding oral advocates, but dedicated and proficient lawyers.
Additionally, Toledo Law hosts several conferences and symposia for students, faculty, and staff throughout the year. For example, the annual Great Lakes Water Conference is held at Toledo Law.
Slide 14: Experiential Learning
The development of professional skills is essential to success as a practicing attorney. Through our experiential learning requirement, 100% of Toledo Law students participate in clinic or externship opportunities and simulation courses.
What do we mean when we say experiential learning? It's a term we use to reflect learning through experience.
We offer you multiple opportunities to gain hands-on experience through our in-house legal clinics, externships with local governmental agencies, courthouses, and non-profit organizations, as well as through legal practice simulation courses.
Slide 15: Student Involvement
In addition to clinical opportunities, many students choose to maximize their legal education by getting involved in our community and beyond. Toledo Law students have the option to join a moot court or trial advocacy team. Additionally, students can be selected to write for The Toledo Law Review or run for office through the Student Bar Association (SBA). SBA is similar to student government with elected class level representatives and an executive board. Students can also join one of our many student organizations.
Our students often want to serve the community with the knowledge and experience they gain at Toledo Law. Opportunities for service and public interest work while at Toledo Law are many. From clinics serving underrepresented members of the community to fundraising through the Student Bar Association Pro Bono Committee, we are proud of the contributions of our Toledo Law community serving those in need.
Slide 16: Success
Toledo Law is a school dedicated to helping you succeed.
We recognize that success means different things to different people. At Toledo Law, your success is our success, and that is why we don't have a one size fits all approach. Instead, our goal is to meet students where they are and provide the support, if needed, to bring goals into reality.
Slide 17: Career Services
The career services team at Toledo Law is dedicated to helping students and graduates achieve their career objectives.
Toledo Law students are matched with a professional career advisor during the fall semester of their first year at Toledo Law. This advisor helps the student explore different legal practice settings and fields of study in order to find the right combination of experiences to develop their potential.
An attorney-student mentorship program, career-building workshops, a student and alumni job database, and on-campus interview programs are just a few of the services offered to Toledo Law students.
Our career services office also advises students on the bar application process. Starting this July, Ohio will be offering the Uniform Bar Exam (UBE), becoming one of 36 states to participate.
Slide 18: Graduates from Toledo Law are Everywhere
Our alumni work in diverse fields across the country and around the world. Here's a snapshot of alumni employment distribution in the U.S.
Active alumni groups around the country help students network and get a foot in the door for employment positions.
The University of Toledo College of Law is an American Bar Association approved law school which means that our graduates are eligible to take the bar exam in any US jurisdiction.
Slide 19: Supportive Faculty
Our faculty are leading scholars who embrace an open-door policy and regularly meet with students outside of class.
Our low student-to-faculty ratio (8-to-1) offers each student the opportunity for personal interaction with their instructors.
We were rated #1 for most accessible professors by the Princeton Review survey of best law schools for 2020 among nine Ohio law schools, 5 law schools in Michigan, and tied for #1 out of 3 law schools in Indiana.
Our faculty are leading scholars with degrees from some of the nation's top law schools. They are often quoted by major national publications and author textbooks used in many law schools across the country. However, their passion and priority is sharing knowledge with you, the next generation of legal professionals.
Slide 20: Student Resources
Law school has a reputation for being rigorous, and it is well-earned. The material covered in law school is not necessarily harder than that learned in undergrad or other advanced degree programs, but there is typically more material covered each class session and more detailed analysis of issues required.
At Toledo Law, we don't expect that students have detailed knowledge of the law before arriving on campus. Our Academic Success Program, which students participate in from orientation onward, covers topics like reading and understanding legal cases, case briefing, outlining, and preparing for exams. In addition, every student is paired with a faculty mentor who will assist students with course planning and academic goal-setting.
Our Bar Passage Program is designed to prepare you for the bar exam. We offer a for-credit bar prep course with substantive topic outlines, practice questions, and simulated bar essays. Toledo Law also has a partnership with BABBRI, a leading commercial bar prep service provider. You'll have access to the complete BARBRI Bar Review course starting your first semester. The course is available for all 50 states.
The Law Center houses the LaValley Law Library, staffed with reference librarians to assist with legal research needs. The law library maintains a collection of more than 330,000 volumes, has significant electronic collections, and provides quiet updated study space for students and faculty.
In addition, UToledo is proud to offer service members and their families numerous resources through the dedicated Military Service Center. In addition to military benefit processing, the Military Service Center provides accessible education, degree completion opportunities, and customized support services.
The Office of Student Disability Services partners with students to facilitate access essential to sustaining an inclusive campus experience. Law students in need of services are encouraged to register with the Office of Student Disability Services upon enrollment at Toledo Law.
The University Counseling Center is also available and provides services that include personal counseling, psychotherapy, and psychological outreach for enrolled students.
Slide 21: Student Quote
*JUST A REMINDER – Feel free to ask your questions in the chat box during our presentation!
With a dedicated administrative team, supportive faculty, and many campus services, current student Raina Dawson shares, "At Toledo Law, you never feel alone; we are all in this together."
Slide 22: Financing Your Legal Education
We're now going to move into a discussion of the resources available to finance a legal education.
At Toledo Law, we're committed to helping you afford law school. Our admissions team will walk you through the best options for funding your legal education, including scholarships and financial aid.
Slide 23: Tuition and Cost of Living
Toledo Law is an exceptional value offering you a nationally-ranked legal education at the lowest tuition rate of any law school in Ohio, Michigan, and Indiana. We also offer in-state tuition rates to veterans, Ohio high school graduates, and Michigan/Indiana residents.
The city of Toledo is also an affordable place to live with the lowest cost of living in the region. In fact, based on data taken from 75 U.S. cities, Move.org rated Toledo as the third most affordable city in the nation.
Slide 24: Scholarships
Our robust scholarship program allows us to support well-qualified students by offering over $1M in scholarships.
All Toledo Law scholarships are non-conditional and full- and partial-tuition scholarships are awarded to highly qualified students. No separate application is needed, as we'll review your eligibility based on your admission application!
As previously mentioned, we also offer Michigan/Indiana resident scholarships that guarantee in-state tuition rates.
Toledo Law also offers an upper-level scholarship program that students apply for after enrolling at the college and completing at least one semester of coursework. These awards are disbursed based on law school performance.
Slide 25: Financial Aid
We have our own financial aid staff here in the Law Center to help you plan and identify resources to finance your legal education. For many law students, it's necessary to apply for financial aid. Federal student aid includes federal loans and work-study. We encourage you to develop your plan early to determine the best fit.
To get started, complete the Free Application for Federal Student Aid or FAFSA.
Law students may be eligible for the following student loans:
Direct Unsubsidized Loan (federal) - up to $20,500 per academic year.
Direct Grad PLUS Loan (federal) - up to the cost of attendance, less any other financial aid received.
A number of alternative (or private) loans may also be available to help you fill any gaps.
While loans may help you pay for law school, it is important to only borrow what you need.
Slide 26: Student Quote
"The staff all work to make our experience here at UToledo as easy as possible, providing us resources and a wonderful environment to learn." - Eli Boldt, 3L
In addition to the distinguished and helpful faculty, the Toledo Law staff is here to help you succeed! The primary mission of our staff is to support the students of The University of Toledo College of Law, and we all believe that our own success is mirrored in the academic, emotional, and career success of each student. We offer caring service to students and faculty and foster a welcoming, supportive, and close-knit community at Toledo Law.
The UToledo College of Law offers students a dedicated dean of student affairs to assure a healthy and smooth experience for our students. Toledo Law also offers our own financial aid and registrar offices within the Law Center that are separate from undergrad use. Our law registrar even recently received the University's Outstanding Staff Award for his exceptional service to students and faculty.
In addition, the broader university offers a myriad of opportunities and resources. Some great options for law students to keep their minds and bodies in tune include working out at UToledo's beautiful Rec Center, enjoying tailgating for Rocket football or other athletic events, or walking around the beautiful campus.
Slide 27: What's life like in Toledo?
Slide 28: Big City with a Small-Town Feel
Toledo was founded in 1833 and grew tremendously due to its location along the Maumee River, Erie Canal, and the railway between New York City and Chicago. Later, its proximity to the turnpike and I-75 only further supported the city's growth. Toledo received the nickname "glass city" due to its contributions to the many glass manufacturers, especially automotive glass.
Toledo offers both the cultural amenities of a big city and the close-knit feel of a small town. Located on the western shore of Lake Erie, Toledo is a short drive to beaches, lakeside parks, and ferry access to popular island destinations including Put-In-Bay (which is nicknamed 'the Key West of the north') and Cedar Point Amusement Park.
Slide 29: Aerial View of Downtown
Toledo is the fourth largest city in Ohio and the third most affordable city in the U.S. (according to move.org). You can enjoy superb quality of life in a vibrant, metropolitan area offering affordable cost of living, short commutes, and diverse, friendly neighborhoods.
Residents of all ages enjoy Toledo's ballet, symphony orchestra, opera, and its many theatres hosting concerts and Broadway shows. The Imagination Station science museum, Toledo Botanical Gardens, and The National Museum of the Great Lakes offer a variety of entertainment options. The region also offers a plethora of fantastic restaurants to satisfy any craving.
From charming rural riverside towns to the serene beaches of Lake Erie, and the modern amenities of many convenient shopping and business areas around town, the Toledo metropolitan area offers nearly everything you could want within an easy 15-minute drive!
Slide 30: Toledo Museum of Art and The Toledo Zoo
Toledo also boasts a truly world-class art museum, located in our beautiful historic Old West End neighborhood. The Toledo Museum of Art (TMA) collection is one of the finest in the country and is accessible to the public free of charge.
Our wonderful Toledo Zoo started out in 1900 with a single donated woodchuck and has grown to be honored as the "Best Zoo in America" and #2 in the country for "Best Zoo Lights" by USA Today. At the Toledo Zoo, you can hand-feed a giraffe, zip-line over African safari animals, stroll through the many gardens, or even enjoy a beautiful riverfront park across the street.
Slide 31: Downtown Toledo Photos
For the sports enthusiast (or even just a "fun theme-night enthusiast"), catch an affordable Toledo Mud Hens game at Fifth Third Field, which was named the nation's best minor league baseball stadium by Newsweek. Stop by the new downtown arena to see the Toledo Walleye professional hockey team or nationally-loved musical artists. This downtown area, nicknamed Hensville, is a premier spot for great food, bar hopping, festivals, live music, and a weekend farmer's market.
Toledo's downtown area is home to local, state, and federal courts, such as Toledo Municipal Court, Lucas County Court of Appeals, Probate Court and U.S. Bankruptcy Court. Toledo Law's ideal location provides law students easy access for observation, internship, externship, and mentoring opportunities.
Slide 32: Metroparks
The Toledo area is home to many exceptional parks and recreational facilities. The Metroparks offer more than 12,000 acres of protected natural land in 12 diverse area parks offering 120 miles of trails to explore. The University / Parks Trail runs through campus - adjacent to the Law Center - and is over 6 miles of trail for jogging, biking, or strolling.
Slide 33: Next Steps for Prospective Students
Now that we've given an overview of some great things about Toledo Law and living in the Toledo area, we'll move now to the next steps for prospective students.
I'll talk about a few things for prospective students as you answer our poll about the Law School Admission Test. The L.S.A.T. or "L-SAT" is a test that is developed and administered by the Law School Admissions Council, or L.S.A.C. ("L-sac"). This important test is required for admission to Toledo Law.
We believe in a holistic approach to admission at Toledo Law, reviewing each application on a case-by-case basis, considering every aspect of an applicant's file. The median credentials for members of the 2019 entering class were a 3.31 for undergraduate GPA and 152 for LSAT score.
If you take the LSAT multiple times, it's important to note that the LSAC allows the test to be taken up to three times within a calendar year, and we at Toledo Law, we utilize the highest score when making admission and scholarship decisions.
I'll give another moment for those of you still answering the LSAT poll.
If you haven't done so yet, make sure to check out our website at utoledo.edu/law.
You can explore the pages of the site from each landing page by clicking on 'menu' on the top right. We have pages regarding our admission requirements and a helpful application checklist.
If you plan to take the LSAT, we have some fantastic ways to help you prepare.
Slide 34: 'Virtual Mock LSAT'
We invite you to practice for the LSAT with our no-cost Virtual Mock LSAT event coming up on Saturday, April 18 from 11 a.m. to noon. Join Toledo Law Professor Kara Bruce, who'll provide you with tips and tricks for taking the test. To make sure you're comfortable with taking the test in a digital format, we'll also share a link to the Law School Admission Council site, which offers you access to free digital practice tests.
In addition to our Mock LSAT, we also recommend that students prepare for the test by utilizing the free, online test prep offered by Khan Academy. The LSAT is made up of reading comprehension, analytical reasoning, and logic questions – it's not a knowledge-based test. We strongly encourage all prospective law students to prepare for the LSAT with multiple timed practice tests.
Slide 35: Application Information
We are currently accepting applications for our fall 2020 start class. Our application deadline is Aug. 1, and we accept the June 2020 LSAT or earlier for admission.
Slide 36: Program Start Options and Application Deadlines
At Toledo Law, you can begin our law program when it is most convenient for you. We offer a traditional fall start or a spring start, with classes starting in January. The application for both spring and fall 2021 will open on Sep. 15, 2020. Spring start applications must be received by Nov. 15 and fall start applicants have through Aug. 1. We are able to accept October LSAT scores or earlier for spring start and the June LSAT or earlier for fall.
Slide 37: Applying to Toledo Law
When you are ready to apply, visit our website at utoledo.edu/law. Click on the "Apply" button at the top of the page. We have detailed instructions on our website to guide you through the application process.
The Law School Admission Council is known as LSAC. They are the national organization that develops and administers the LSAT and processes law school applications across the nation.
You will need to set up your account on LSAC.org to start the application process. Add "The University of Toledo" to your school list and begin your application. You'll also need to upload a personal statement and resume to your application. The average length of a personal statement is one-to-two pages. Your personal statement is used as a writing sample while providing insight into who you are as a person. We look for concise, well-written statements that are free of spelling and grammar errors.
We also ask that candidates register for LSAC's Credential Assembly Service (CAS). CAS will send law schools your:
LSAT Score
Transcripts
and Letters of Recommendation (2-4)
in the form of an electronic CAS report.
We require a minimum of two letters of recommendation but accept up to four. Letters should provide both academic and professional references. Examples of recommenders could be your academic advisor, former professors, a boss or supervisor. Any person you use should provide a strong recommendation that highlights why you would be a good law student and future attorney.
Please note there is no fee to apply to Toledo Law, although there are charges for LSAC services. Fee waivers are available through lsac.org for candidates with financial need.
Slide 38: Admitted Student Information
I know we have some admitted students in the audience today and I want to take a moment to go over the next steps.
Slide 39: Congratulations!
Let me start by saying congratulations on your admission! You have worked hard to get here and we are excited to be a part of your journey. You should have received your offer of admission electronically and/or in the mail. Please let us know if you did not receive one or the other.
To hold your spot in the incoming class, please pay your seat deposit by April 15. You can pay your deposit online through your myUT portal using the "Law Deposits" link. Once we have received your deposit, we will mail your orientation and registration packets in early June.
The next step is to have two official hard copies of your undergraduate degree transcript and one official hard copy of any graduate degree mailed to Toledo Law. This is in addition to the copies you had sent to LSAC. If you have not yet graduated, you can wait until your degree is posted at your current academic institution.
Slide 40: Questions?
This concludes our presentation and we are standing by to take your questions. What's on your mind?
Please post your questions in the chat box. You can hover your mouse over the bottom of your window to access the chat icon or start typing in the bottom right window.
Slide 41: Concluding Remarks
Thanks for joining us today. We encourage you to visit our website to stay up to date on our latest events. Please reach out if you have any questions or would like to schedule a virtual meeting with a member of our team. In light of the current situation surrounding COVID-19, we cannot schedule in-person visits but plan to offer them again as soon as possible. We know how frustrating it is not visiting campus, but we are here for you and will make every effort to give you the best picture of why Toledo Law can be a great fit. To this end, we will be offering a series of virtual events over the coming weeks. Please check our website for details. Keep in touch and have a wonderful weekend!