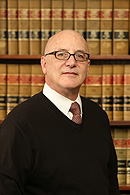 William M. Richman
Distinguished University Professor and
Professor of Law Emeritus
Office: LC 2007F
Campus Phone: 419.530.2947
Fax Number: 419.530.4732
E-Mail: William.Richman@utoledo.edu
Professor William M. Richman, a faculty member since 1976, is a graduate of the University of Pennsylvania (B.A.) and the University of Maryland (J.D.), and was a Woodrow Wilson Fellow at Johns Hopkins University.
Prior to joining the faculty, Professor Richman clerked for the U.S. District Court in Maryland.
Professor Richman has been active in a number of professional and civic organizations including the American Law Institute and the Association of American Law Schools Conflicts Section - (Chair 1995-1996).
He has served as a Visiting Professor at the University of Maryland and the University of Michigan.
In addition, Professor Richman has published in the fields of conflict of laws and appellate court administration.
Publications
Books
Injustice on Appeal (Oxford University Press) (forthcoming 2010) (with William L. Reynolds)
Jurisdiction in Civil Actions (4th ed. 2012)
Jurisdiction in Civil Actions (2010 Supplement).
Understanding Conflict of Laws (Lexis 4th ed.) (forthcoming in 2011) (1st ed. 1984) (with William L. Reynolds and Matthias Reimann)
The Full Faith and Credit Clause (Praeger 2005) [with William L. Reynolds].
Jurisdiction in Civil Actions (Lexis Law Publishing 3d ed. 1999) (with Robert C. Casad) Annual Supplement: 2000-2005 (2005 with Wendy Perdue).
Cases And Materials On Conflict Of Law (Matthew Bender & Co. 2d ed. 2002), (2 nd ed. 2002) (with David Vernon, Louise Weinberg and William Reynolds).
Articles and Book Chapters
Much Ado About the Tip of an Iceberg, 62 Washington & Lee Law Review 1723 (2005).
Prologomenon To An Empirical Restatement Of Conflict Of Laws, 75 Indiana L. J. 417 (2000)(With Reynolds)
Robert Leflar, Judicial Process, And Choice Of Law, 52 Ark L. Rev. 123 (1999)(With Reynolds)
An Argument On The Record For More Federal Judgships, 1 J. App. Prac. & Process 37 (1999)
The Restatement (First) Of Conflict Of Laws On The Twenty-Fifth Anniversary Of Its Successor: Contemporary Practice On Traditionalist Courts, 56 Md. L. Rev. 1196 (1997) (With Riley)
Rationing Judgeships Has Lost Its Appeal, 24 Pepperdine L. Rev. 911 (1997)
The New Certiorari Courts, 80 Judicature 206 (1997)(With Reynolds)
Studying Deck Chairs On The Titanic, 81 Cornell L. Rev. 1290 (1997)(With Reynolds).
Graphic Forms In Conflict Of Law, 27 U. Toledo L. Rev. 631 (1996)(AALS Conflict Of Laws Section Symposium).
Elitism, Expediency And The New Certiorari, 81 Cornell L. Rev. 273 (1996)(With Reynolds).
Book Review, Evolved Into Firms, 80 Iowa L. Rev. 419 (1995).
Understanding Personal Jurisdiction, 25 Ariz. St. L. J. 599 (1993).

Carnival Cruise Lines And Forum-Selection Clauses In Adhesion Contracts, 40 Am. J. Comparative L. 4(1992).
Book Review, G. Shreve & P. Raven-Hansen, Understanding Civil Procedure, 927 Indiana L. Journal 65 (1990).

Appellate Justice, Bureaucracy And Scholarship, 21 Mich. J. L. Reform 623 (1988)(With Reynolds)
Expert Testimony And Proximate Cause, 41 Vanderbilt L. Rev. 261 (1988)(With Steinbock And Ray).
The Pleading Of Fraud: Rhymes Without Reasons, 60 Southern California L. Rev. 959 (1987)(With Lively And Mell).

Appellate Court Reform And The Threat To The LegalProcess, 1 Toledo Transcript 4 (1986).
The Ohio Supreme Court's Rules For The Reporting Of Opinions: A Critique, 46 Ohio St., L. J. 313 (1985)(With Reynolds).
Review Essay: A Sliding Scale ToSupplement The Distinction Between General And Specific Jurisdiction, 72 California L. Rev. 1328-46 (1984).
Diagramming Conflicts: A Graphic Understanding Of Interest Analysis, 43 Ohio St. L. J. 318 (1982).
Evaluating The Limited Publication Plans Of The United States Courts Of Appeals --The Price Of Appellate Reform, 48 Univ. Chicago L. Rev. 573 (1981)(With Reynolds) (Study Commissioned By Federal Judicial Center And Published Separately As A Monograph By The Center.).
Limited Publication In The Fourth And Sixth Circuits 1979 Duke L. J. 807 (1979)(With Reynolds).
The Non-Precedential Precedent - Limited PublicationAnd Non-Citation Rules In The United States Courts OfAppeals, 78 Columbia L. Rev. 1167 (1978) (With Reynolds).