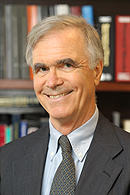 James Carr
Professor of Law Emeritus
James G. Carr, who was a member of the law faculty from 1970 - 1979, rejoined the faculty in August, 2010, as an Assistant Professor. He also is serving as a Senior United States District Judge in the United States District Court in Toledo.
Judge Carr left the College of Law in 1979 to become the first full-time United States Magistrate Judge in Toledo. He served as a Magistrate Judge until May 9, 1994, when, following nomination by President William J. Clinton and confirmation by the Senate, he became a United States District Judge.
From December 22, 2004, until May 31, 2010, when he assumed Senior status, Judge Carr was Chief Judge of United States District Court for the Northern District of Ohio. In addition, from May, 2002, until May, 2008, Judge Carr served, by appointment of Chief Justice William Rehnquist, as a member of the United States Foreign Intelligence Surveillance Court in Washington, D.C.
Among his publications are The Law of Electronic Surveillance (Thomson West) (Treatise); Criminal Procedure Handbook (Clark Boardman) (annual survey 1984-1995); Juvenile Law and its Processes (Michie Bobbs-Merrill, 1989) (2nd Ed.) (Co-Author) (Casebook); and 2 Anderson's Ohio Family Law; Juvenile Court Practice and Procedure (Anderson Pub. Co. 1989) (2nd Ed.) (Co-Author) (Treatise). He also has published several articles, principally on criminal procedure and sentencing.
Before becoming a member of the law faculty on July 1, 1970, Judge Carr was an associate of Gardner & Carton, Chicago, Ill. (1966-68) and Staff Attorney with the Cook County Legal Association Foundation, Evanston, Ill. (1968-70). Judge Carr has taught as an adjunct professor at IIT-Chicago Kent, Loyola of Chicago and the University of Akron. 
He is a 1966 Graduate of Harvard Law School and a 1962 magna cum laude graduate of Kenyon College. His academic honors include Phi Beta Kappa, Kenyon College; German Academic Exchange Program Fellowship and Fulbright Travel Grant for study in West Germany during 1962-63; and a Fulbright Research Fellowship for research in Bonn, Germany during 1977-78.