Rena Leizerman
Lecturer in Law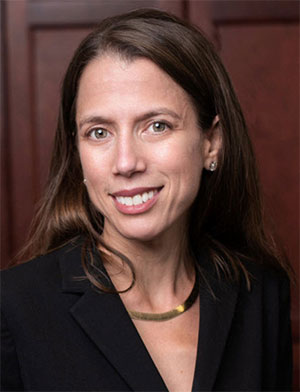 Rena Leizerman concentrates her practice in trial and appellate litigation involving serious personal injury and wrongful death related to commercial motor vehicle collisions at Leizerman & Associates. She has successfully opposed a Petition for Certiorari to the United States Supreme Court, litigated numerous issues of first impression in courts across the country and obtained the first punitive damage verdict against a freight broker for negligent selection. She also has published numerous articles and presented on trucking law topics to lawyers across the country.
Leizerman serves on numerous boards and committees, including of the National Board of Trial Advocacy (NBTA), the American Association for Justice Trucking Litigation Group, and the Academy of Truck Accident Attorneys (ATAA). She also is a founding president of the National Board of Truck Accident Attorney. She recently spearheaded efforts in partnership with the NBTA and the ATAA to obtain the first and only American Bar Association-accredited board certification in truck accident law in the country.
Leizerman graduated from Washington University School of Law in St. Louis, where she was Order of the Coif and served on the executive board of the Washington University Journal of Law and Policy. She served as a law clerk to the Hon. Mark Filip, Northern District of Illinois. Prior to Leizerman & Associates, she practiced law at Skadden, Arps, Slate, Meagher & Flom LLP for eight years.
Publications
Holding FAST Against Transportation Brokers, TRIAL Magazine (February 2017) (peer reviewed)
Current and Emerging Issues in Trucking Litigation, AAJ Conference Paper (March 2014)
What If The MCS-90 Endorsement Isn't Attached, AAJ Trucking Litigation Group Newsletter (Fall 2013)
Broker Liability in Crash Involving Third Party, Transport Topics (March 26, 2012) (interviewed and quoted on transportation broker liability)
Liability of Brokers and Shippers for Negligent Hiring, Litigating Truck Accident Cases (West 2011) (Treatise Chapter)
Finding More Coverage: Broker, Shipper, and Safety Compliance Company Liability, AAJ Conference Paper (2010)
Other Legal Publications
Restructuring: Out of Court Restructurings, 867 PLI/Comm 295 (2004)
Avoiding Powers and Secured Claims, 867 PLI/Comm 53 (2004)
The Delaware Alternative, 853 PLI/Comm 189 (2003)
First Day Orders, 827 PLI/Comm 37 (2001) (cited in Official Committee of Unsecured Creditors v. Chinery, 330 F.3d 548, 574 (3d Cir. 2003)
Note, Real Employees: Cognitive Psychology and the Adjudication of Non-Competition Agreements, 4 Wash U. J. L. & Pol'y 289 (2001) (listed in MacArthur Foundation's Law & Neuroscience Project (2011)