Obstetrics and Gynecology Residency - Director's Message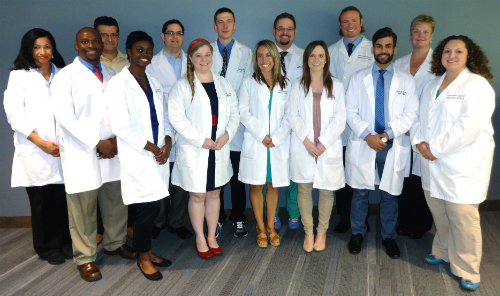 The University of Toledo College of Medicine in Toledo, Ohio supports a strong academic residency in Obstetrics & Gynecology.
The Educational Objectives of our program are:
Encourage clinical practice based on evidenced-based scientific medicine
  
Obtain appropriate clinical experience and knowledge
  
Obtain appropriate specialty and subspecialty training
  
Enhance personal and professional growth
By partnering our respected university-based program with an active community-based clinical learning environment, University of Toledo has optimized the training resources, clinical volume, supportive educational staff and learning opportunities of the Northwest Ohio and Southeast Michigan region to provide our residents with a solid and robust training experience. We provide four structured hours per week of required academic conferences for all residents, along with daily and weekly conferences and rounds on each particular service. Our residents routinely score in the 80th percentile on their in-service examinations.
We have a strong full-time faculty which covers all subspecialties along with a sizable clinical faculty. With dedicated training in gynecologic oncology, maternal fetal medicine, urogynecology, reproductive endocrinology and minimally-invasive surgery, our residents gain adequate exposure to all subspecialty training and remain competitive in the fellowship match. In fact, at least one member of each graduating class since 2007 has matriculated to a fellowship after graduation from our program. 
Our program strongly supports resident research and scholarly activity. All residents must complete a minimum of one research project during their residency. In the past four years we have had 16 publications in peer review journals by our residents. This includes the two lead articles in the First Annual Residents Research Edition of the American Journal of Obstetrics and Gynecology. In this same time period, we have also had 5 abstracts presented at national meetings.
Finally, the hospitals in our residency program have adequate on-call rooms, lounges, cafeterias, and computer-retrieval systems. By utilizing mid-level providers in both obstetrics and gynecology, emphasizing consistent attending oversight and providing safety and quality training, we proactively assure that residents can successfully meet training requirements while observing work hour restrictions and maintaining a healthy work-life balance. 
Our goal is to train the providers of the future - competent, confident, balanced and engaged in the world around them. If you have any questions, we invite you to come and take a closer look at the University of Toledo. 
Anita Patibandla, M.D.
Ob/Gyn Residency Program Director
University of Toledo College of Medicine
Amy J. Flack
Ob/Gyn Residency and Curriculum Coordinator
419.383.4590
Amy.Flack@utoledo.edu