A. Champa Jayasuriya, Ph.D.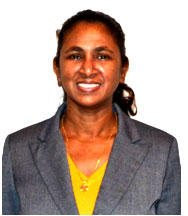 Professor of Orthopaedic Surgery and Bioengineering
Director of Orthopaedic Research
Department of Orthopaedic Surgery
College of Medicine and Life Sciences
The University of Toledo Health Science Campus
Biomaterials, Medical Devices, and Regenerative Medicine Laboratory
Mail Stop 1094, 3065 Arlington Avenue, Toledo, OH 43614-5807 
Phone: 419.383.6557
Fax: 419.383.3526 
Email: a.jayasuriya@utoledo.edu  
---
Research Interests:
Dr. Jayasuriya is a Professor in the Department of Orthopaedic Surgery at The University of Toledo Health Science Campus. Dr. Jayasuriya also has an adjunct faculty appointment with the Department of Bioengineering at The University of Toledo Main Campus.
Dr. Jayasuriya's laboratory currently investigates injectable bone graft devices to regenerate or repair damaged human bone tissues. These injectable bone grafts mainly manufactured using natural polymer biomaterials including chitosan biopolymer. The major advantage of injectable graft is that it can be applied to bone defect site via an arthroscopically, a minimally invasive procedure used in orthopaedics. Injectable bone graft devices are evaluated for biocompatibility, biodegradation, and mechanical testing using in vitro and in vivo studies. New bone formation with bone grafts are assessed using a rat model craniomaxillofacial bone defects which treated using bone graft devices over time. The new bone tissues are evaluated using histology, histomorphology, Raman, micro-CT, and mechanical analysis. In addition to bone regeneration studies, Dr. Jayasuriya's laboratory also focuses on delivery of drugs, antibiotics, growth factors, and cells.
In her recent research, she has incorporated osteoinductive bone morphogenetic protein -9 (BMP-9) in the microparticles and found the tuning of slow-release delivery of BMP-9 instead of burst release of it to accelerate bone formation and remodeling at the local fractured site. She also focuses on 3D printing/3D bioprinting technologies to create viable bone tissue organoids. 3D bioprinting technology allows for the incorporation of biomaterials, biological molecules such as growth factors, and viable cells to create tissues. 3D bioprinting technology allows her to homogeneously incorporate viable cells throughout the 3D printed bone organoid.