William T. Gunning III, Ph.D.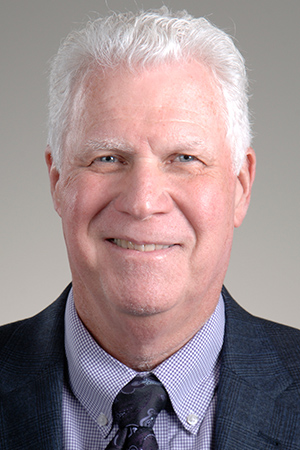 Professor of Pathology
University of Toledo, College of Medicine
Mail Stop #1090 Health Sciences Campus
3000 Arlington Ave.
Toledo, OH. 43614-5804
Phone: 419-383-3752
Fax: 419-383-3066
Email: William.Gunning@utoledo.edu
Primary Responsibility
Director, Electron Microscopy Facility
Extramural Activity
Extensive involvement in the Microscopy Society of America (MSA)
Served as MSA President in 2008
Research/Scholarly Activities
Bleeding disorders/storage pool deficiencies
Virtual patients in medical education
Experimental carcinogenesis and chemoprevention
Recent Publications (for a complete list, click here): 
Samelson-Jones, B.J., Kramer, P.M., Chicka, M., Gunning, W.T., Lambert, M.P.   MYH9-macrothrombocytopenia caused by a novel mutation (E1421K) initially presenting as apparent neonatal alloimmune thrombocytopenia.  Pediatr Blood Cancer. 2017;:e26949.    PMID: 29286575  DOI: 10.1002/pbc.26949 
 Mai, D.B., Smith, M.R., and Gunning, W.T.  Assessment of the Stability of von Willebrand Profile Clotting Factors and Platelet Dense Granule Testing Following Transport.  Clinical and Applied Thrombosis/Hemostasis  24(8):1261-1266, 2018.  PMID: 30114934  PMCID: PMC6714770 10.1177/1076029618794298 
Srinath, M., Coberly, E., Ebersol, K., Lazuik, K., Bier, K, Gunning, W.T., Hammer, R., Gruner, B, and Sathi, B.K.  Refractory macrocytic anemia associated with ZRSR2 spliceosome mutation in Down Syndrome.  Pediatric Hematology and Oncology, July, 2019.  PMID: 31361176  DOI: 10.1080/08880018.2019.1621969
Gunning, W.T., Kvale, H., Kramer, P.M., Karabin, B.L., and Grubb, B.P.  Postural Orthostatic Tachycardia Syndrome is Associated with Elevated G-Protein Coupled Receptor Autoantibodies.  J Am Heart Assoc, 2019 Sep 17; 8(18):e013602; PMID:31495251  PMCID: PMC6818019  DOI: 10.1161/JAHA.119.013602
Riley, R.S.; Pai, S; Warmke, L.; Winkler, M.R.; Khan, A.; and Gunning, W.T.  A Case of Chronic Thrombocytopenia in a 17-Year-Old Female.  Lab Med. 2019 Oct 10;50(4):406-420.  PMID: 31361176  DOI: 10.1080/08880018.2019.1621969 
Su, R.C., Lad, A., Breidenbach, J.D., Blomquist, T.M., Gunning, W.T., Dube, P., Kleinhenz, A.L., Malhotra, D., Haller, S.T., Kennedy, D.J.  Hyperglycemia induces key genetic and phenotypic changes in human liver epithelial HepG2 cells which parallel the Leprdb/J mouse model of non-alcoholic fatty liver disease (NAFLD).  PLoS One. 2019 Dec 5;14(12):e0225604.. PMID: 31805072  PMCID: PMC6894821  DOI: 10.1371/journal.pone.0225604
Gunning, W.T., Raghavan, M., Calomeni, E.P., Turner, J.N., Roysam, B., Roysam, S., Smith, M.R., Kouides, P.A., and Lachant, N.A.  A Morphometric Analysis of Platelet Dense Granules of Patients with Unexplained Bleeding: A New Entity of Microgranular Storage Pool Deficiency.  J. Clin. Med. 2020, 9(6), 1734-; PMID: 32512725  PMCID: PMC7356033  DOI: 10.3390/jcm9061734
Zellner, B, Mengin-Lecreulx, D., Tulley, B.G., Gunning, W.T., and Booth, R., and Huntley, J.F.  A Francisella tularensis L,D-carboxypeptidase plays important roles in cell morphology, envelope integrity, and virulence.  Molecular Microbiology, 2021:1-22, https://doi.org/10.1111/mmi.14685  
Gunning, W.T., Stepkowski, M., Kramer, P.M., Karabin, B.L., and Grubb, B.P.  Inflammatory Biomarkers in Postural Orthostatic Tachycardia Syndrome with Elevated G-Protein Coupled Receptor Autoantibodies.  J. Clin. Med. 2021, 10(4), 623; https://doi.org/10.3390/jcm10040623
Hummel, K., Meawad, H., Gunning, W.T., and Gohara, A.F.  Negative Fat Pad Biopsy in Systemic AL: A Case Report Analyzing the Preferred Amyloidosis Screening Test.  Diseases 2021, 9(1), 34071274 PMCID: PMC8161780 DOI: 10.3390/diseases9020040  
Massey, G, Tyrell, L, Diab, Y. and Gunning, W.T.  Two Additional Cases of Medich Syndrome.  (submitted to Platelets, December, 2020).
Gunning, W.T., Yoxtheimer, L., and Smith, M.R.  Platelet Aggregation Assays Do Not Reliably Diagnose Platelet Delta Granule Storage Pool Deficiency.  (in press, 2021, J Hematol).
Research Interests
Dr. Gunning's current research emphasis involves the study of bleeding diathesis specifically related to platelet dysfunction.  He has evaluated patients with prolonged bleeding times and/or a history of bleeding including individuals that bruise easily and women with menorrhagia for more than 25 years.  When tested for von Willebrand disease, these individuals are usually found to have normal aggregation responses or have a slight abnormality in response to epinephrine but not to ristocetin and are therefore, often a diagnostic enigma.  His research utilizes a transmission electron microscope and computer analysis of platelets obtained from peripheral blood to determine the number and volume of delta granules (dense bodies) that contain important substances used for the effective coagulation of blood. 
Dr. Gunning has a number of collaborators throughout the country and the preliminary results of these studies suggests that delta granule storage pool deficiencies (δ-SPD) may be a significant etiology of bleeding diathesis, especially in the case of menorrhagia.  In addition, he has discovered a significant correlation with postural orthostatic tachycardia syndrome (POTS, a type of syncope) and δ-SPD.  He has recently reported that POTS has a number of adrenergic and muscarinic receptor antibodies that suggest POTS is an autoimmune disease.  He has also reported that POTS patients have elevations of a number of innate immune system cytokines and chemokines and is actively.  He recently gave an invited presentation of unpublished data at Experimental Biology 2021.