Accreditation is a process of quality assurance in postsecondary education that determines whether a program meets established standards for structure and performance. Medical education programs are accredited by the Liaison Committee on Medical Education (LCME).
Accreditation is important because it establishes students' eligibility for selected federal grants and programs, as well as their eligibility to take the United States Medical Licensing Examinations (USMLE). Graduates of LCME-accredited schools are eligible for residency programs accredited by the Accreditation Council for Graduate Medical Education (ACGME).
Task Force Newsletter Contact Us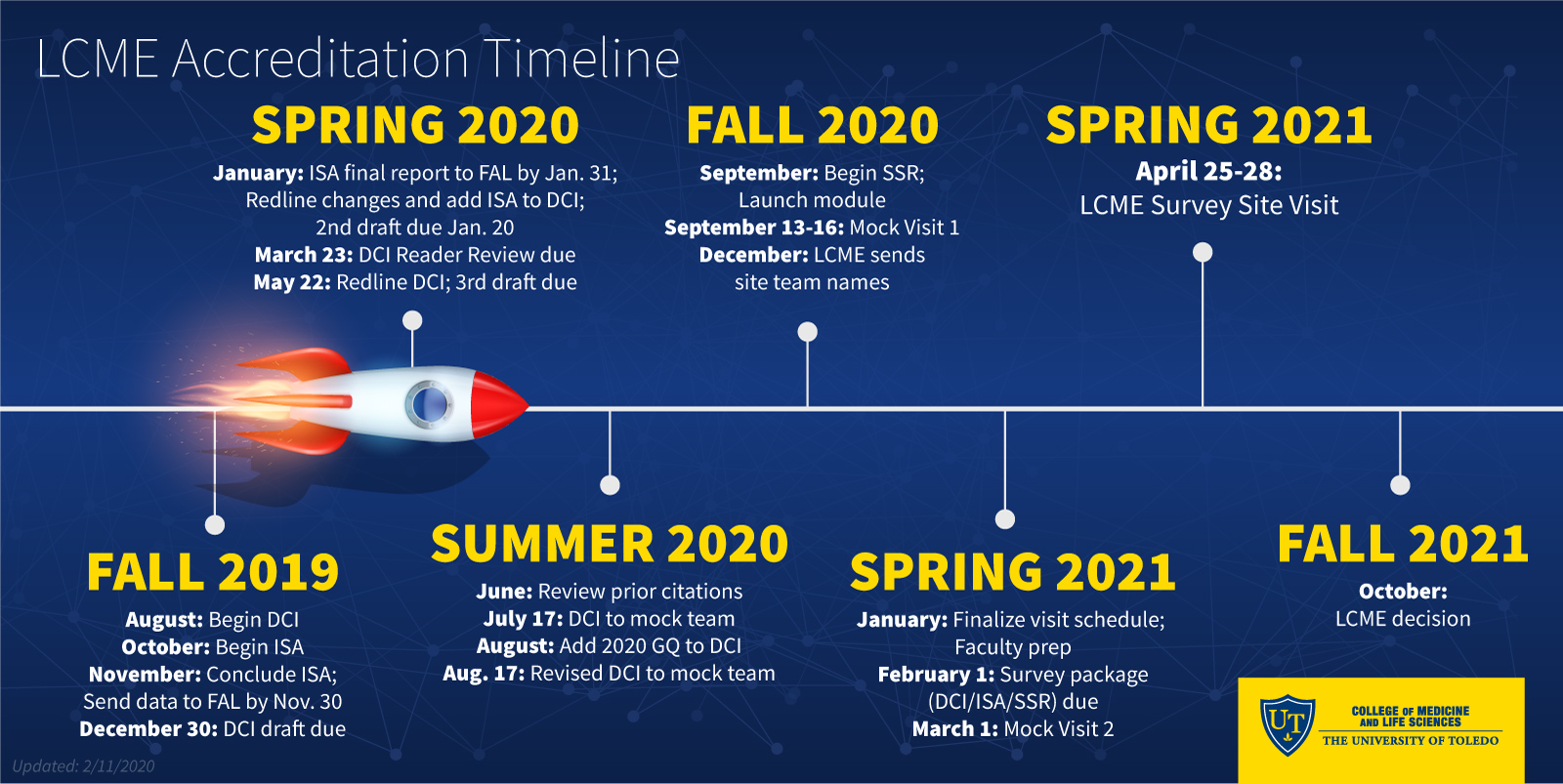 LCME Accreditation Timeline, 2019-2021
Fall 2019
August: 
Begin Data Collection Instrument (DCI)
October: Begin Independent Student Analysis (ISA)
November: Conclude ISA; send data to the Faculty Accreditation Lead (FAL) by Nov. 30
December 30: DCI draft due
Spring 2020
January:
 Send ISA final report to FAL by Jan. 31; Redline changes and add ISA to DCI; 2nd draft due Jan. 20
March 23: DCI Reader Review due
May 22: Redline DCI; 3rd draft due
Summer 2020
June: Review prior citations
July 17: DCI to mock team
August: Add 2020 GQ to DCI
Aug. 17: Revised DCI to mock team
Fall 2020
September: Begin Self Study Report (SSR); Launch module
September 13-16: Mock Visit 1
December: LCME sends site team names
Spring 2021
January: Finalize visit schedule; Faculty prep
February 1: Survey package (DCI/ISA/SSR) due
March 1: Mock Visit 2
April 25-28: LCME Survey Site Visit
Fall 2021
October: LCME decision
---
2013 Accreditation Outcome
Letter of determination sent October 8, 2013, stated:
"After reviewing the report of the LCME survey team that conducted a full survey visit April 28-May 1, 2013, the LCME voted to continue the accreditation of the medical education program leading to the MD degree at the University of Toledo College of Medicine for an eight-year term. The program's next full survey will take place during the 2020-2021 academic year."